Crystal Wine Glass Sets for Less than $100!
last updated:
Sep 03, 2018
1001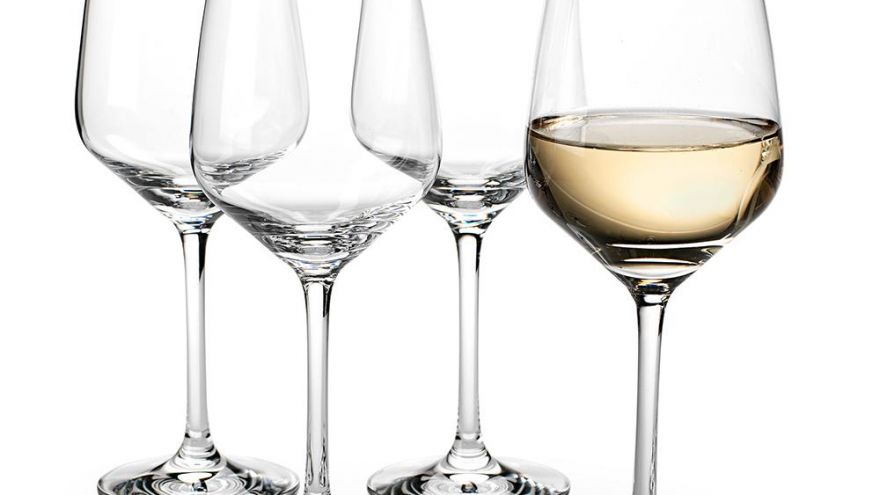 Even if you're not the type of person who enjoys a glass of wine on a regular basis, every household needs a set of wine glasses for their guests to use. There are plenty of different sets on the market, however, if you're not a drinker you're certainly not going to want to spend a lot of money on a set of wine glasses. We've curated a list of the best crystal wine glass sets that you can get for under $100, helping you to furnish your hutch without spending an exorbitant amount of money.
1. Crystal White Wine Glasses (Set of 4)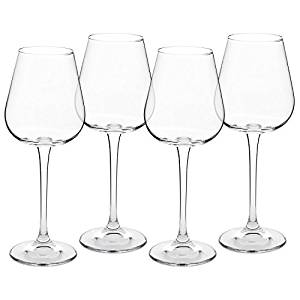 This set of crystal white wine glasses is constructed out of lead-free crystal. The design of these glasses is commonly described as cognac snifters and they have a stellar elegant appeal that offers a classic yet luxurious appeal.
Useful for both wine and cognac, you can cusp the snifter with your hand to release the true aromas of the alcoholic beverage, helping to enhance its overall taste. In addition, each glass holes up to 12 fluid ounces, which is the ideal size for a regular glass of wine at a dinner party.
2. Bormioli Rocco Red Wine Glasses (Set of 4)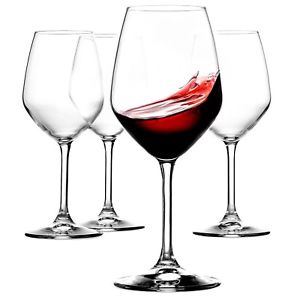 As another reasonably priced set of glasses, these Bormioli Rocco red wine glasses are the perfect partner for a more modern family or as a gift for someone who has recently moved into a brand new home. Crafted with sommeliers in mind, each glass is constructed with a crystal-grade clarity that serves plenty of purposes. Each glass comes equipped with a laster-cut ultra-thin rim that helps to improve the tasting of various wines and the unique design of the glass helps to enhance the flavors of any beverage you're consuming.
Available in a set of 4, each glass is 18 ounces and created using eco-friendly materials that are food-safe and better for the environment, not to mention they are incredibly durable as well.
3. ROD Wine Red Wine Glasses (Set of 2)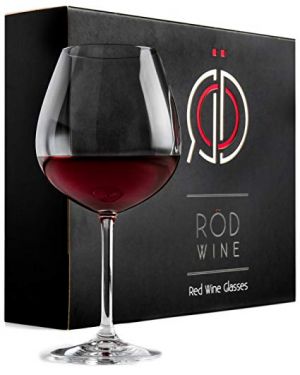 If you're opting for a more expensive set of glasses either as a gift for a friend or if you and your partner would like a pair of wine glasses to use on special occasions, these ROD Wine red wine glasses are phenomenal for all households. What makes them unique is the specialty methods that are used while crafting the glasses as well as the premium qualities used during the manufacturing process.
You'll be able to enjoy more wine than ever before as they offer a large bowl that holds up to 22 ounces of fluid. You'll also appreciate the elegant design of the long stem that sets them apart from other wine glasses on the market. The ROD Wine red wine glasses are constructed in Bohemia, the Czech Republic using titanium crystal, which makes them incredibly strong and helps to make sure they will last over the years.
With the implementation of their eco-friendly manufacturing processes, you'll not only have the ability to own a set of high-end luxurious wine glasses but a set of glasses that has helped to preserve the integrity of the planet as well.
4. Schott Zwiesel Wine Glass Collection (Set of 4)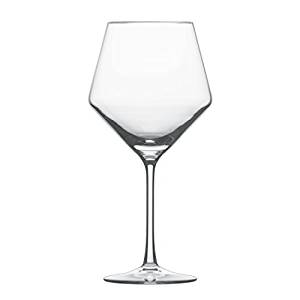 If you're looking for a set of glasses that will give you the biggest bang for your buck, the Schott Zwiesel Wine Glass Collection is the perfect option. Although they are slightly more expensive than the other sets on this list, you can guarantee that it will be well worth the investment as they hold up to 23.4 fluid ounces and are created out of the toughest materials that you can find.
Constructed using Tritan crystal glass, you'll be able to enjoy your favorite wine blends out of a lead-free titanium and zirconium oxide mixture that resists chips, scratches, thermal shock, and breakage. This means you can wash them in any way you desire and you certainly won't have to worry about their deterioration over time.
What also makes it unique is the fact that they are crafted with artisan creativity as they have a high fashion luxurious vibrancy with crisp lines for a modernized geometric appearance. With their superior balance and brilliant stem height, they'll be the focal point of your hutch.
These beautiful glasses are manufactured in Germany and are recommended for red and burgundy wines.
5. Schott Zwiesel Cabernet Wine Glass Collection (Set of 6 – $81.19)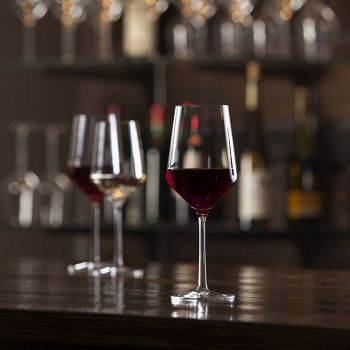 Similar to the Schott Zwiesel Wine Glass Collection, the Schott Zwiesel Cabernet Wine Glass Collection might be slightly more preferable for two main reasons. First, you'll receive a set of six versus a set of four, and second, these glasses hold up to 18.2 ounces instead of 23.4 fluid ounces, which may be preferable for most households.
Aside from those two differences, both sets of wine glasses are made out of premium Tritan crystal, which is 100% lead-free and is a blend of both zirconium and titanium oxide, which helps to avoid breakage and chipping over the years. It's important to note that the Schott Zwiesel wine glasses are entirely dishwasher-safe, meaning that cleanups after parties have just become much easier than ever before.
If you're interested in the modern, sleek, and geometric look, these are the ideal wine glasses for everyday or occasional use. It's recommended that the Schott Zwiesel Cabernet Wine Glass Collection is used with Barolo, Zinfandel, Boudreaux, Cabernet Sauvignon, and Merlot wine varietals.
Final Thoughts
There are plenty of different types of wine glasses on the market, however, crystal is one of the best materials that you can choose as it offers a sparkle that traditional glass doesn't offer. With a brilliance and vibrancy that exudes luxury, you can guarantee that wine has never tasted better and you'll surely impress the next guests that you have over for dinner. Above all else, crystal wine glasses are available at a variety of price points, but you can certainly find an assortment of sets for under $100.
Pin for later