Breakfast Potluck Ideas On Our List!
last updated:
May 22, 2019
4096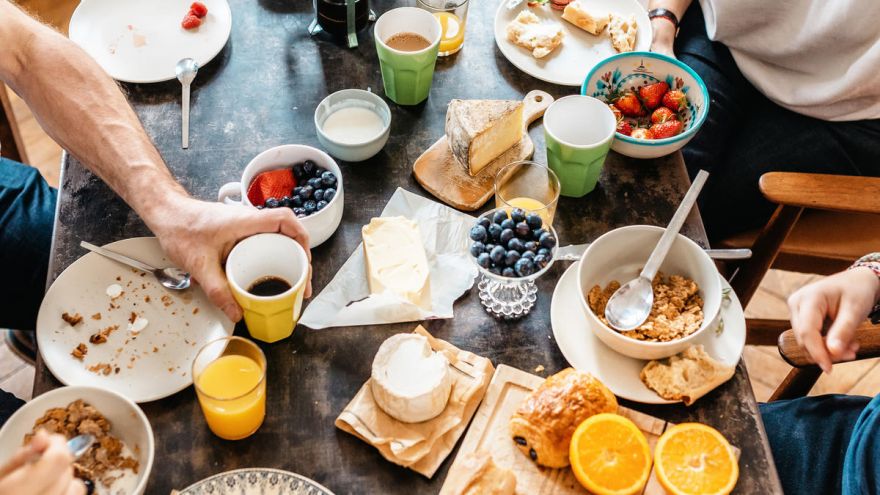 We love the idea of potlucks because it takes a lot of pressure off the host and allows guests to show off their talents in the kitchen. Breakfast potlucks are a fantastic idea to get the whole family together for a quick event that still gives you the rest of the day to run errands. They're also an incredibly popular thing for work environments, especially for retirement parties.
The following recipes are sure to be a hit with everyone attending the breakfast potluck, but they are also a great option for simple foods that you can whip up the night before.
1. Ham and Cheese Pinwheels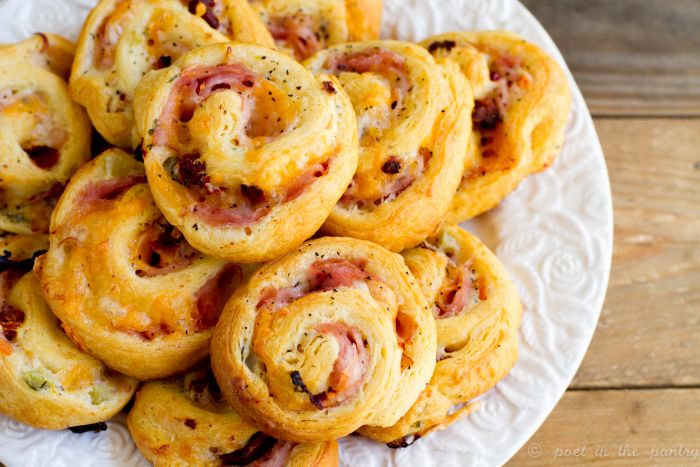 This fantastic recipe from Kevin and Amanda will surely have your guests salivating and wanting to go back for seconds. With this hot twist on traditional ham and cheese sandwiches, we love how this recipe doubles as a breakfast and lunch meal, perfect for your upcoming brunch.
Ingredients
Rolls
1 can of rectangle refrigerated pizza crust
¾ lb. thinly sliced ham
12 slices of thinly sliced Swiss cheese
Glaze
½ cup of butter
2 tablespoons of brown sugar
1 tablespoon of Dijon mustard
1 tablespoon of Worcestershire sauce
1 tablespoon of poppy seeds (optional)
Directions
✓ Using baking spray, coat your baking pan and then preheat your oven to 350 degrees F.
✓ Unroll your entire pizza dough on your counter or cutting board. Top the raw dough with the ham slices first and then follow with the cheese.
✓ Taking the longer edge of the pizza dough, roll the edge tightly and once you reach the end, pinch the seam together.
✓ Cut the rolled dough into 12 slices that are about an inch in width.
✓ Combine all of your glaze ingredients in a pan over medium heat. Continue to whisk the mixture until all of the ingredients are combined and smooth. Once finished, pour it over the raw dough.
✓ Place the dough in the oven and cook for 25 minutes, or until browned.
Full recipe: Kevin and Amanda
2. Baked Banana Macadamia French Toast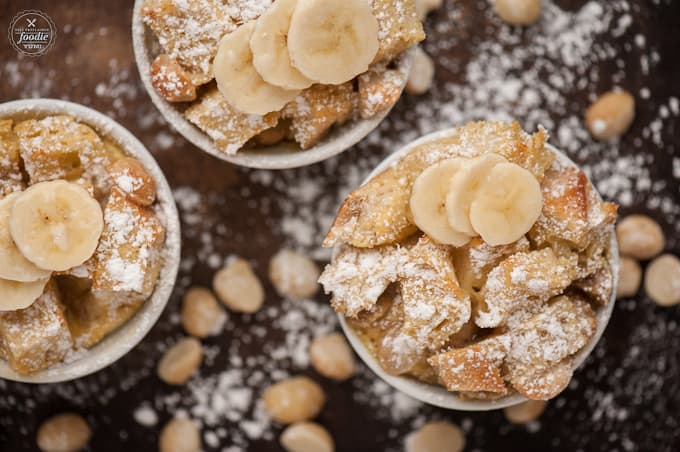 If you're looking for an elegant recipe for a bridal shower brunch or a baby shower, this is a fantastic recipe to have on hand. If you're serving it to your coworkers, ensure that you note there are nuts in this recipe for those with allergies!
Ingredients
1 tablespoon of unsalted butter
1 sliced ripe banana
5 cups of fresh bread cut into ½ inch cubes
½ cup of macadamia halves
3 ounces of cream cheese cut into ½ inch cubes
1 1/3 cups of half and half
4 large eggs
¼ cup of maple syrup
2 teaspoons of vanilla
Directions
✓ Using butter, grease your ramekins and then place them inside of a baking dish.
✓ Take half of the bread and put it inside of the ramekins, topping the bread with macadamia nuts, banana, and your cream cheese.
✓ Cover the mixture with the rest of your bread.
✓ Taking a separate bowl, combine the vanilla, maple syrup, half and half, and eggs together. Slowly pour the mixture evenly over the ramekins.
✓ Cover each dish with plastic wrap and use a plate to mash all of the ingredients on top of each other.
✓ Leave in the fridge overnight.
✓ The next morning, preheat your oven to 325 degrees F.
✓ Remove the plastic wrap and bake the ramekins for 45 minutes or until they are golden brown.
Full recipe: Self-proclaimed Foodie
3. Overnight Breakfast Casserole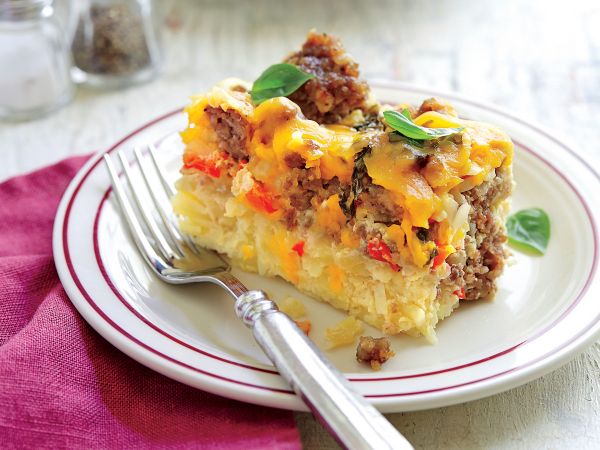 Casseroles are one of the best options for potlucks because they're easy to put together and use a variety of ingredients that work perfectly with each other.
If you don't have the time or resources to craft delicate cinnamon rolls, this casserole is a fantastic option. Similar to the banana French toast, this is an overnight dish that you will prepare the night before!
Ingredients
1 package of diced potatoes
1 lb. of cooked ground sausage
1 teaspoon of fennel seeds
1 teaspoon of ground sage
2 cups of shredded cheddar cheese
12 beaten eggs
Directions
✓ Spray your slow cooker with a nonstick spray and then place your potatoes in the bottom of the dish.
✓ Using your cooked ground sausage, place it on top of the potatoes and follow with the sage and fennel.
✓ Add in the shredded cheddar cheese and then finish the dish off by pouring the beaten eggs over the whole mixture.
✓ Cook the casserole for at least 8 hours on a low heat setting to get the maximum absorption of flavors.
Full recipe: Mommy hates Cooking
4. Cinnamon Apple Baked Oatmeal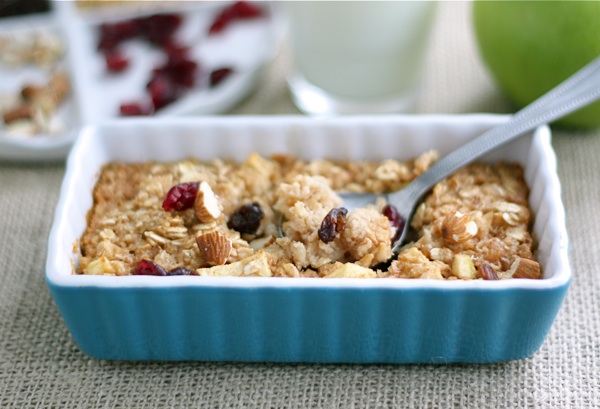 If you're searching for a recipe that is a little healthier and less heavy than the others on this list, this oatmeal recipe is the perfect solution. With that said, it tastes absolutely decadent and comforting, which is perfect for an afternoon brunch.
Ingredients
3 large eggs
¾ cup of applesauce
1 ½ cups of almond milk
½ cup of maple syrup
1 ½ teaspoon of pure vanilla extract
¼ teaspoon of allspice
1 teaspoon of ground cinnamon
1 teaspoon of ground flax seeds
3 1/3 cups of oats
1 cup of diced apples
¼ cup of blackberries
Directions
✓ Preheat your oven to 350 degrees F and use your cooking spray to grease the inside of a casserole dish.
✓ Taking a large bowl, combine the milk and eggs and then stir in the maple syrup, vanilla, cinnamon, applesauce, allspice, and flax seeds. Once combined, fold in the oats and apples.
✓ Spread the batter evenly in the casserole dish and then top it off with your blackberries.
✓ Bake the oatmeal for 35 to 40 minutes or until the oatmeal is cooked all the way through.
Full recipe: Life Made Sleeper
Final Thoughts
It doesn't take a lot of effort to get creative in the morning for a fantastic brunch dish. In fact, many of these recipes are a fantastic way to prepare breakfast for yourself throughout the week. With everything from hearty oatmeal to a luxurious banana French toast, there are plenty of recipes for you to choose from for your upcoming brunch.
Pin for later