The Only French Toast Recipes You Will Ever Need
last updated:
Apr 07, 2019
1314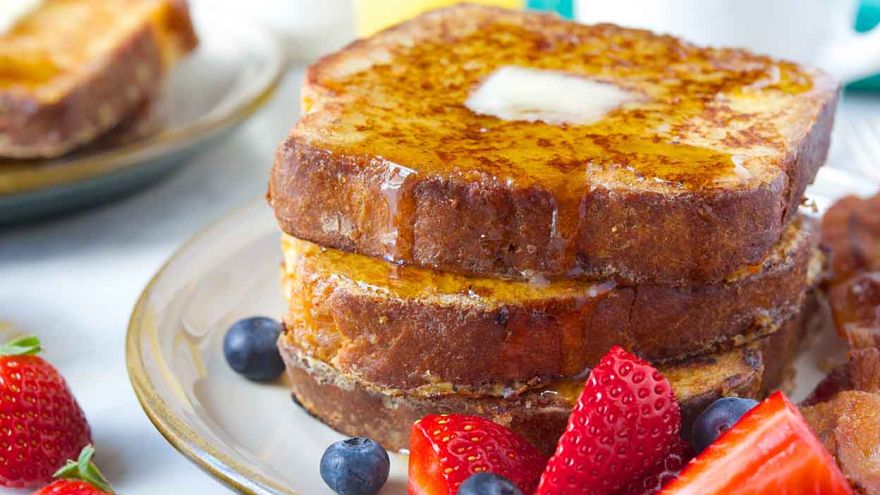 French toast is a classic breakfast meal that nearly everyone loves. It's because it features the perfect combination of breakfast foods. The savory taste of eggs mixed with the heartiness of bread and then perfectly topped with syrup and cinnamon. You could also exchange the syrup for whipped cream and fruits, depending on your preferences.
If you're someone who has been searching for ways to master the art of making the perfect French toast, you're in luck. We've found the most amazing recipe you can get your hands on, as well as a couple of other recipes that we love.
1. The Ultimate French Toast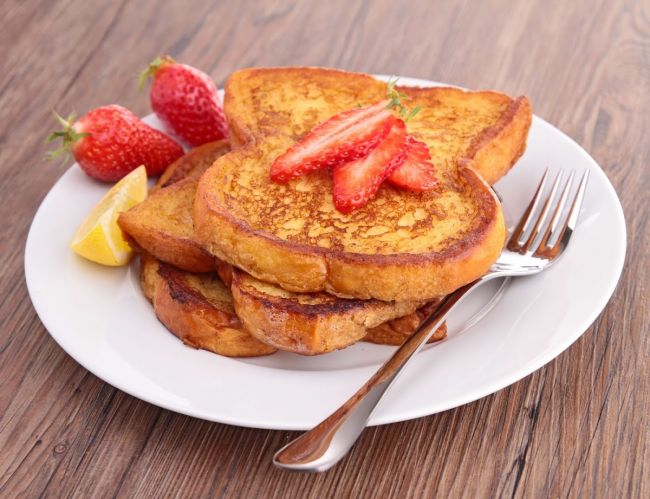 This French toast recipe is something that will change your outlook on breakfast forever. Instead of using traditional slices of bread, like most people, this recipe calls for Challah bread, also known as egg bread. It features the perfect texture for French toast because the edges get crispy meanwhile maintaining its fluffiness in the center.
If you're someone with an affinity for buttery and sugary French toast, this is the recipe for you.
Ingredients
1 ½ cups of milk
6 large eggs
1 teaspoon of orange zest
½ teaspoon of vanilla extract
1 tablespoon of honey
½ teaspoon of kosher salt
1 loaf of challah bread
Unsalted butter
Maple syrup
Vegetable oil
Directions
✓ Preheat your oven to 250°F.
✓ Take a large bowl and whisk the orange zest, vanilla, honey, eggs, milk, and salt together, combining well.
✓ Once all of the ingredients have been combined, cut your challah bread into ¾-inch slices, if it is not already pre-cut.
✓ Dip each slice of the bread into the egg mixture for 2.5 minutes on one side and 2.5 minutes on the other side. Depending on how absorbent the loaf is, you may have to make a second batch of the mixture.
✓ Place a large pan on your stove and begin heating it over medium heat, adding in 1 tablespoon of oil and 1 tablespoon of butter.
✓ Place a single piece of bread on the pan, allowing it to cook for 2 to 3 minutes per side. Ideally, each half of the bread should be browned. Once the piece has been browned, transfer it to a baking sheet and place it in the oven to stay warm.
✓ Once all of the French toast has been browned, you can then plate it and serve it to your guests. We recommend using traditional maple syrup with this recipe.
2. Nutella-Stuffed French Toast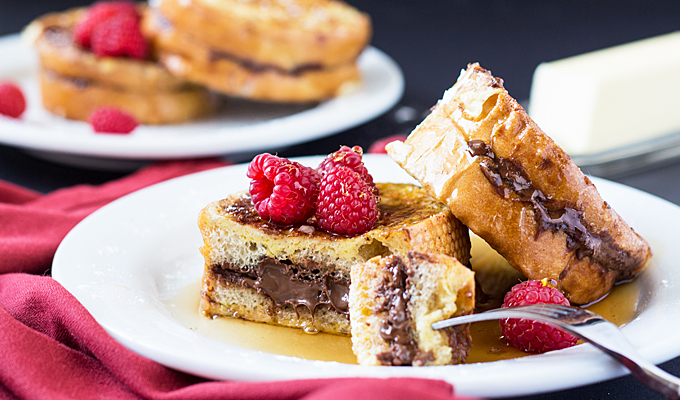 This particular recipe is recommended for people who are looking for a sweet and decadent recipe for a special occasion. We certainly wouldn't recommend making this French toast on a regular basis, as it's packed with calories. However, it's a phenomenal way to curb any sugar cravings that you've been dealing with. It's also the perfect recipe for kids who have a love for all things chocolate.
Ingredients
1 cup of milk
6 slices of challah bread
3 tablespoons of hot chocolate mix
3 eggs
2 tablespoons of vanilla extract
¼ teaspoon of salt
4 tablespoons of butter
6 tablespoons of Nutella
3 tablespoons of melted chocolate chips
Marshmallows
Whipped cream
Directions
✓ Using a microwave-safe container, pour in 1 cup of milk and heat it in the microwave for 2 minutes. When finished, stir in 3 tablespoons of hot chocolate mix and allow this mixture to cool.
✓ Cut 6 thick slices of challah bread and using 1 tablespoon of Nutella, cover each slice of bread. Then take the second piece of bread and put it on top, creating a sandwich.
✓ Whisk 3 eggs together in a flat baking dish and then add in the ¼ teaspoon of salt and 2 tablespoons of vanilla, whisking all of the ingredients together. Once combined, add in the cooled hot chocolate mix, continuing to whisk.
✓ Take your French toast and dip each side of the sandwich into the mixture. Give each side 2.5 minutes to soak up as much of the mixture as possible. While your toast is absorbing the mixture, continue onto the next step.
✓ Take 4 tablespoons of butter and put it in a pan, heat it over medium heat. Once the pan is hot enough, place the French toast sandwich into the pan and cook evenly until each side is golden brown.
✓Before serving, add a drizzle of melted chocolate chips, whipped cream, and marshmallows to the outside of the sandwich for added sweetness.
3. Red Velvet French Toast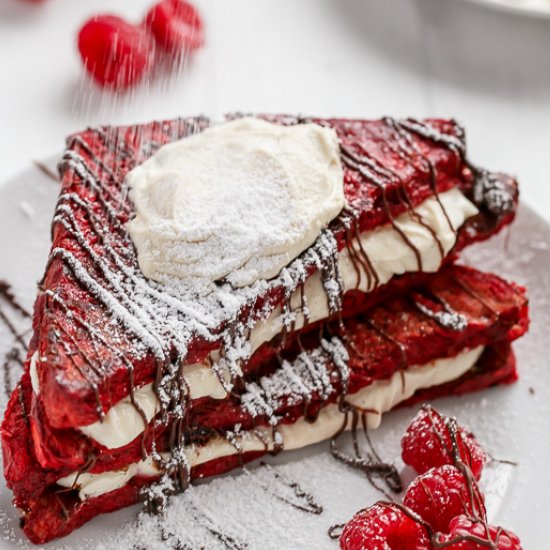 What we love the most about this recipe is that it doubles as a breakfast food and dessert. If you're hosting a luxurious dinner party, you can easily use this recipe to make a sweet treat that everyone will remember. It's also incredibly simple to put together and incredibly delicious.
Ingredients
French Toast
4 eggs
2 tablespoons of sugar
1 cup of buttermilk
2 teaspoons of vanilla extract
2 tablespoons of unsweetened cocoa powder
3 tablespoons of red food coloring
8 slices of bread
Vanilla Bean Filling
2 tablespoons of sugar
1 teaspoon of vanilla bean paste
250g of reduced fat cream cheese
1 cup of fresh raspberries
Directions
✓ Combine the buttermilk, sugar, eggs, vanilla, cocoa, and food coloring together in a small bowl. Make sure that you whisk the ingredients until they are free of lumps.
✓ Taking each slice of bread, dip them into the egg mixture and allow each side to absorb the mixture for at least 2 minutes.
✓ Heat a skillet over medium heat and fry each slice of French toast until it is thoroughly cooked.
✓ Combine the sugar, vanilla paste, and cream cheese together in a medium bowl. Continue to whip the ingredients until they are fluffy.
✓ Once each piece of bread has been cooked, add a heaping tablespoon of the mixture on to one-half of the bread halves. Make sure that you spread the filling evenly. You can then place the second half of bread on top, to make a sandwich.
✓ Before serving, drizzle the remaining cream and melted chocolate (optional) on top. We recommend also serving each sandwich with fresh raspberries for a fruitier element.
Pin for later