This product is listed here: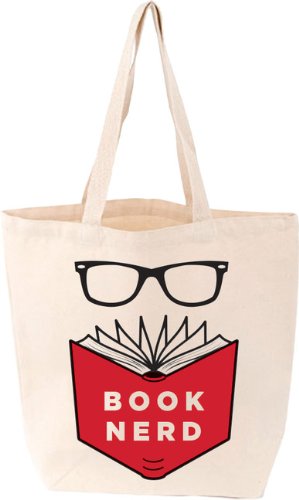 Book Nerd Tote (Lovelit)
Anyone who uses books and carries them around, be it for love of a hobby or even for work purposes, needs some way of containing them and transporting them safely. Books are notoriously difficult to carry, they slip and slide all over the place if the carrier just holds them in their hands. Books always need some way to contain them and to protect them against dirt, rain or knocks.
After all, books are very precious things and one owes it to oneself to look after them. This Book Nerd Tote bag is just what any book lover wants and needs.
Detailed information about Book Nerd Tote (Lovelit)
The tote bag is made to handy measurements: 14" wide by 15.5" high, with a 5" gusset and 22" handles. Additionally, it is completely made from 100% natural cotton.
Every trip to the library or the local book store should be accompanied by the Book Nerd Tote. Not only is the Tote bag much stronger than store offered plastic wrappings, it is also completely natural and biodegradable so the owner will be doing their bit to reduce plastic use. Its use does not end with carrying books either.
The owner can use it to carry a laptop to and from school as well as the coursework notes and text books, it can carry the owner's packed lunch and unbelievably if the owner decides on calling into the convenience store on the way home, the tote can also be used to carry a carton of milk or a bag of apples, you name it and it can be carried providing there is enough room inside.
WHY WE LIKE IT?
This Tote Bag is great for carrying anything around but especially for books
Strong and made from 100% cotton
Made in USA
WHY WE dont LIKE IT?
None
What we love about this product
This nerd Tote bag by LoveLit is easy to carry around and very durable. Super adorable and unique gift that a book lover would appreciate beyond the giver's knowledge