This product is listed here: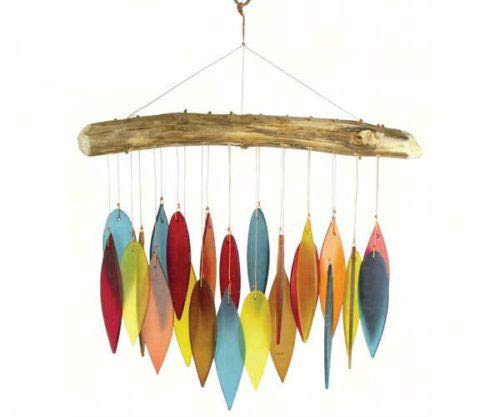 Blue Handworks Santa Fe Glass Wind Chime
Is there anything as calming as the gentle tingling sound that comes out of a wind chime when the wind blows over it?
Since ancient times, people have been hanging wind chimes in home's outdoor space purposely to create a peaceful and calming environment.
The beautiful sounds that a wind chime emanates create a sense of feng shui in the surroundings. And other than being an excellent outdoor décor, wind chimes are believed to ward off negative energy, suppress bad luck and attract positive energy.
That lovely sound meanders gently in the garden, filling the space and thus attracting prosperity.
This definitely sounds like the kind of positivity that should not lack in anyone's space, right? If you believe so., then don't hesitate to gift this lovely Santa Fe Glass wind chime by Blue Works to a loved one or a special friend as a home or office gift.
Detailed information about Blue Handworks Santa Fe Glass Wind Chime
All they need to do is hang it in any of their favorite places outdoors, sit and enjoy the gentle tickling sound of the wind chime and the rattle of the glass pieces.
This set up is so relaxing so much it relaxes and calms the busiest of people.
Handcrafted by artisans in Bali, the Santa Fe glass wind chime is made using sandblasted glass and wood pieces.
To protect the finish, the glass is powder coated, and each one of the pieces used is original. Perfect to hang anywhere around the home, inside or outside.
The seller recommends periodic application of a sealer to retain the beautiful finish as the chime will oxidize naturally when left outside.
WHY WE LIKE IT?
Features beautiful colors
A great outdoor décor
Handcrafted using original pieces
Powder coated to create a lovely finish
Comes well packaged and assembled
WHY WE dont LIKE IT?
None
What we love about this product
This wind chime will make an excellent addition in a garden or backyard.
But, even if the recipient doesn't have a huge garden, they will still be able to enjoy the positive energy emanating from this wind chime from their balcony, porch, front porch and even at the deck.