This product is listed here: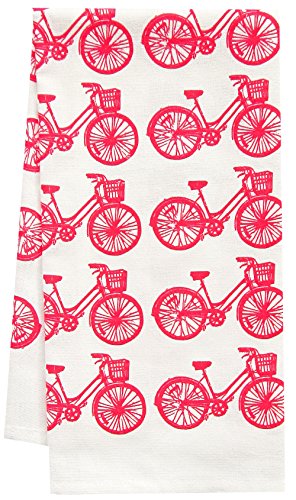 Bike All Over Pattern Organic Block Print Tea Towel
People who love to be outdoors generally enjoy doing adventurous stuff. From fishing, hiking to cycling, you can bet that these outdoorsy people enjoy every minute of it and is looking forward to doing more when they have time.
You may also notice if you have a friend or family member who is exactly like this, that their hobbies and passion ooze into their home décor and normal life.
You see them sporting a t-shirt with a fish on a hook or pillows that have mountains on them, making the outdoors a part of their indoors as well.
This sparks an idea in your head for their next birthday or Christmas – you are going to get them something for the home that is reminiscent of their chosen passion. And that brought you to this Tea Towel with red bike patterns block printed on it by Artgoodies.
Detailed information about Bike All Over Pattern Organic Block Print Tea Towel
This fantastic tea towel is made of 100% organic cotton for that soft, premium feel and measures about 20 inches by 28 inches so you can dry even the biggest dishes in your kitchen and hang these up when you are done.
This beautiful tea towel is a great gift for bike enthusiasts who are celebrating their birthday, anniversary, Christmas and is also a nice housewarming gift for the riders who have finally purchased their first home.
WHY WE LIKE IT?
Beautiful, bold red bike patterns adorn the tea towel
Absorbent and is perfect for drying dishes or wiping hands
Great for avid bikers and foodies alike
WHY WE dont LIKE IT?
None
What we love about this product
This bike patterned tea towel also comes with a recycled green ribbon so it is absolutely gift-ready. The bike patterns you see on the towel is hand-carved and designed by artist Lisa Price herself and is block printed in a bright red ink that stands out from everything else, making it a perfect statement piece for any home.