This product is listed here: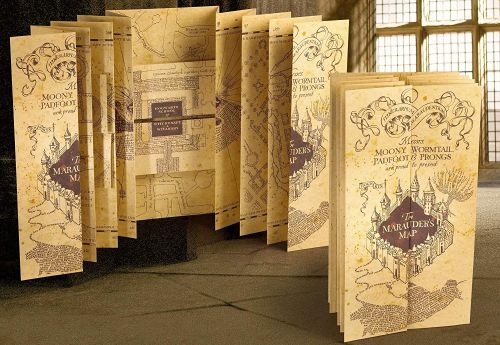 Harry Potter Marauder's Map
When looking for a unique birthday or Christmas gift idea for that special Harry Potter fan on the list, look no further.
The infamous Marauder's Map from the Harry Potter Franchise would be the perfect present for any fans of the boy wizard and/or movie memorabilia collectors on the shopping list.
What Harry Potter fan hasn't envisioned having the magical know-how of the Marauder's Map at their beck and call? Imagine the possibilities, always knowing exactly where your friends, enemies, and competition is at all times.
In the world of Harry Potter with this map in one hand and a magic wand in the other, it is all possible.
Detailed information about Harry Potter Marauder's Map
This map shows the Hogwarts School of Witchcraft and Wizardry and the surrounding area such as Hogsmeade and the Shrieking Shack in exacting detail, and it includes hints as to where Peeves the ghost may be lurking and gives pointers on the easiest way to get to the next class.
This geographical depiction of the boy wizard's stomping ground is exquisitely printed using the finest inks and done on a heavyweight parchment paper to add to its authentic aged look.
Any true Harry Potter fan will recognize this map at first sight!
WHY WE LIKE IT?
Authorized and licensed officially by Warner Brothers
Printed on aged heavyweight parchment paper for a more realistic aged look
Full-size replica of the map used in the movies
WHY WE dont LIKE IT?
None
What we love about this product
This product is officially licensed by Warner Brothers and as such would make a perfect gift as a collector's item for the consummate Harry Potter fan, or just a fun bit of movie memorabilia for a casual lover of the boy wizard.