Americana Decor Ideas: 10 Items on Amazon Which Scream Americana!
last updated:
Jul 16, 2019
819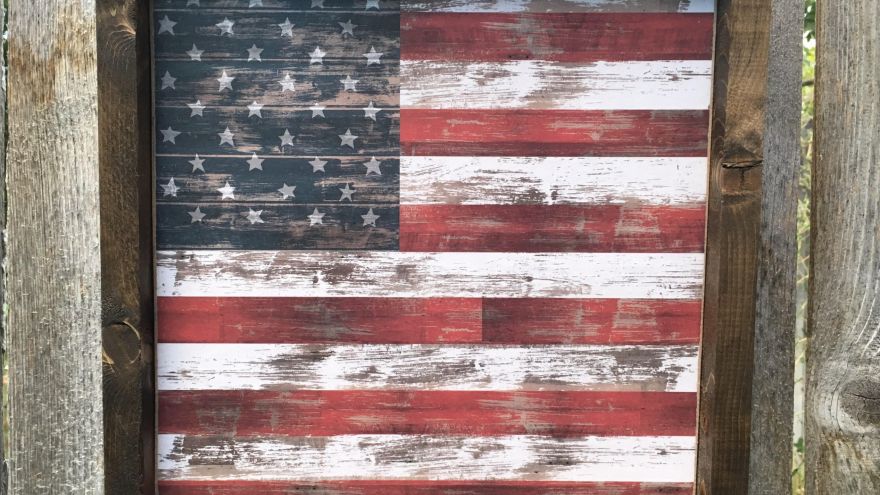 As a proud homeowner or renter, it's likely your house has a specific style or décor theme. For some, you'll find most of their accent pieces contribute to a country style. Others prefer more unexpected styles, such as Americana. If you're in the market for some amazing Americana décor pieces, we've found an assortment of 10 unique items you'll love to have in your home. Not to mention they're also ideal for your upcoming Fourth of July celebrations!
Americana Décor Ideas
1.Primitives by Kathy Pledge Allegiance Box Sign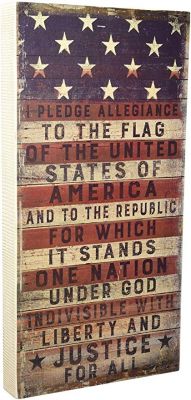 The Pledge Allegiance Box Sign is the perfect addition to any home, especially if you're looking for an Americana-inspired element that will complement your other décor. You'll especially love how high quality it is and you have the ability to decide whether you want to hang in on a wall or keep it on a flat surface.
As an added touch, the edges of the plaque are sanded so that they have a more rustic appeal that makes it unique compared to other house signs you'll find. On the front, it features a stunning American flag design and writing that reads the text from the Pledge of Allegiance.
2. Amscan "Welcome" Party Sign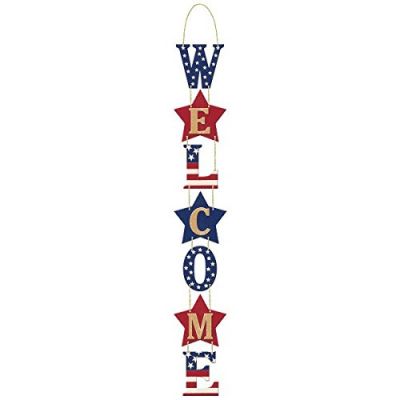 The main thing to appreciate with this party sign is that it's not only great for special occasions, but it's also the perfect addition to the outside of your home. If you're a homeowner that is welcoming to all guests, the artisanship of this welcome sign will contribute to your curb appeal.
Also, it's important to note that the sign can be used both indoors and outdoors.
3. Fun Express Americana Decorative Pails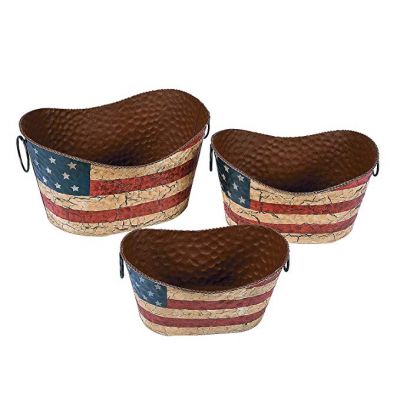 Accent pieces are incredibly popular, especially if you want to add a subtle touch of American flair to your house without being too over the top. These decorative pails come in a set of three and can be used to hold a variety of items from plants to other smaller decorative elements.
What you'll love the most about them is that they feature a crackled finish and are made entirely out of metal.
The pail sizes include:
Small: 4"x8"
Medium: 5.5"x10"
Large 6.5"x12"
We also love the idea of using the pail as a way to keep beverages cold during special events, such as your Fourth of July Celebrations. However, they are not designed to insulate cold, so the ice may melt quickly.
4. VHC Brands Jute Coasters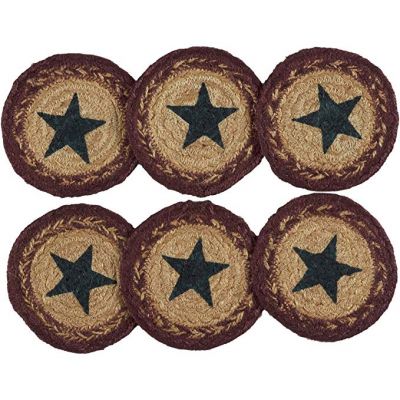 There's nothing that quite says "America" more than stars and stripes, which is one of the main reasons as to why you might want to consider buying the VHC Brands Jute Coasters. The set comes with six individual coasters that you can use for beverages or as accent pieces to your side tables and coffee tables.
There are also three different colors entwined in their design such as navy, burgundy, and natural jute. Our favorite part of the coasters is the navy star that is stenciled in the center.
5. Decorbox Cotton Linen Pillowcase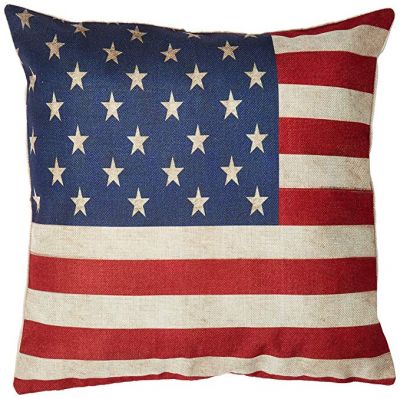 Accent pillows are a phenomenal way to dress up your couches and any comfortable chairs you have both inside and outside. The Decorbox Cotton Linen Pillowcase is a fantastic choice for an Americana-inspired home, as it has a rustic American flag printed on the front and back.
The cushion measures in at 18 inches square but unfortunately doesn't come with the insert. You can choose to use it as a cover for an existing cushion or you can add your own fill. You'll also love the invisible zipper and the softness of the cotton linen material.
6. Briarwood Lane Liberty Primitive Doormat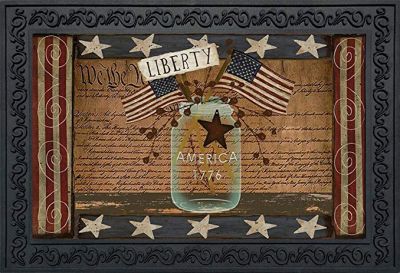 When you have guests arrive at your home for a special occasion, you'll be able to prepare them for the décor inside with the help of the Briarwood Lane Liberty Primitive Doormat. It's large enough to fit on most sized porches, as it measures in at 18" by 30". It also has plenty of other great features, including:
Polyester Material: The polyester used for the doormat is fantastic as it is long-lasting and weatherproof. There is also a non-skid rubber mat attached at the back to keep the mat in place.
Indoor and Outdoor: No matter if you want to keep it on your front porch or use it inside of your home, the Briarwood Lane Liberty Primitive Doormat is highly functional.
7. Darice Tea Stained American Flag Bunting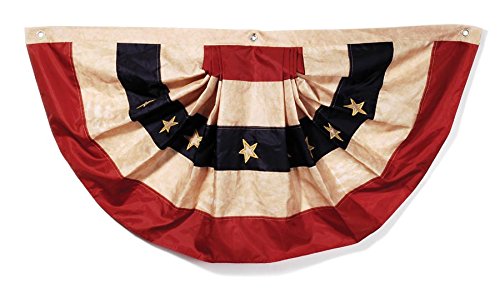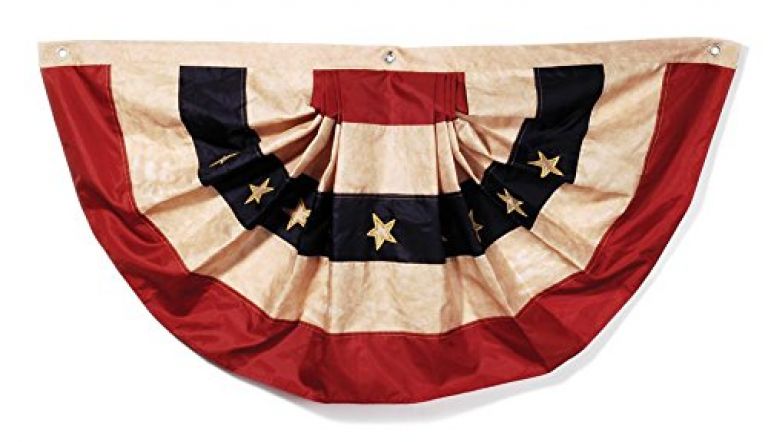 Not all homeowners are interested in décor pieces that you can display on accent tables and chairs, which is why we highly recommend the Darice Tea Stained American Flag Bunting. You can use these as a fantastic accent to your patio or even hang them on your front lawn.
By far, the most interesting aspect of the bunting is that it is tea-stained. This gives it an antique and authentic look that will compliment any other Americana décor you have around the house. It's also made out of high-quality polyester that you can easily leave outside throughout the year without the worry of fading or the material wearing away.
8. VHC Brands Independence Pillow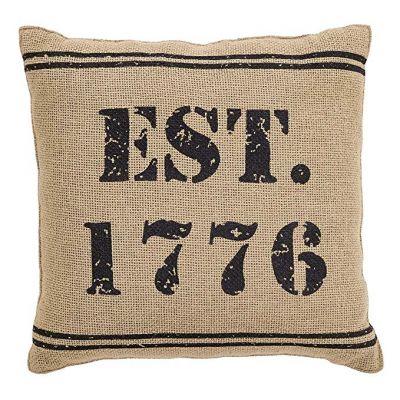 We love the look of the VHC Brands Independence Pillow as it captures everything you would expect from a modern pillow with a vintage aesthetic. With crackled print on the front that reads, "Est. 1776", you'll be able to celebrate the independence of America with ease. Compared to other accent pillows, there are a couple of extra features the VHC Brands Independence Pillow has to offer.
First, the pillow arrives filled, so you won't have to worry about finding an internal cushion. It is also reversible, as the other side of the pillow features a bold red and tan plaid. You'll also appreciate the turned edge seam, which perfectly finishes the pillow and adds to its durability.
9. Primitives by Kathy Patriotic Box Sign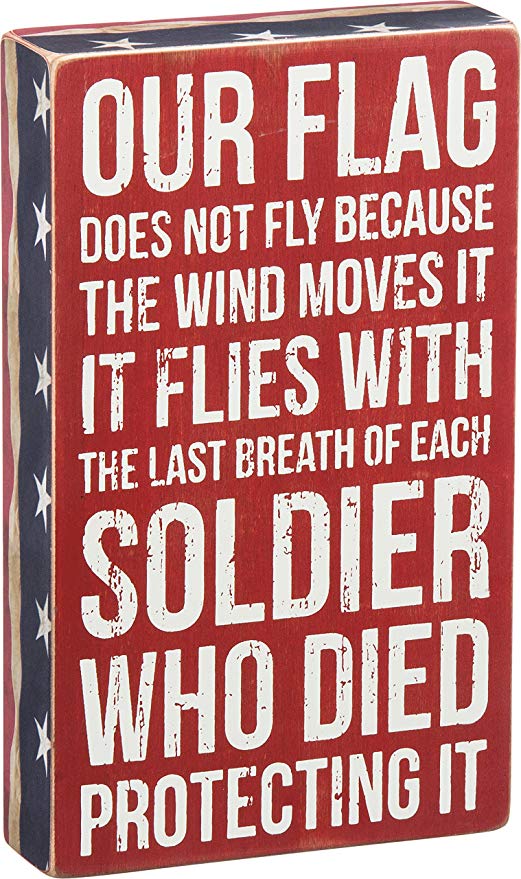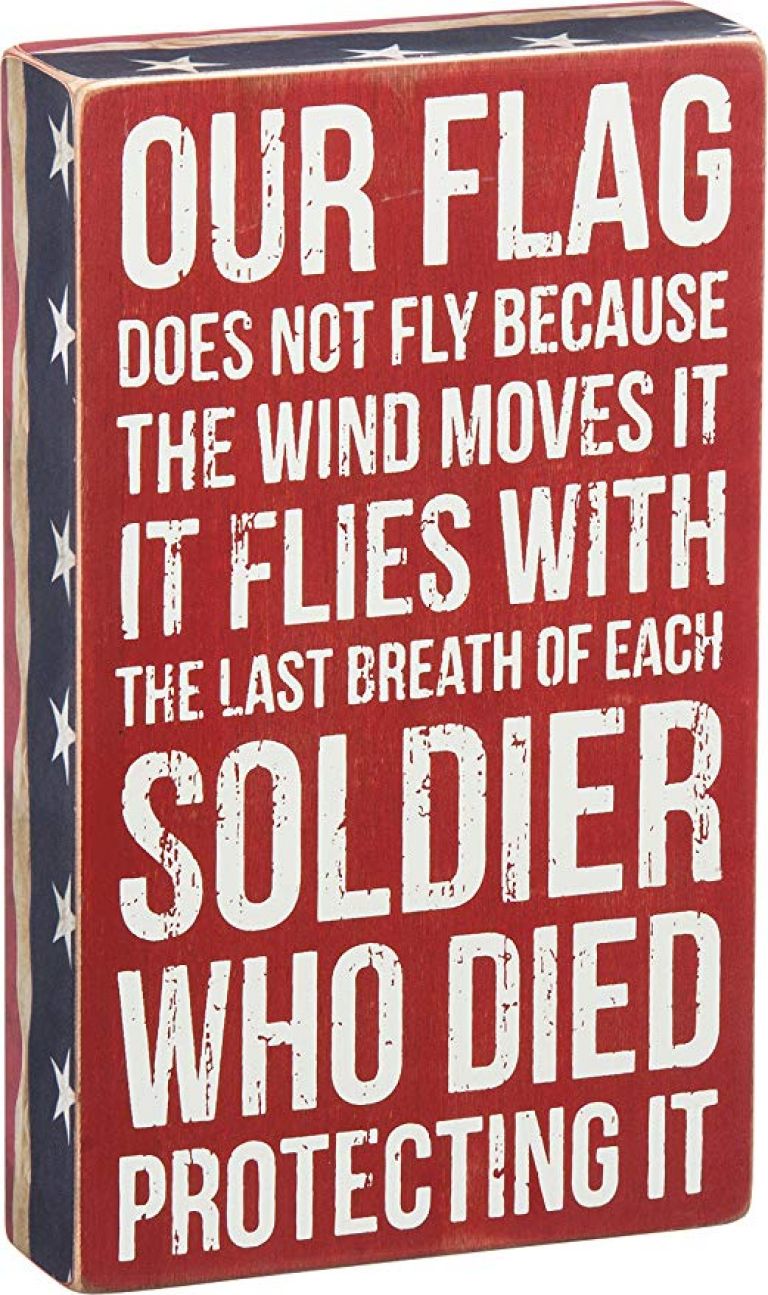 Another stunning décor piece from Primitives by Kathy is this Patriotic Box Sign. Not only will it look great in your Americana inspired home, but it's also the perfect gift for a military member in your life. With the combination of bright red and deep navy, it's the perfect way to display your patriotism.
On the front of the sign, it reads, "Our flag does not fly because the wind moves it, it flies with the last breath of each soldier." Similar to the other wooden sign, you can choose whether you want to hang it on the wall or if you prefer to have it stand freely in your home.
10. MyGift Serving Tray
The MyGift Serving Tray is a phenomenal accent piece for your coffee table or backyard table. Made from high-quality whitewashed wood, it captures the true essence of Americana. When you use it for the first time, you'll easily notice how functional it is for heavier items such as platters, juice pitchers, and wine bottles.
Aside from the luxurious whitewashed wood, you'll also love the boldly printed American flag that signifies your support for America and all it has to offer.
With these 10 amazing Americana décor items, you can finally pull the aesthetic of your home together. Not only are these pieces great for special occasions, but they're easy to keep as a part of your regular household décor.
Pin for later