This product is listed here: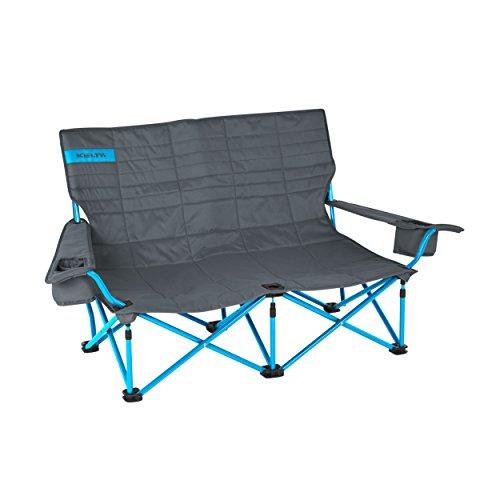 Loveseat Camping Chair by Kelty Low
There are so many reasons to replace the ordinary camp chairs with this loveseat camp chair by Kelty Low. Made from 600D imported polyester, this is definitely the throne among all other seats of its kind. Camping and relaxing should never be about annoyance and stress. Let the loveseat chair make someone's outdoor trip relaxing and convenient, and have them replace two separate bulky chairs with one! At 44 inches across, you can easily sit down next to a pal and comfortably enjoy your atmosphere.
Detailed information about Loveseat Camping Chair by Kelty Low
Whether it's with a friend, or just to keep the giant seat to yourself, you will enjoy the multi-position recliner. What other camping chairs fit two people and recline? You don't worry about weight, this thing can hold up to 400 pounds. Its double steel frame, adjustable armrest, completely insulated beverage holder, and its included padded carry bag have allowed the Kelty Low Loveseat Chair to completely surpass competitors. Unlike other carrying bags, which require you to stuff the camping chair in with all your might, this carrying bag wraps around the chair with three simple buckles and has a single strap that allows you to carry the chair on a sling, like a backpack. That bag can also be rolled out flat and used as a small blanket. Convenience at its finest!