This product is listed here: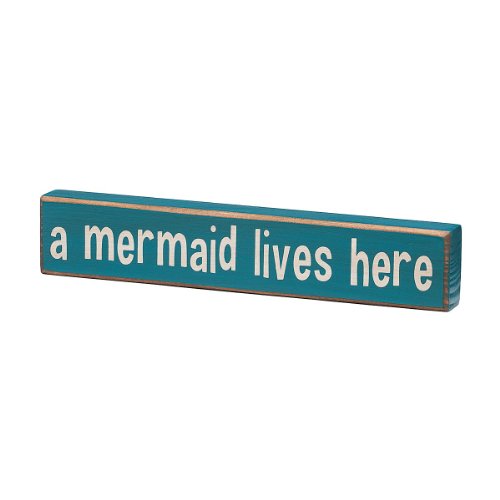 A Mermaid Lives Here – Vintage Coastal Mini Wood Sign
Do you know a mermaid? Let us rephrase that. Do you know someone who wishes they were a mermaid? If yes, we have the perfect gift idea! This mermaid sign is an excellent and unexpected gift, perfect for any girl who wishes she were actually a mermaid.
The sign itself is incredibly simple in design – made out of wood, painted teal (the ideal mermaid color) and with the words 'A mermaid lives here.' What could be better! This is a simple, yet a sophisticated sign that would look great in a bedroom, bathroom, or even in an entryway (let people know as soon as they walk in the door who lives there!).
Whether your mermaid loving friend is actually a friend, or a sibling, cousin, or even a coworker, this is an excellent gift that they are sure to love displaying at their house (or maybe even on their desk at work.).
Detailed information about A Mermaid Lives Here – Vintage Coastal Mini Wood Sign
Additionally, this is also an excellent gift for anyone who has a beach-themed house or apartment and is in need of some new decorations. Maybe you know someone who just bought a new cottage by the beach - what a perfect housewarming gift to give them. Totally lighthearted and fun, this is a great simple gift to give to just about anyone.