10 Best Holiday Backgrounds for Your Screens: Getting You in the Right Mood for Xmas!
last updated:
Dec 10, 2018
1771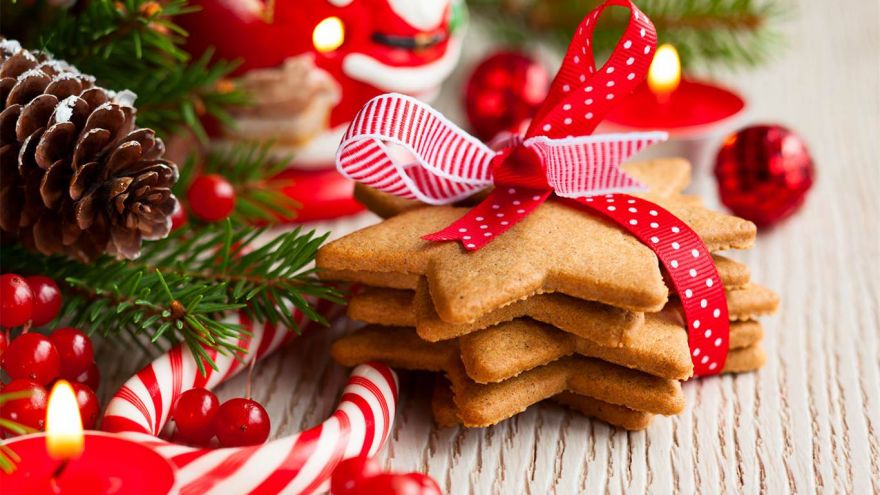 Apart from the fact that electronic devices are useful in their own right, one of the most interesting parts of owning them is the fact that you can change your backgrounds to correspond with upcoming events and seasons. Christmas is easily one of the most visually beautiful holidays during the year, and as such, you're going to want to make sure that you choose the perfect backgrounds for your computers, tablets, and smartphones to really get you into the spirit.
We've found 10 fantastic options for any of your devices and they are all entirely free and legal to use for a wide variety of purposes.
1. Christmas Cinnamon Sticks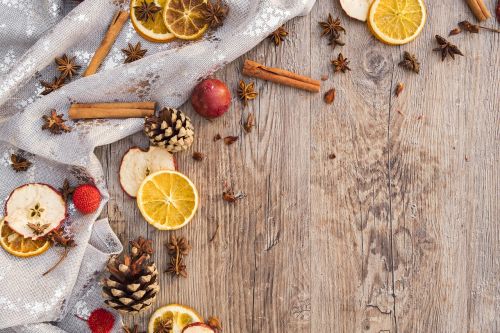 First and foremost, let's just say that you can easily smell the delicious scent of cinnamon mixed with citrus and pinecones simply by looking at this photo. Not to mention we love the stellar contrast between the fruits and natural elements, such as the wooden background.
As a far more modern background than most other Christmas pictures you'll find on the internet, we love the idea of using this image as your background for a family or personal computer. It can also be a fantastic option for a tablet that you would use to pull up recipes when it comes time to make holiday treats.
2. Christmas Candle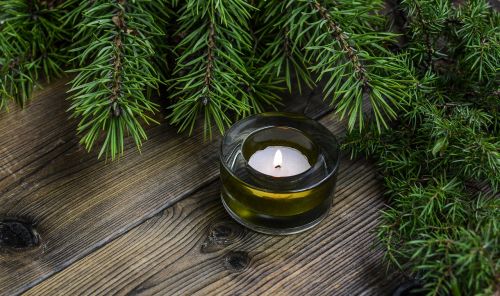 As another beautiful Xmas background that you might be able to smell as soon as you see it, we love the comforting feeling that we got when we took a look at this Christmas candle background. In all honesty, it's one of the more simple background images that we found, which is ideal for someone who is a minimalist but certainly a fan of the greens that pop up around the holiday season. If you're getting ready to decorate your home with fantastic Christmas candles, this is one of the better backgrounds to choose from.
3. Christmas Gifts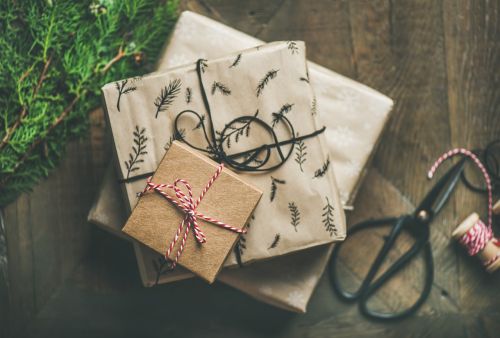 We loved the combination of all of the natural elements in this Christmas gifts background, especially because it has a beautiful filter that adds to its rustic appeal. With presents wrapped in stunning wrapping paper and finished with a bow, this really got us in the mood for getting all of our presents together. We also appreciated the contrast between the red and white ribbon, burlap colored paper, greenery, and wood that seemingly brings the entire image together.
4. Santa Claus

We wouldn't necessarily recommend this Santa Claus background for adults, however, it's a fantastic option for a family computer or a computer that your children mostly use. If you find that the kids are starting to act up once they go on winter vacation, what better way to remind them to behave than to put a picture of Mr. Claus on their computer?
Remember kids, you won't get any presents if you don't listen to mom and dad! Additionally, there's nothing that quite screams Christmas as much as Santa Claus himself.
5. Red Cranberry Garland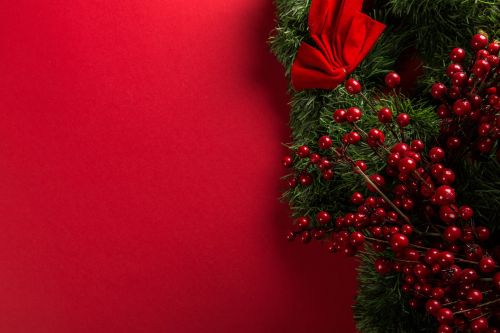 If you're someone who is a fan of the reds and greens around the holiday season, this background image is easily one of the best ones on this list, especially as the saturation of the photo creates a stunning and brilliant display of our favorite things around the holidays. With juicy cranberries on a beautiful green garland on a striking red background, it's a fantastic wallpaper that will surely grab the attention of absolutely anyone.
6. Snowman Ornament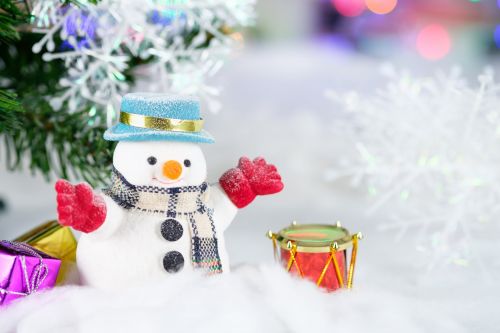 If you're looking for something that is a little more cute than modern or original, the snowman ornament background image is a fantastic option for your smart devices or your computer. What we love about this picture is that it's also appropriate for professional environments, so if you want to change the background of your computer at work, the IT department shouldn't mind. As an image of a friendly snowman, who we'd like to think is Frosty the Snowman, surrounded by tiny drum and present ornaments, this photo makes us want to jump right into the winter wonderland.
7. Scrabble Christmas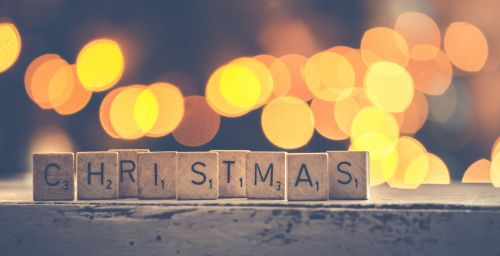 Is your family the type of family that loves to play games together during Christmas Eve dinner or at any other point during the holidays? The overall ambiance of the Scrabble Christmas background picture is rather soothing and cozy, which is quintessential to the holiday season. Not to mention, Scrabble is easily our team's favorite holiday pastime to enjoy with the family. Ideal for the board game aficionado in your life, we recommend setting this as your wallpaper to get you excited for the time that you get to spend with friends and family over the holiday season.
8. Snowy Winter Home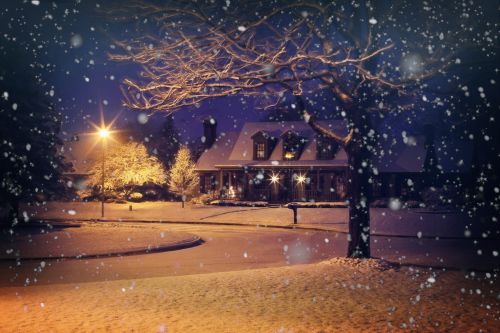 The main thing to appreciate about this image is the fact that it doesn't only apply to the Christmas season, but the entire winter season. With a beautiful home in the background covered in blankets of snow and images of small snowflakes falling around the house and tree-lined streets, we find ourselves wishing that we were able to live right around the corner. On a quiet street on a cold winter's evening, there's nothing better than listening to the sound of snow gently falling on the branches of trees and packing up on sidewalks and front lawns.
9. Christmas Drinks and Treats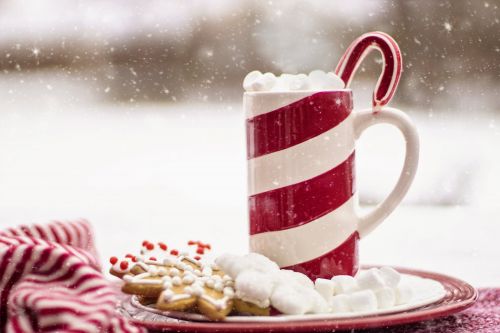 As we all know, Christmas is the one time of year where you get to indulge in some of the most delectable sweet treats, even if it's first thing in the morning. Perfect for someone who is getting prepared for their annual holiday baking, the Christmas drinks and treats background is the perfect addition to any device that you own. We particularly love the look of the candy cane inside of the hot chocolate with the spectacular fluffy marshmallows on top. Though we also find ourselves salivating at the idea of indulging in the delicious gingerbread cookies on the plate as well.
10. Winter Ornaments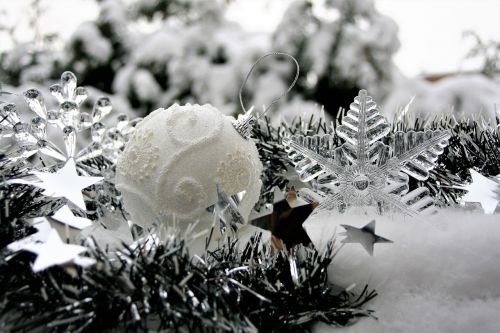 Ideal for the type of person that is a fan of all things sparkly that pop up during the Christmas season, this winter ornaments photo is the perfect alternative to traditional Christmas photos. With the combination of icy whites, crystal ornaments, silver, and dark green, it's an extraordinary scene that you'll see every time you unlock your phone or boot up your computer. If there's one thing that we can say about this background it's surely, where can we get those ornaments?
Final Thoughts
With the right holiday background, you can easily raise your spirits and get ready for the Christmas season. No matter if you're a fan of the more natural elements of decorating or if you're getting ready for Christmas baking, there's surely a background image on this list for anyone in your family.
Pin for later