This product is listed here: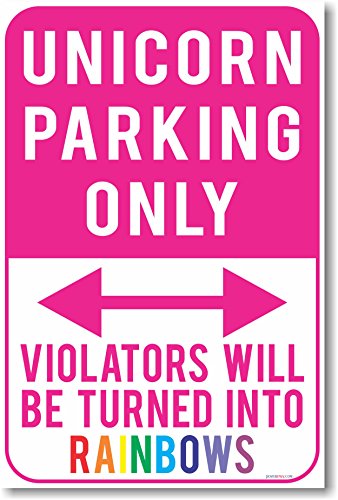 Unicorn Parking Only Poster
Unicorns are cute, and so are unicorn themed gifts. They represent a sweet fantasy, they are magical and a happy dream that children and even adults love to associate with. If you have someone special in your life who loves unicorns and probably has a growing collection of unicorn stuff, it would be a pleasant surprise if you give them a unicorns related gift.
It could be something about the beautiful colors, or the innocence and purity that makes unicorns admirable and sweet, but whichever the case, anything unicorn is rare and exquisite. Thus, if you are looking to for a unicorn gift that is unique and fun at the same time, why not get this hilarious Unicorn Parking Only poster from PosterEnvy?
Detailed information about Unicorn Parking Only Poster
The new humor poster is made of quality satin cover paper, weighing about 80lb, and measures 12" X 18". The material used to make this fun unicorn poster is quite durable, and it will certainly hold up to any type of abuse without wrinkling or puckering as you would expect with the other posters.
There is no doubt that this lovely unicorn poster will make the receiver feel special. The poster is printed with a hilarious graphics which reads "Unicorn Parking Only- Violators Will Be Turned into Rainbows." It's a humorous poster, in beautiful pink color and the rainbow graphics are artfully grafted with all the rainbow colors which make the whole poster look really cute.
WHY WE LIKE IT?
The poster is printed with beautiful colors and fun graphics
WHY WE dont LIKE IT?
The poster is not framed
What we love about this product
This is an awesome gift for a unicorn lover, that not only gives them a special sense of recognition but its also humorous and unique. It will sure give the receiver a good laugh.