Eating Vegan: The Best Vegan Foods and 3 Recipes for Skeptics!
last updated:
Apr 29, 2019
1747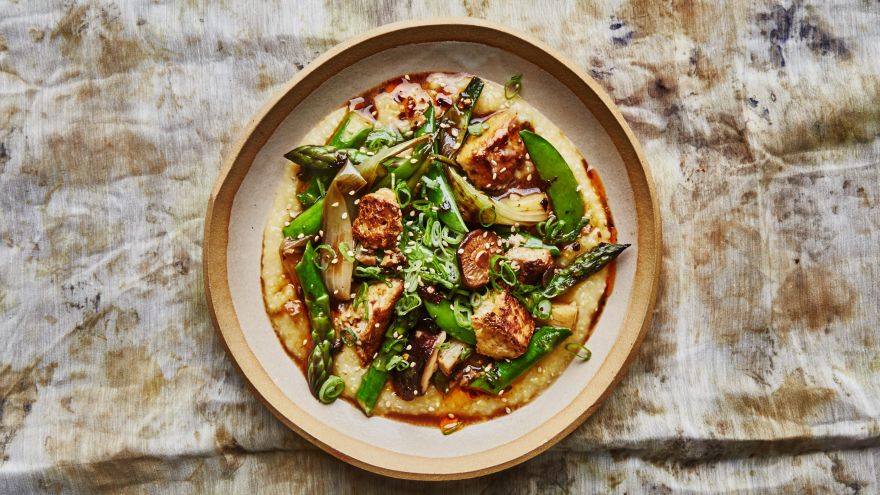 Unless you've lived a vegan lifestyle in the past, it's easy to get swept away in the skepticism and stigma attached to the dietary restrictions. When in fact, veganism has the ability to open your eyes to plenty of new ingredients. Many of which emulate the same satisfaction from meat-based meals.
If you're interested in starting a vegan lifestyle or if you're simply curious, we've found 3 amazing recipes that even skeptics will love. All of the recipes include ingredients that are easy to find from your local grocery store and are incredibly affordable.
Our 3 Favorite Vegan Recipes
You can guarantee there are thousands of vegan recipes on the internet designed to recreate your favorite meaty meals in a plant-based manner. The three below recipes are something that everyone in your family will enjoy, even the kids!
1. 6 Ingredient Pulled Jackfruit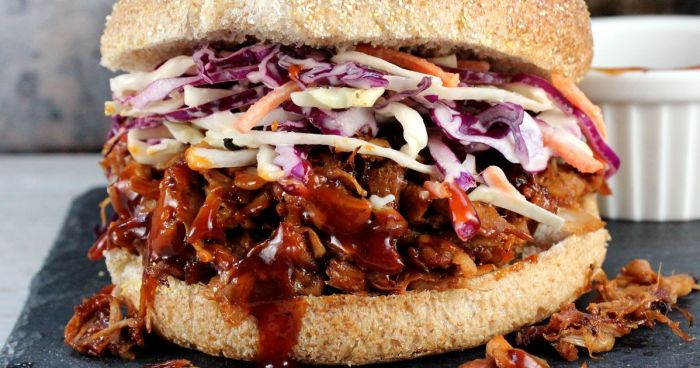 Created to be similar to pulled pork sandwiches, jackfruit is a very popular vegan substitute for the meat. This succulent and decadent dish is easy to make and a fantastic option for beginner and veteran vegans.
Ingredients
2 20oz cans of young green jackfruit (in brine or water)
1 tablespoon of olive oil
½ sliced yellow onion
3 cloves of minced garlic
¼ cup of vegetable broth
¾ cup of BBQ sauce
Directions
✓ Preheat the oven to 400 degrees and then grease your baking pan. You can then rinse and drain the jackfruit.
✓ Once drained and washed, cut the jackfruit into small pieces and add olive oil to a large frying pan over medium heat.
✓ When the pan is hot enough, add in the garlic and onions, sautéing the ingredients for about 5 minutes. You can then add in the vegetable broth and jackfruit, cooking for an additional 10 minutes.
✓ As soon as the jackfruit is soft enough to mash, use a potato masher or fork to mash the jackfruit until it looks shredded. Spread it across the bottom of your baking pan and cook it in the oven for 15 minutes.
✓ Once finished, add in the BBQ sauce and stir to combine it. You can then add it to your vegan buns and add some vegan coleslaw for an extra kick.
Full recipe: https://itdoesnttastelikechicken.com/
2. Crispy Breaded Tofu Steaks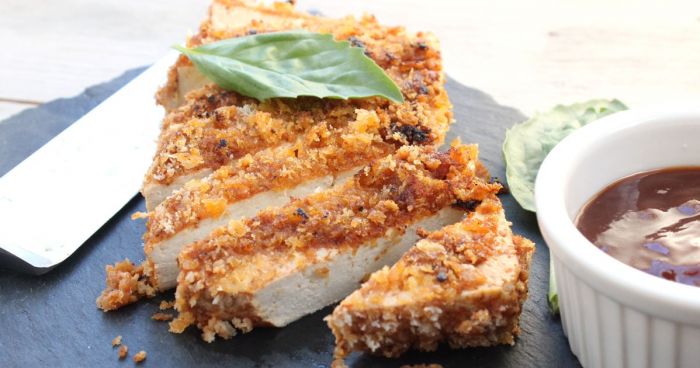 Tofu is easily one of the most versatile ingredients that you can use in easy vegan meals. It's also incredibly affordable, especially when compared to traditional steak!
Ingredients
1 block of extra firm tofu
4 cloves of garlic
2 tablespoons of tomato paste
1 tablespoon of Dijon mustard
1 tablespoon of maple syrup
1 tablespoon of soy sauce
1 tablespoon of water
¼ teaspoon of black pepper
½ cup of panko breadcrumbs
2 tablespoons of olive oil
BBQ sauce for dipping
Directions
✓ First, drain the tofu and then cut it into pieces similar to slices of steak. You can then lay the tofu on a dishtowel and wrap the pieces. Place a hard flat surface on top of the dishtowel and let it press for up to 30 minutes.
✓ Mince the garlic cloves and add them into a large bowl. You can then add in the tomato paste, maple syrup, Dijon mustard, soy sauce, pepper, and water, mixing all of the ingredients together.
✓ In a separate dish, add in the breadcrumbs.
✓ Taking each piece of your tofu steak, dip it into the tomato mixture and then dip the pieces into the breadcrumbs, making sure each piece is fully covered.
✓ Add the olive oil to your frying pan and turn your stove onto medium heat. Carefully fry the tofu until the breadcrumbs are golden on all sides. Once finished, serve with your favorite BBQ sauce for dipping.
Full recipe: https://itdoesnttastelikechicken.com/
3. Lentil Tacos with Avocado Cilantro Sauce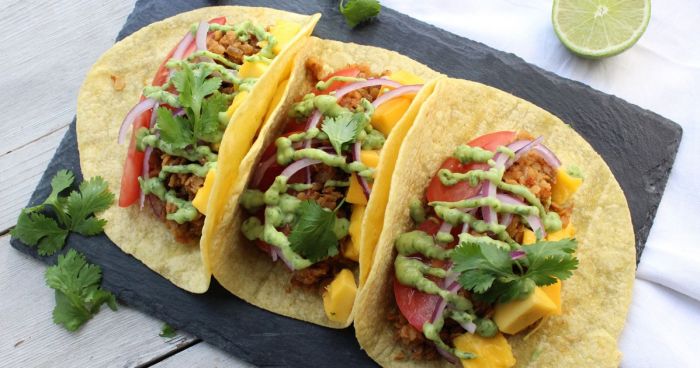 For someone who has a passion for all things taco related, this is a fantastic vegan recipe to get your hands on. It takes less than 30 minutes to make and features a combination of fantastic flavors you won't forget. We especially love this recipe for a summer barbecue with the family.
Ingredients
Lentil Filling
1 tablespoon of olive oil
1 finely chopped yellow onion
2 cloves of minced garlic
2 teaspoons of chili powder
1 teaspoon of cumin
½ teaspoon of oregano
½ teaspoon of paprika
¼ teaspoon of chili flakes
¼ teaspoon of salt
2 cups of vegetable broth
1 cup of red lentils
Avocado Cilantro Sauce
1 bunch of cilantro
1 avocado
1 clove of garlic
½ cup of water
1 tablespoon of lime juice
¼ teaspoon of salt
1 tablespoon of agave
Tacos
8 corn tortillas
2 chopped mangoes
2 sliced tomatoes
½ thinly sliced red onion
Directions
✓ First, you will work on the lentils. Add the olive oil into a pan and turn the stove onto medium heat. Once the pan is hot, add in the garlic and onion, sautéing the ingredients together. You can then add in the spices until the mixture is fragrant.
✓ Combine the lentils and vegetable broth in the pan, allowing the ingredients to simmer together until the broth is entirely absorbed.
✓ Add all of the cilantro ingredients together in a blender or food processor to blend until the ingredients are smooth.
✓ Preheat your oven to 350 degrees and wrap the tortilla shells in foil. Bake them for about 10 minutes until they are warm throughout.
✓ Once all of your ingredients are ready, top the tortillas with the lentil mixture, add your favorite toppings, and then add the sauce as the perfect finishing touch.
Full recipe: https://itdoesnttastelikechicken.com/
Final Thoughts
The sky is the limit when it comes to vegan recipes. There are a wide variety of spices and ingredients that you can use together to not only emulate your favorite meat meals but to create great plant-based ones as well. There are plenty of people who love the idea of veganism because it allows them to express their culinary creativity.
Even if you're not interested in making an entire dietary change, you can easily implement these recipes into your week as a small change from your regular day-to-day meals.
Pin for later