Teen Jewelry Ideas!
last updated:
Jul 29, 2019
3712
Teens have ever-changing styles and with new trends constantly popping up on Instagram every week, it might seem impossible to find the perfect piece of teen jewelry to give them as a gift.
From chokers to statement pieces, there are hundreds of different jewelry designs that you might think the teen in your life would like.
Luckily, we were able to find 10 of the most phenomenal teen jewelry pieces that you can easily order and are easily adaptable to absolutely any outfit.
Teen Jewelry Ideas!
1.justBe Charm Bracelet Kit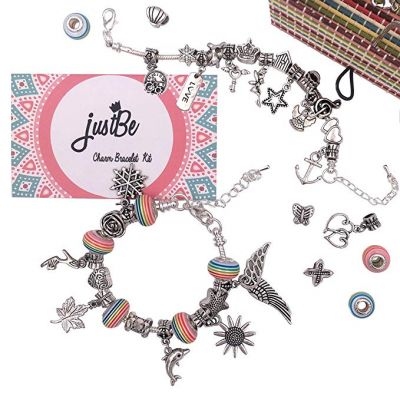 This is a great idea for someone who might not have any clue of what their loved one or friend might like, as the justBe bracelet kit gives the recipient the ability to make her very own bracelets.
In the kit, you'll receive 20 metal beads, 15 dangle beads, and 10 glass beads. You'll also receive 3 snake chain bracelets that are fully customizable depending on the size of their wrists and the best part is that there isn't any glue or special pieces involved with making her own bracelet.
2. Oriya Stainless Steel Affirmation Necklace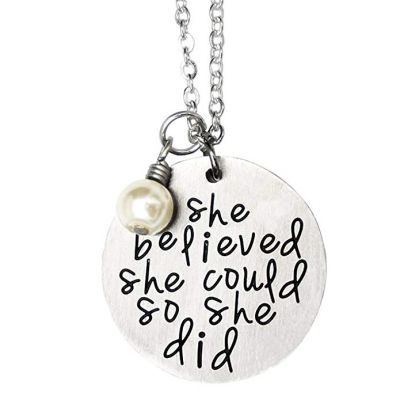 If there's one thing we can all agree on it's that finding yourself as a teenager is relatively impossible, especially if you're surrounded by a large group of friends trying to find their identities as well.
No matter if you're buying a gift for your child or a best friend, the only thing that you can do to help them through these difficult years and let them know that they have the strength to conquer anything.
The Oriya necklace has a cute charm with the saying, "She believed she could so she did" engraved on it with a beautiful pearl accent piece that pulls the whole necklace together.
3. Tiny Initial Necklace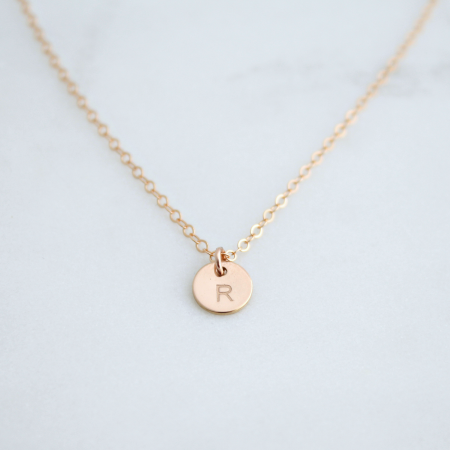 Remember how we said that there are new trends popping up on social media weekly? Thin necklaces with tiny pendants and initials on them are seemingly a trend that isn't going to die out anytime soon, so we love the idea of the Tiny Initial Necklace for a teen girl.
Whether you choose to get one with her initial on it or her current boyfriend, the options are endless, not to mention you could buy one for yourself as well and have matching necklaces.
There are several different symbols that you can choose from for the pendant ranging from a small circle to an infinity symbol, which allows you to create an even more personalized gift.
4. Titanium Workout Necklace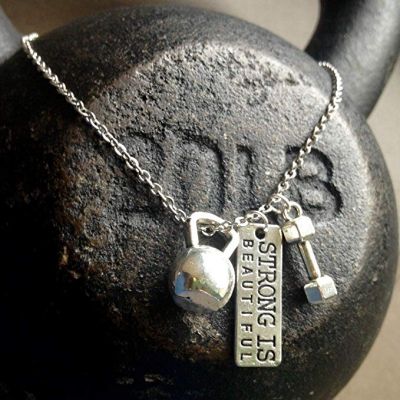 Not every teenager is going to spend a lot of time in the gym, however, if you have a girl in your family that's really into sports and training, the Titanium Workout Necklace is a fantastic present to give.
It's another way to help them get through some of the toughest experiences in life because at the end of the day the strength they show on a daily basis is more than what most people can say for themselves.
The Titanium Workout Necklace has a dumbbell charm, a kettlebell charm, and a small rectangular charm that reads, "Strong is beautiful".
Also, the necklaces are made out of break-resistant titanium, which helps to guarantee that the necklace won't deteriorate over time, even when worn while working out.
5.Craftivity AromaJewelry Kit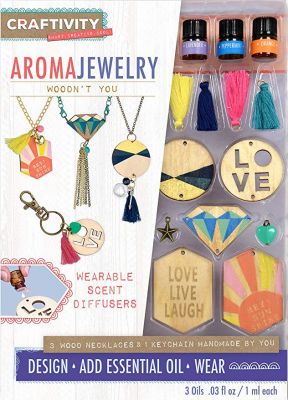 Essential oils have been proven to be quite useful for plenty of purposes, whether it's for concentration during an exam or if you need help sleeping at night.
The Craftivity AromaJewelry Kit is a great way to allow a teen to express her creativity and reap the benefits of essential oils, especially if she's interested in wearing perfume but isn't old enough to do so.
There are four different types of kits that you can choose from, though our favorite is surely the "Woodn't You" kit, as all of the pieces are crafted out of high-quality wood and give you the ability to make keychains, necklaces, and even earrings.
Though what makes the kit unique is that it also comes with different essential oils so you can infuse the pendants with your desired scents
6. Sterling Silver Initial Necklace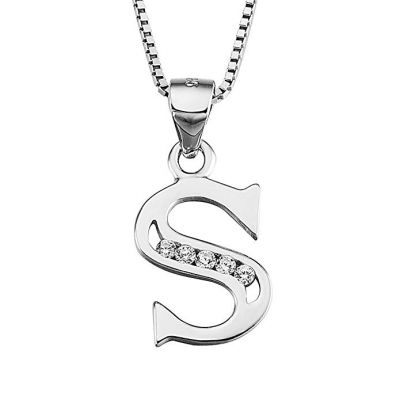 There's nothing better than reminding a teen of who she is and with the Sterling Silver Initial Necklace, she'll be able to show off her first or last initial so that she can be proud of where she came from.
This can also be a great gift for someone who has recently lost a family member or pet and wants to carry a piece of them absolutely everywhere.
The necklace is crafted out of sterling silver and has a couple of cubic zirconia gems to add a little bit of sparkle to the customizable pendant.
7. Paxcoo Black Choker Set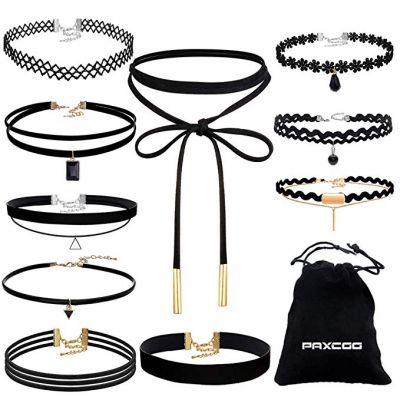 Chokers are easily the most quintessential accessory that a teenager can have at her disposal, especially as the vast majority of Instagram models seem to be wearing one on a regular basis.
The Paxcoo Black Choker Set comes with 10 different choker styles and a storage bag so you can keep all of the necklaces together in one convenient location.
8. Inkstone Motivational Silicone Bracelets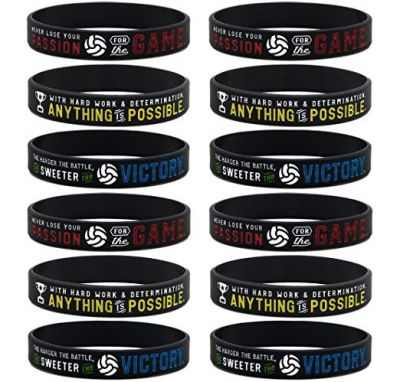 Not every teenage girl is going to want a pretty and dainty piece of jewelry, which is why we love the Inkstone Motivational Silicone Bracelets, as they're perfect for the most casual and athletic wearer.
These bracelets are available in a pack of 12 and come with a wide variety of sayings on them, though these designs mostly revolve around volleyball, they have plenty of great messages such as, "Anything is possible".
9. Doctor Unicorn Stacked Bracelets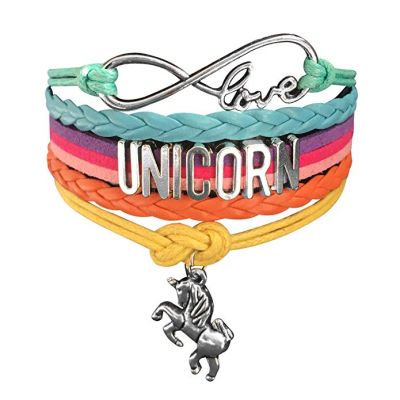 Unicorns are far more than mythical creatures, especially as they're one of the most popular creatures for younger girls to have on their jewelry. The Doctor Unicorn Stacked Bracelets are great for a girl that likes the look of several bracelets without having to put each individual one on at a time.
The bracelets are handmade and affixed together with an adjustable string to fit a wide variety of different wrist sizes. There are also plenty of other styles to choose from if unicorns aren't particularly something she might be interested in.
10. Marcus Mayfield Hanging Jewelry Organizer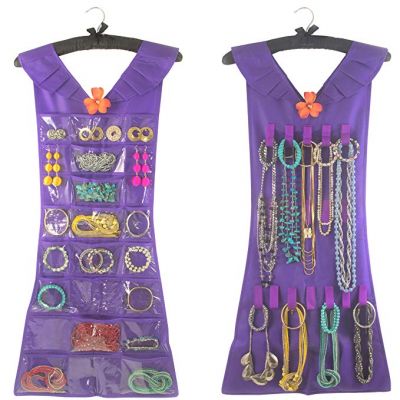 Although this might not be a piece of jewelry, some type of organization is key, especially when you're dealing with teens.
We know that when we were younger, we would simply throw our necklaces and earrings anywhere and everywhere, which resulted in them being tangled and useless in the future.
With the help of the Marcus Mayfield Hanging Jewelry Organizer, your teen will have more than enough space for storing necklaces, bracelets, earrings, and more, as it has 24 individual pockets and 17 different hooks to use.
Final Thoughts
Finding the right teen jewelry gifts is a task in itself, however, you can bet there are plenty of styles out there for you to choose from.
When it comes to finding the trendiest and most appropriate pieces for your age group, we recommend taking a look to see what Instagram and other social media platforms are showcasing as the current fad.
Pin for later