Super Filling Salads That Pack a Low Amount of Calories!
last updated:
Feb 25, 2019
1771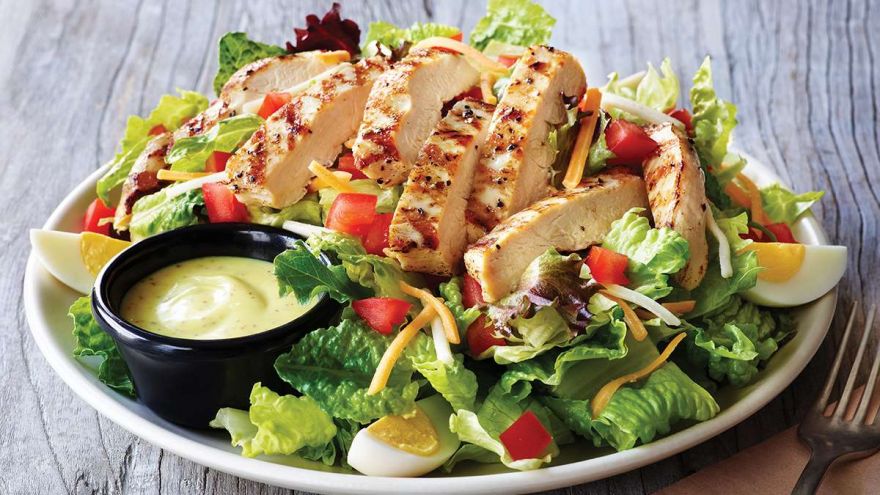 There's no way around it – making healthier eating choices can be tough. This is especially true if you're accustomed to eating more calories daily than you should. Most people are under the impression that salads are one of the worst diet foods because they leave you hungry. However, it doesn't have to be that way, all you need is a few great recipes that fill you up! We've found a few fantastic super filling salads that pack a low amount of calories that you'll be sure to love.
Summer Chicken and Avocado Salad (427 Calories)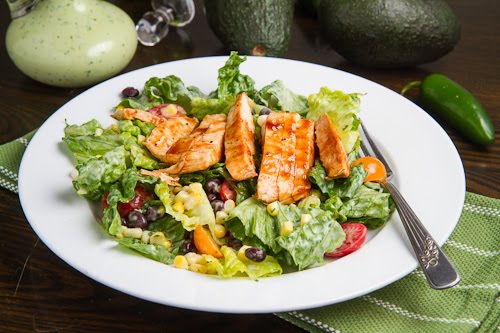 This recipe is fantastic for a warm summer afternoon when you want the freshness of vegetables and the comfort of healthy protein. It's the type of salad that you can either make for yourself or serve at a backyard barbecue as a healthier option.
Ingredients
¼ cup of lemon juice
2 tablespoons of rosemary
4 cloves of finely chopped garlic
4 tablespoons of olive oil
¾ teaspoons of kosher salt
6 ounces of chicken breast (boneless)
3 ears of shucked corn
5 ounces of baby spinach
1 avocado
2 ounces of parmesan cheese
½ teaspoon of black pepper
Directions
✓ Heat your grill to medium-high heat. Whisk together the rosemary, garlic, 3 tablespoons of olive oil, lemon juice, ¼ of a teaspoon of pepper, and ¼ of a teaspoon of salt in a medium bowl. This will be your dressing. Transfer half of it to a smaller bowl and set it aside. Place the chicken breasts in the remaining seasoning, coating it well.
✓ Using the remaining oil, rub the corn and season with ¼ of a teaspoon of salt and pepper. Grill the chicken and the corn, turning them occasionally until the corn is tender. You'll also want to make sure that the chicken is fully cooked. Using a knife, cut the kernels off of the corn cobs and slice the chicken as desired.
✓ Toss all of the ingredients together with the salad dressing that you set aside. Additionally, cut the avocado and top as a garnish with a sprinkle of parmesan cheese on top.
Green Bean and Tuna Salad (300 Calories)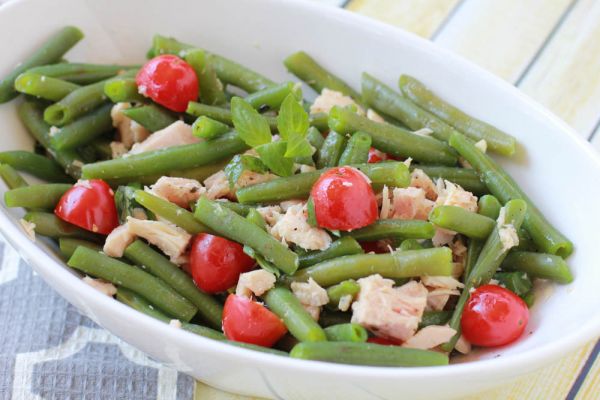 This recipe is fantastic if you're looking to get rid of extra vegetables in your fridge and canned goods. Not only is it a great way to prepare your fridge for your next grocery trip, but it tastes fantastic as well. This green bean and tuna salad is arguably one of the easiest salads to put together that we have on this list.
Ingredients
1 ½ pounds of trimmed green beans
3 teaspoons of salt
2 large red potatoes (diced)
1/3 cup of lemon juice
2 finely chopped garlic cloves
1/3 cup of olive oil
1 teaspoon of dried oregano
¾ teaspoons of black pepper
8 ounces of halved cherry tomatoes
½ cup of fresh basil
¼ cup of Italian parsley
9 ounces of canned tuna (drained)
Directions
✓ Using a large pot, start to boil water and then add in the green beans. Cook for approximately 4 minutes, or until they are crisp-tender. Reserving the boiled water, strain the beans and place in a medium-sized bowl of ice water. Once the green beans are completely cooled, dry them with a towel.
✓ Add in 2 teaspoons of salt to the boiled water and bring it back to a simmer, adding in the potatoes. Cook the potatoes until they are tender and then transfer them to ice water as well. Once they are fully cooled, dry them with a towel.
✓ Using a small bowl, mix the oregano, garlic, lemon juice, oil, ¾ teaspoons of pepper, and 1 teaspoon of salt. Take the basil, parsley, and tomatoes, adding them into a larger bowl. You can then add in the tuna and gently toss the ingredients together. Add in the potatoes and the green beans, stirring gently. When it comes time to serve, drizzle your salad dressing on top.
Avocado and Turkey Salad (225 Calories)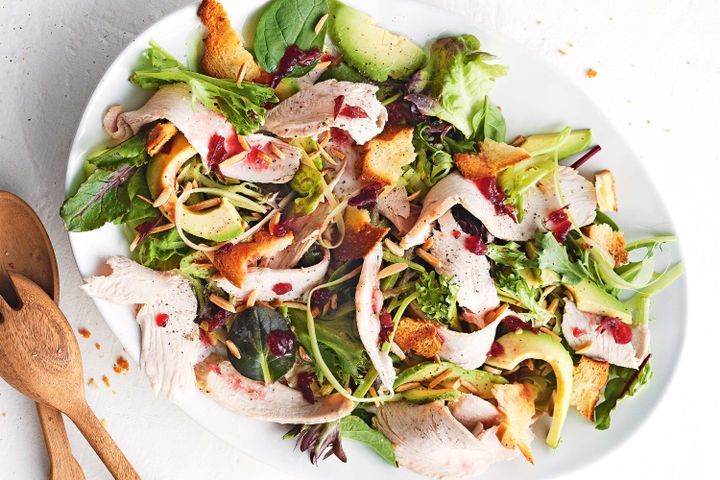 If you're not a fan of leafy greens, you'll love the idea of this salad. It has everything that you'd expect a low-calorie meal to have. With plenty of protein, the crunch of lettuce, the creamy texture of the avocado, and the acidity of tomatoes, it's very well rounded. You'll easily be able to fill up without relying solely on lettuce and spinach.
Ingredients
1 hard of green leaf lettuce
½ a pound of deli turkey
2 large tomatoes (wedged)
1 avocado
½ of a red onion (thinly sliced)
½ cup of parmesan cheese
4 tablespoons of extra-virgin olive oil
2 tablespoons of balsamic vinegar
½ teaspoon of kosher salt
¼ teaspoon of black pepper
Directions
✓ Combine the avocado, onion, tomatoes, turkey, and lettuce together in a bowl. You can then add the parmesan cheese on top.
✓ In a smaller bowl, combine ½ of a teaspoon of salt and ¼ of a teaspoon of pepper, the oil, and balsamic vinegar, mixing well with a whisk. Drizzle the dressing on top of the salad and gently stir until all of the ingredients are coated.
Shrimp and Avocado Salad (319 Calories)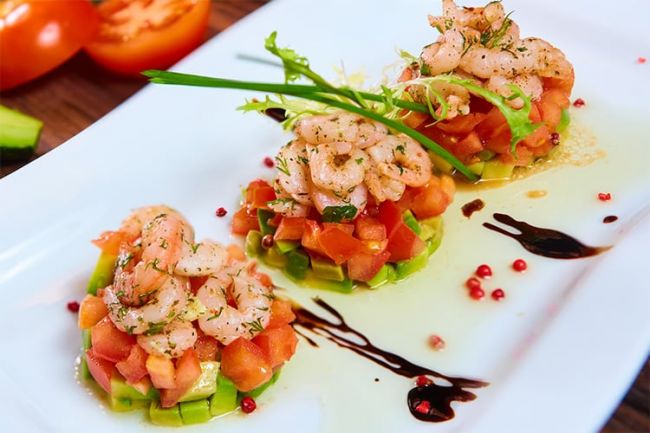 As another fan favorite that works perfectly in the summertime, this shrimp and avocado salad is sure to be a fan-favorite. Instead of relying on traditional chicken, you can opt for a different type of protein straight from the sea. It also has a more exotic flavor profile that you'll enjoy.
Ingredients
2 peeled and pitted avocados
2 diced tomatoes
1 chopped small sweet onion
1 pound of cooked salad shrimp
1 pinch of salt
2 tablespoons of lime juice
1 pinch of black pepper
Directions
✓ The first thing you will have to do is boil the salad shrimp in a pot over medium-high heat. Make sure all of the shrimp are cooked thoroughly and then remove from the water. Place the shrimp into a bowl with ice water and once cooled, dry them off gently with a towel.
✓ In a second bowl, mix the tomatoes, onion, and avocadoes together. Add in the cooled and dried shrimp as well. Using the lime juice, coat all of the ingredients and add in the pepper and salt to taste.
Final Thoughts
At this point, you're probably getting excited about embarking on your new healthy eating venture, and you should be! With plenty of low calorie and delicious salads to choose from, you'll have a new and unique recipe to look forward to every day.
Pin for later