This product is listed here: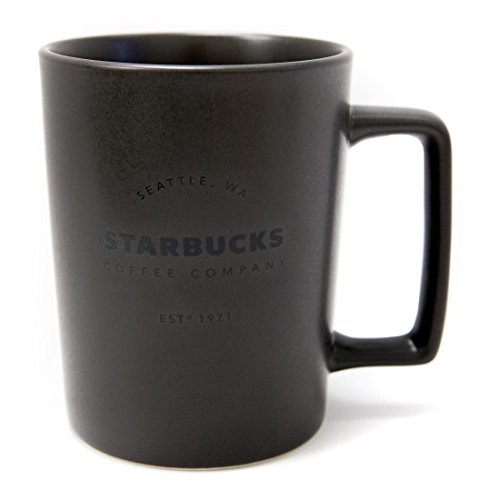 Starbucks Seattle Matte Charcoal Black Handle Coffee Cup
Need the perfect gift for the consummate coffee drinker?
This sleek Starbucks matte charcoal and black mug sporting the name and year of company's birthplace of Seattle Washington will definitely make a good impression.
The very first Starbucks Coffee House was opened in 1971 at the famous Pike's Place Market in Seattle, Washington, and this beautiful mug pays homage to coffee giant's humble beginnings.
The sleek and sophisticated design of this black on charcoal mug will appeal to any coffee lover out there. The perfect Starbucks inspired gift!
Detailed information about Starbucks Seattle Matte Charcoal Black Handle Coffee Cup
The main body of the black ceramic mug itself is done in a matte charcoal coloring, with the printing as well as the inside and the handle done in a flat glazed black for just the slightest bit of distinction between the two.
The design is subtle and beautiful and ever so sophisticated. The cup is constructed from high-quality ceramic that holds the heat well.
It is also perfectly safe for use in the microwave oven and the dishwasher.
The printing on the side of the mug, done in glazed black, reads Seattle, Washington on the top, with Starbucks Coffee Company in the center and the year established which happens to be 1971.
WHY WE LIKE IT?
Holds 16 ounces of a favorite hot beverage
Roomy mug with extra-large handle for an easy, secure and comfortable grip
Sleek design
Both dishwasher and microwave oven safe
WHY WE dont LIKE IT?
None
What we love about this product
This stylish cup holds 16 ounces of coffee, tea, hot cocoa, or even soup; truly perfect for any beverage at all.
The large handle allows for comfortably and securely holding onto the cup without chancing any finger burns from the sidewall of the vessel.