This product is listed here: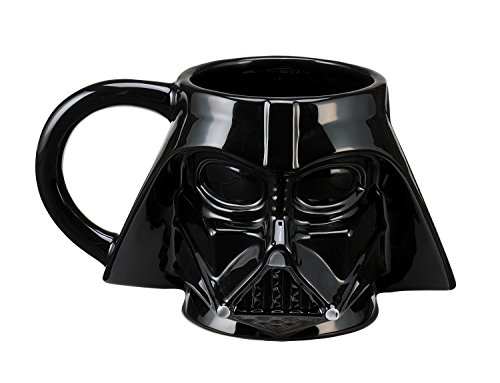 Star Wars Darth Vader Sculpted Ceramic Mug
Star Wars merchandise has always been popular ever since the movies were first released. One of the most well-known and popular characters in the Star Wars universe has got to be Darth Vader as he is instantly recognizable with his black cloak and helmet and machine-like hissing voice.
For those Star Wars fans that follow Darth Vader, there is a ceramic mug available that is sculpted into the shape of the evil lord's helmet. The mug itself, sold by Vandor, is made from high-quality stoneware and is characterized by the bold lines of Darth Vader himself. The mug is totally black in color just like Vader's own color scheme.
Detailed information about Star Wars Darth Vader Sculpted Ceramic Mug
This mug is perfect for tea, coffee, hot chocolate or soup and is completely microwave safe; however, the manufacturer does not recommend using an automatic dishwasher to clean it. They prefer the owner to wash it by hand in warm water using detergent.
This is a lovely gift to give anyone who is into the Star Wars Universe generally or who is a follower of Darth Vader specifically. As it is made from ceramic stoneware it might not be a good idea for young children to use it, they may drop and break it.
WHY WE LIKE IT?
This high-quality stoneware ceramic mug shows the bold lines and sculpted likeness of the arch-friend Darth Vader
Completely microwave safe so it is possible to warm up the coffee that has grown cold
This is a perfect retro icon yet completely functional as a beverage mug
WHY WE dont LIKE IT?
This mug is not dishwasher safe - the manufacturer recommends that it is cleaned by hand using warm water and detergent
What we love about this product
Vandor has been making stylish, retro and vintage, hip and functional accessories since 1957. Everything this company makes is appreciated by fans of many different icons and of many different age groups, so you can be sure that they will produce something you need for the awkward nephew who has just about anything.