This product is listed here: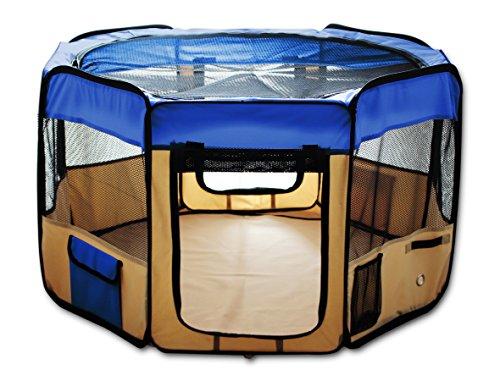 Puppy Exercise Playpen
Need a place for your puppy but don't want your house getting destroyed? Then you need the Puppy Dog Playpen Exercise Kennel by ESK Collection.
It features an 8-panel design that is simple to install and reaches 48 inches in diameter and 24 inches in height. The perfect amount of room for a little puppy to scamper around freely. It can be easily assembled and taken down. Plus, the design allows for maximum space saving which means it can be stored anywhere comfortably. This is fabulous for those that have a small apartment or house and need all the storage space they can get.
Detailed information about Puppy Exercise Playpen
The Puppy Dog Playpen is made of Oxford Cloth Material which is waterproof, durable and comfortable. This is amazing for when someone needs to leave their puppy at home alone. They won't have to worry about the dog chewing anything up or peeing/pooping anywhere that's hard to clean. The material is also 100% washable, so if the little fur ball does have an accident it can be easily cleaned.
You won't have to worry about the dog escaping either. The sides are secured with zippers, so there's no chance of them breaking out. Another wonderful feature is the travel tote. It allows you to fold up the playpen and bring it with you on trips. Now, your puppy can have fun wherever he/she goes.