11 Practical Gifts for People with Anxiety
last updated:
Oct 24, 2019
2012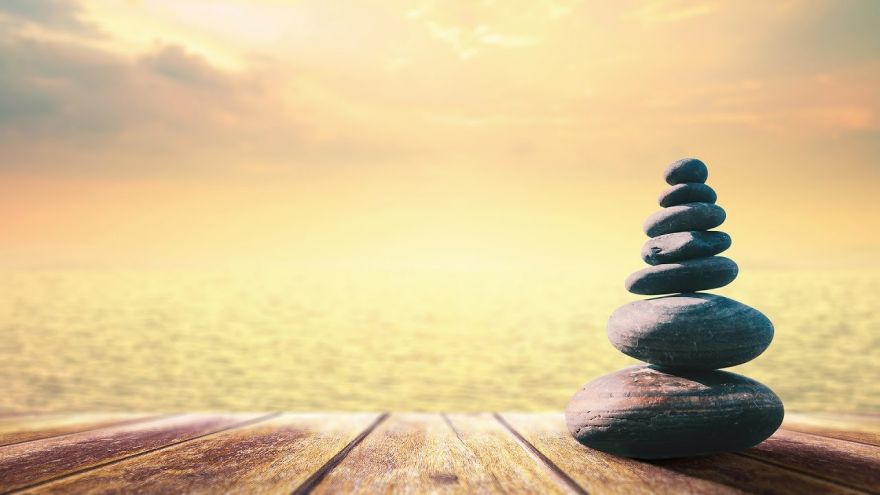 Finding gifts for people with anxiety is one of the best ways to learn how to help someone with anxiety. Although you are not a licensed psychiatrist or psychologist, there are ways to can assist someone suffering from the disorder.
Anxiety can manifest in several different ways, whether it's the inability to take public transportation or certain ambient sounds that trigger attacks.
By giving a thoughtful gift that can help someone work their way through an anxiety attack, you'll be gifting the support they have always needed. Below are our favorite practical gifts for people with anxiety.
Gifts for People with Anxiety

1. Original Buddha Board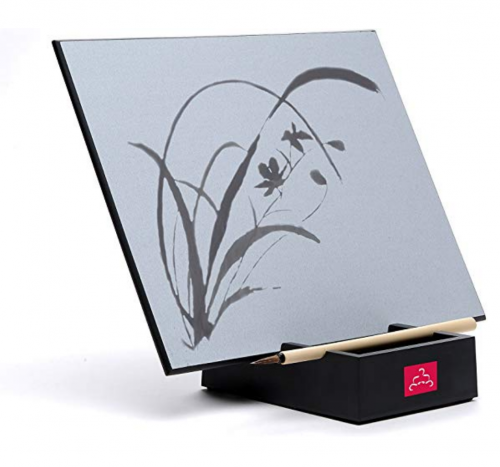 Depending on how their anxiety manifests, many people suggest mindfulness exercises are the best way to stop anxiety attacks before they happen.
The Original Buddha Board is designed to help you obtain mindfulness and meditate when in an overactive or stressful situation. Crafted using environmentally-friendly materials, you'll be able to practice the art of letting go.
To use the Buddha Board, you have to fill the stand with water and then dip the brush into the water to begin painting.
With every stroke, you'll have the perfect sensory experience that allows you to focus on what you are doing, rather than what is happening around you.
Once the water evaporates, the board becomes a blank canvas once again without the worry of any cleanup.
It's by far one of our favorite anti-anxiety gifts for people of all ages that need to enter a zen headspace to limit the effects of their anxiety.
2. Infinity Cube Fidget Toy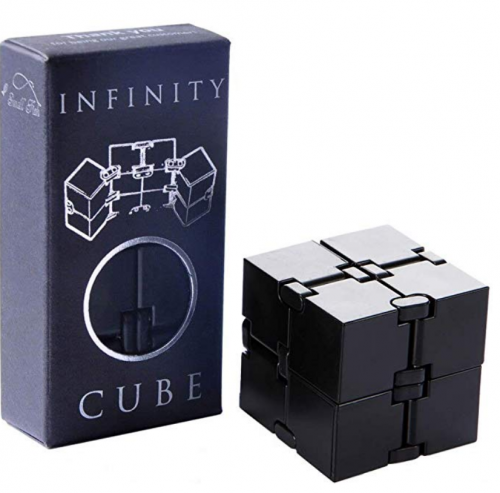 Many times, people suggest that being able to take their mind off what's triggering an anxiety attack is a great way to prevent one from happening. It can also be a great way to calm themselves down during an attack.
The Infinity Cube Fidget Toy is one of the best practice gifts to give someone who has the tendency to fidget or needs to distract themselves.
Designed in a small and compact handheld design, it's a highly playable cube with multiple movements. There are eight plastic blocks connected with stainless steel rivets.
You'll be able to fidget with the cube in numerous ways to take your mind off of your anxious habits.
Tactile stimulation could make a whole world of difference for someone who suffers from anxiety. Not only that, but it's a great way to pass the time while you're at home.
Staying stimulated can make commuting to and from work or even a meeting at the office easier to handle.
3. Quility Weighted Blanket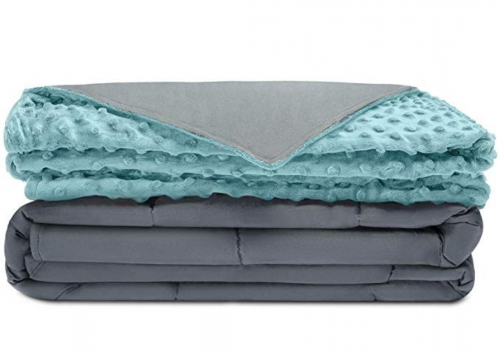 There are hundreds of different types of weighted blankets on the market, mainly as they emerged as one of the best ways to combat anxiousness while at home.
The Quility Weighted Blanket is by far one of our favorites as it gives you the perfect amount of added weight without being too overbearing.
There are multiple sizes for you to choose from as well, ranging from 36" x 48" to 86" x 92". Also, there are different weights to opt for, including five pounds, seven pounds, 10 pounds, 15 pounds, and up to 30 pounds.
With seven advanced layers, this blanket offers optimal support and comfort. It has a 100% cotton outer layer that is incredibly soft against the skin, and it doesn't contain any glue or toxins.
In each of the lined sheets, you'll find millions of microbeads made from glass. All of these beads work together to provide the perfect amount of weight for a better night's sleep.
They can also help you feel more comfortable when you begin to feel anxious. The Quility Weighted Blanket is also clearly designed for year-round use.
It has a cover that can be attached or removed for extra or less warmth, depending on how your body runs at night.
The leading science behind weighted blankets suggests that people that tend to get anxious before bed can feel comfort and security thanks to the weight in the blanket.
This feeling, in turn, results in a better night's rest, which can help to reduce the effect of anxiety triggers during the day.
4. Dammit Doll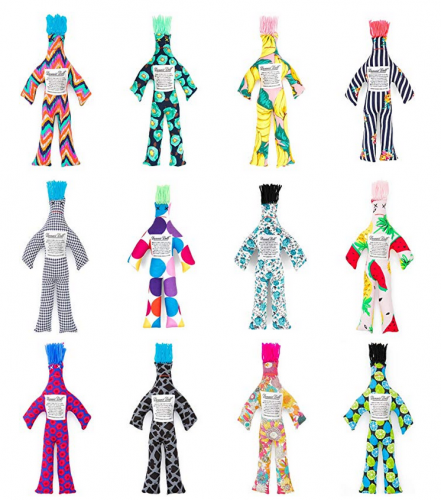 Similar to the fidget cube that we discussed earlier, the Dammit Doll is a hilarious and fun way to distract yourself from anxiety triggers during the day.
As a more innovative version of a traditional stress doll, these dolls are meant to be squeezed and played with when you encounter stressful situations.
It's even so high-quality that you can throw it around a room or bang it against your desk at work.
You can choose from a multiple of different designs, and they are meant to withstand a lot of wear and tear. You may even find that the Dammit Dolls are a great sensory tool to put to use.
The hair is made entirely from yarn, there is a silly poem on the front of each doll, and they're filled with very soft stuffing.
5. eEssential Essential Oil Diffuser Bracelet
Some evidence suggests that there is a positive correlation between anxiety and essential oils in that the oils can help to limit the effects of anxiety on your mind. Known for their calming and soothing capabilities, many anxiety sufferers wear essential oils daily.
With the eEssential Essential Oil Diffuser Bracelet, you'll have the ability to bring your favorite blend of oils with you anywhere in a high-quality piece of jewelry.
In the kit, you'll be able to give a bracelet with a Tree of Life symbol on it, as well as a 10ml bottle of Lavender essential oil.
There are also eight cotton pads included with the gift set that will need to be soaked in the oil and then placed into the locket on the bracelet.
Each piece of jewelry is crafted out of hypoallergenic stainless steel, and it looks just as fashionable as it is functional.
Aromatherapy has also been proven to be an effective treatment for people suffering from severe forms of anxiety disorder.
We highly recommend this as a gift for someone who believes in the power of essential oils, and that also loves smelling fantastic throughout the day.

6. Zen as F*ck: A Journal for Practicing the Mindful Art of Not Giving a Sh*t – Monica Sweeney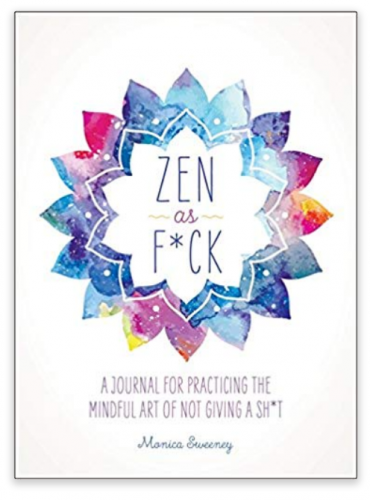 One of the themes of these gifts recommended for learning how to help someone with anxiety is mindfulness.
Zen as F*ck is an exciting and quirky gift for someone who needs something to help them achieve the perfect zen mood in the most challenging times.
If you know the recipient isn't the type of person to be interested in traditional mantras and boring tips, this is undoubtedly the book that they need.
There are multiple pages for you to journal your way through the most severe anxiety attacks. Each sheet is filled with profanity, entertaining activities, and happy vibes that you'll want to carry through the day.
We highly recommend this as a gift for someone who wants to take a less traditional approach to their anxiety and learn the art of not giving a sh*t.
7. Calm the F*ck Down: An Irreverent Adult Coloring Book – Sasha O'Hara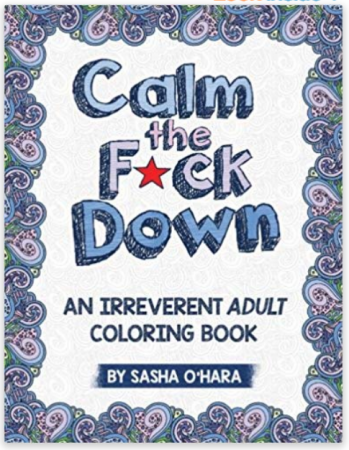 This book is another inspiring journal that you can use to take your mind off of your anxiousness when faced with triggers.
Calm the F*ck Down contains fantastic activities for readers of all ages. It's a far more immersive experience than journaling, mostly because all you have to do is color within the lines.
There are plenty of anxiety sufferers who suggest having an adult coloring book is a great way to find mindfulness in stressful situations.
Within the book, there are 21 individual pages with two color test pages. Each page has outlines that range from moderate to complex, depending on the severity of your current anxiety attack.
With pictures of fairies, people, abstract doodles, and more, there's something to appease everyone.
It's about time you figured out how to take your mind off of current events and maximized your efficiency of calming down.
8. The Big Activity Book for Anxious People – Jordan Reid and Erin Williams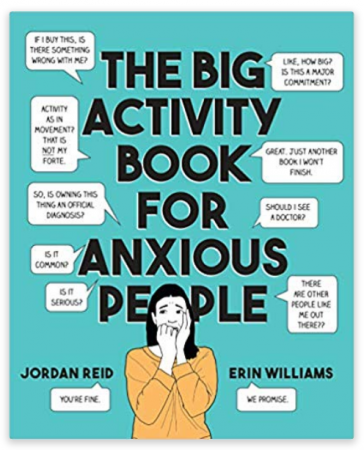 What we love the most about this book is that it's ideal for people who have suffered from anxiety or stress.
You would be surprised at the sheer amount of people flooded with anxious emotions during the day, making it a part of the basic human experience.
This activity book features exciting and innovative coping mechanisms, soothing facts, and other activities to help soothe your anxiety. Some of the most noteworthy activities include:
Zen Mantras for the Anxiously Inclined

Your Hotel Room Carpet: A Petri Dish of Horrors

Fun Facts About Aging!

Soothing Facts About Hand Sanitizer

Obscure Diseases You Probably Don't Have
You'll quickly become a wealth of information after reading The Big Activity Book for Anxious People.
You'll learn step-by-step instructions on how to build your very own underground bunker and have coloring pages to fill in when you need to distract yourself.
It's a combination of mindfulness exercises, unique activities, and fun things to make anxiety not as much of a burden as it usually is.
9. Let That Sh*t Go: A Journal for Leaving Your Bullsh*t Behind and Creating a Happy Life – Monica Sweeney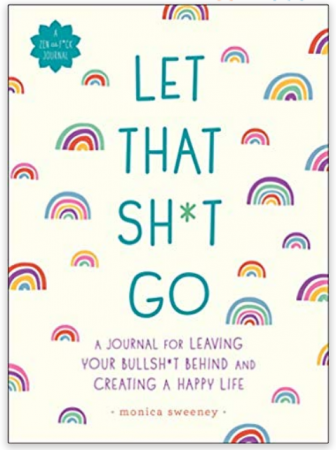 It's easy to see anxiety as a part of your daily life, as it is. However, have you ever thought about what treatment could do to help ease your pain in the future?
Let That Sh*t Go is a phenomenal journal that allows you to focus on your future as a less anxious and more aware individual.
The first step is to begin journaling on how you can start to build a happy life. It takes a lot of energy to hold grudges and plot your revenge on people who have done you wrong, and you need some catharsis with the help of this journal.
Somewhere amongst the pages, you'll easily be able to find all of the ways you can start to be positive with your life.
This event may even include seeing and understanding your anxiety and triggers for what they are.
By the end of this journal, you'll be able to learn something new about yourself. You'll also have a little more awareness of why you're affected by anxiety as badly as you are.
10. Small Fish Fidget Toys Set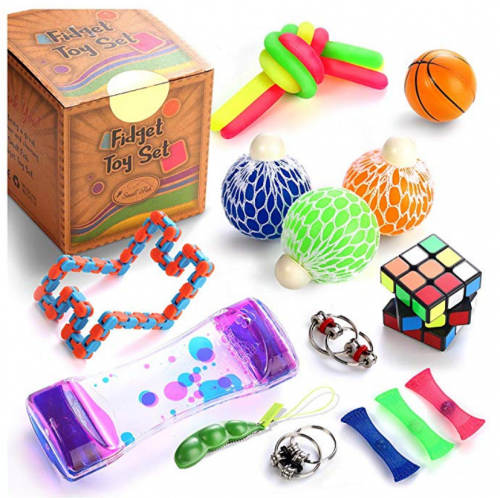 We previously discussed one of the most popular fidget toys as gifts for people with anxiety.
However, we also highly recommend this set of toys as the package undoubtedly contains a sensory experience for every type of anxiety sufferer.
From soothing your mind to distracting yourself from stress, each one of these toys is an excellent option for children, teens, and adults alike.
There's a wide variety of items that you can put to good use, including a liquid motion timer, squeeze beans, two flip chains, and marbles in a mesh.
You'll also love the stretchy strings, snap and slick snakes, squeeze balls, clackers, basketball stress balls, and magic cube.
Crafted from non-toxic ingredients that are safe for kids and adults, all of the items in this toy set are remarkably durable and convenient to have on hand.
People with OCD, ADD, and anxiety will be able to benefit the most from the 22 pieces included in the set. Also, they come with a 100% satisfaction guarantee.
11. Huggaroo Microwavable Neck Wrap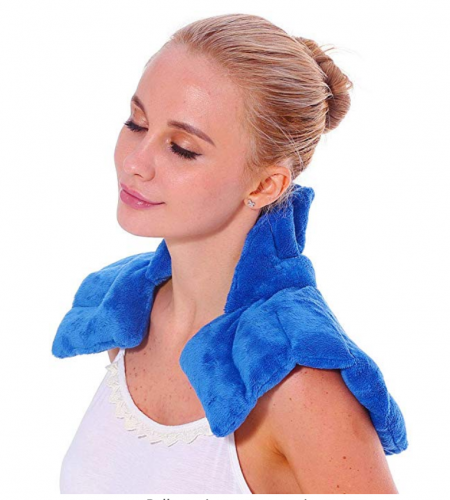 At times, there aren't any activities or toys that you can use to soothe your anxiety, as it differs from person to person.
The only thing you might be able to rely on is relaxing your mind and soothing your body. The Huggaroo Microwavable Neck Wrap is a highly recommended gift for relaxing muscles and having a serene and calming experience.
For people who typically suffer from anxiety while at home, having an array of relaxation products is highly recommended.
This neck wrap is made from plush polyester and contains peppermint, lemongrass, spearmint, wheat, flaxseeds, lavender, chamomile, valerian root, hops, and more.
All of the scents work together to provide a soothing aromatherapy experience you won't soon forget.
Ideal for migraines, tension headaches, sinus headaches, and general stiffness, it will become the recipient's most used gift.
Finally…
You might be trying to figure out how to help someone with anxiety when, in fact, all you need are gifts for people with anxiety.
All of the items we talked about on this list are highly recommended for your loved ones who need to find mindfulness and peacefulness during their anxiety attacks.
Pin for later