This product is listed here: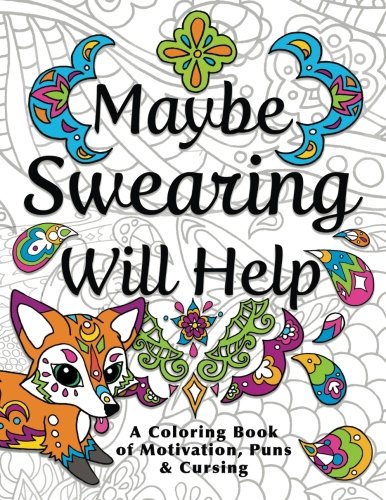 Maybe Swearing Will Help: Adult Coloring Book
At a point when a friend is going through a hard time, it can be hard to sense a smile leave alone see it. Even though they have a sense of humor, it could be extremely challenging to get them to smile or at least chuckle a bit.
But, you could help them recover and come out of the situation strong without losing their humorous side during the tough time. This coloring book could be the help they need so bad to smile and keep busy during a dull moment. It can be a gift for anyone regardless of the situation they are in.
Detailed information about Maybe Swearing Will Help: Adult Coloring Book
Someone that has an artistic side will love the coloring book. It uses adult language and works best for people with a sense of humor. The book features funny pages with quotes to encourage or curse to feel better. It has a range of simple and complex images in different styles for coloring.
The patterns range from animals, floral creations, food, word art, etc. Each page brings out a unique feature with a twist of humor and creativity. With the books, one can unwind and relax the mind as they chuckle about the funny drawings. Indeed, it will come in handy for a sick friend or someone facing a difficult time.