Plus Size Workout Clothes That'll Make You Look Luscious!
last updated:
Apr 29, 2019
1220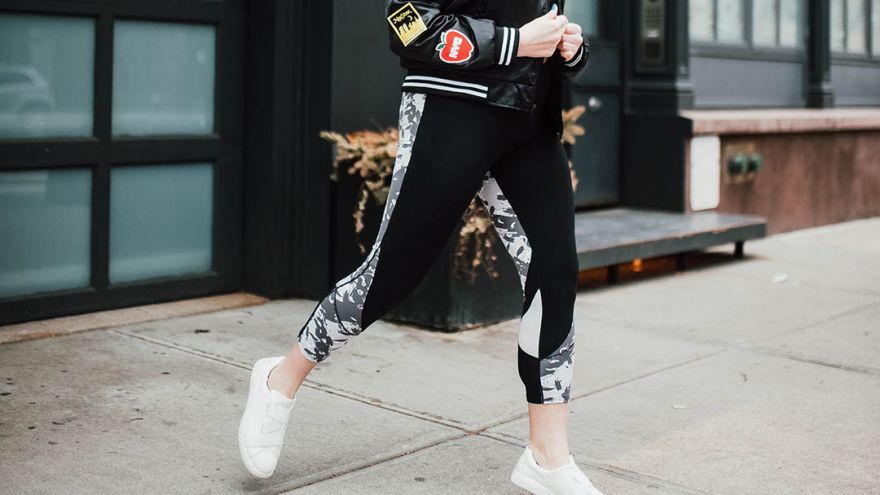 Working out as a plus size woman can be tough, especially if you don't have comfortable clothes to wear. There are plenty of women who try to wear their regular pajamas or an old shirt to the gym. You deserve to treat yourself to some nice and comfortable clothes that will enhance your workouts.
We've selected six different pieces of workout attire that are not only functional but will help you to look and feel your best no matter what exercise you're doing!
1.ODODOS High Waist Workout Leggings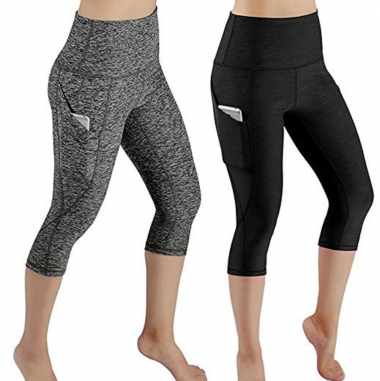 The ODODOS leggings are a perfect option for the type of woman that doesn't like the idea of full-length leggings while working out. These capri style pants have plenty of benefits to offer ranging from tummy control four-way stretch. The most notable features of the ODODOS High Waist Workout Leggings include:
Four-way stretch: To stay more comfortable while working out, you'll be glad to know that these pants stretch in four different ways. This helps to make the fabric move with you, rather than against you, so you will have the fullest possible range of motion.
High-quality fabrics: These leggings are crafted out of spandex, nylon, and polyester. All of the materials work together to create a breathable pair of leggings that prevent chafing and excessive sweating. In fact, the material helps to wick away moisture so you feel much drier and cooler for longer.
Non-see-through fabric: No matter how your body is twisted or bent, you'll have the peace of mind to know that the pants will not become see-through. The quality of the material is surely something that most other manufacturers don't offer.
2. Just My Size Women's Stretch Capris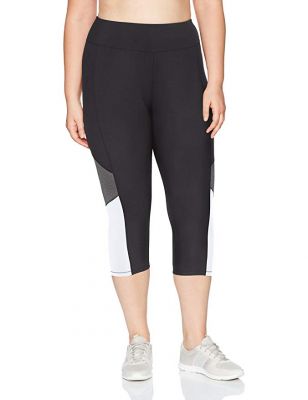 As another option for women who prefer to wear capri workout pants, these have a more modern and streamlined appeal. They are also available in five different colors if you're looking for coordinated pieces for your workout gear. The best features of the Just My Size Women's Stretch Capris include:
Machine washable: As the pants are made out of spandex and polyester, you can easily machine wash them and tumble dry them on low. This is ideal for someone who needs a quick pair of capri leggings that can easily be washed after the gym.
Comfortable waistband: Instead of relying on drawstrings, which can be quite uncomfortable in the gym, the waistband of these capris contours itself to your body. You'll easily be able to move in various ways without worrying about the pants feeling too tight around the waist.
Shape-defining seams: All of the stitched seams in the pants are covered and shape-defining. This helps you to look your best in and out of the gym so you can feel as comfortable as possible.
3.NB Long Modal Yoga Pants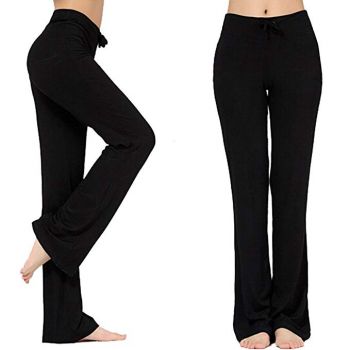 As a perfect option for people who prefer long workout pants, the NB Long Modal Yoga Pants are stretchy, comfortable, and offer the perfect fit. A couple of other great features of these long yoga pants include:
Drawstring closure: To create a more personalized fit, be sure to use the drawstring to tighten the pants around your waist. This also gives you the ability to decide whether you'd like to wear the pants on or above your hips.
Lightweight and breathable: These pants are easily one of the most breathable pairs of yoga pants you'll be able to find. The softness of the material and their lightweight feeling helps to prevent an excessive amount of sweating.
Versatile design: The NB Long Modal Yoga Pants are perfect for working out, but they're also great for lounging around at home. They have an incredibly flattering silhouette with flared legs that look phenomenal on every woman.
4. Miss Fortune Short Sleeve Yoga Top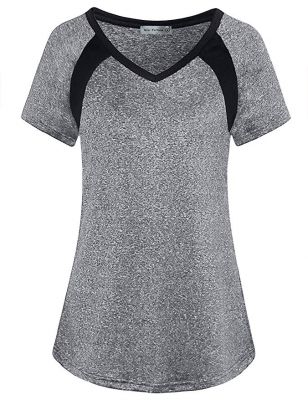 Aside from pants, it's also important to have the perfect shirts to workout in. This is why we love the Miss Fortune Short Sleeve Yoga Top because it features everything you would expect from a high-quality workout shirt. No matter if you're doing yoga or hiking, there are plenty of benefits this shirt has to offer. Our favorite features of the Miss Fortune Short Sleeve Yoga Top include:
Moisture wicking: With the combination of spandex and polyester, this shirt is impeccable at wicking moisture away from your body. You'll easily feel cooler for much longer, even when working out in hot conditions.
Stylish elements: The combination of the color blocking and contoured seams gives the shirt a more stylish appeal than other traditional workout shirts. It also helps to show off your best features while you're at the gym.
RapidDry technology: Aside from the general moisture-wicking, you'll find that the Miss Fortune Short Sleeve Yoga Top also has RapidDry technology. If you get caught in the rain or if sweat stains start to show, your shirt will dry incredibly fast.
5. RBX Relaxed Tank Top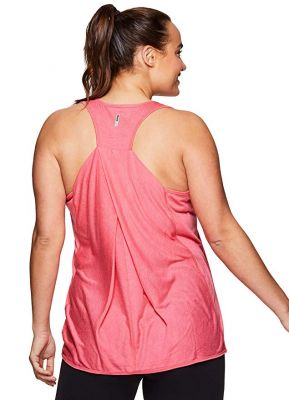 There's nothing better than not having to worry about sleeves when you're going hard at the gym. Even if you're heading out for a walk on a summer afternoon, you'll want as little coverage as possible. The RBX Relaxed Tank Top is comfortable, flows perfectly, and will fit every one of your curves perfectly. The best features of the RBX Relaxed Tank Top include:
Multiple colors: There are over 9 different colors that you can choose from to pick the perfect items for your workout wardrobe.
Stretchy fabric: The materials used to make these shirts are polyester and spandex, which creates a jersey-like material. You'll easily have a full range of motion so you can focus more on your workout than the stiffness of your gear.
Relaxed fit: Designed for optimal breathability, the relaxed fit of the shirt enhances air circulation meanwhile maintaining a modern appeal. We especially love the racerback design that adds an extra feminine appeal.
Reflective details: If you're someone who prefers working out at night, we highly recommend the RBX Relaxed Tank Top because it has reflective details. No matter if you are running or biking, drivers will easily be able to spot you at a distance.
6. Cucuchy Fitness Workout Shirt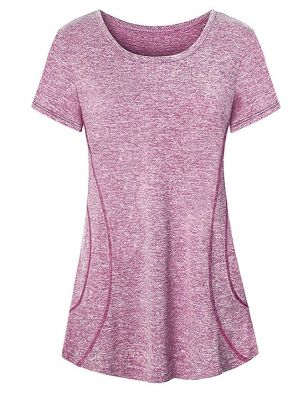 Similar in design to the Miss Fortunetop, the Cucuchy Fitness Workout Shirt is comfortable and very flattering. In addition, there are several different colors that you can choose from. Our favorite features of the Cucuchy Fitness Workout Shirt include:
Fast drying: The polyester used to design the shirt is ideal for the fastest possible drying time. In addition, it wicks away moisture quickly so you won't have to worry about working out while getting drenched in sweat.
Unique design: On the front and rear of the shirt you'll notice there are decorative lines. This helps to create a more bodycon style to the shirt so it flatters your unique shape. In addition, the loose fit in the other areas helps to make the shirt much more comfortable.
Highly elastic: If you're looking for a t-shirt that will give you flexibility and a full range of motion, this is a great option. You'll have a slim profile without feeling restrained by your workout clothes.
It can be difficult to find the perfect plus size workout clothes that are comfortable and breathable. Luckily, all of these fantastic items are ideal for someone who needs the perfect workout gear for achieving their desired body shape.
Pin for later