This product is listed here: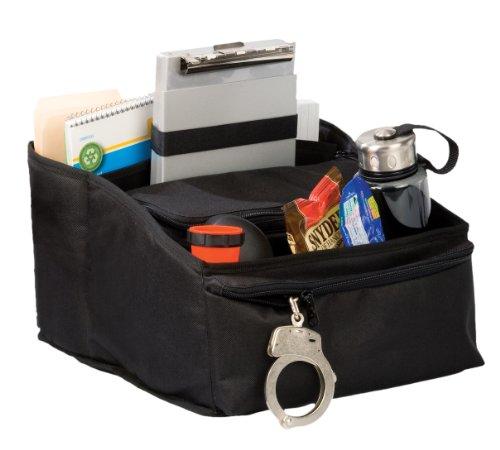 Patrol Car Seat Organizer
This Uncle Mike's Law Enforcement Deluxe Car Seat Organizer is a functional gift for the police officer in your life. This will help them keep their cars organized while on the job. Everyone knows being a police officer is tough. They are very busy with a lot of responsibilities, paperwork, and a small space to stay organized. With the Uncle Mike's car organizer, you can help them by saving them precious time by keeping organized.
Detailed information about Patrol Car Seat Organizer
The car seat organizer has several sections. The first is an open and divided space in the back of the organizer to store bigger items, notes, files, or even a clipboard. The middle section is a zippered cooler for small snacks or a water bottle to stay cold. This is great for long hot days in the car. Other snacks and smaller items can be stored in the front open section such as a water bottle, pens, a wallet, or other small items needed for the job. There is also a front zipper section for even smaller items such as chapstick or hand sanitizer. This functional car seat organizer is simple to move around as well. It sits right on the seat and has tuck-in straps so it doesn't move around while they drive. The dimensions of the cooler are 14 inches x 12 ½ inches x 8 ½ inches (W x D x H). The size of the organizer is perfect and easy to transport from car to car or car to the station, keeping everything in one organized spot.