This product is listed here: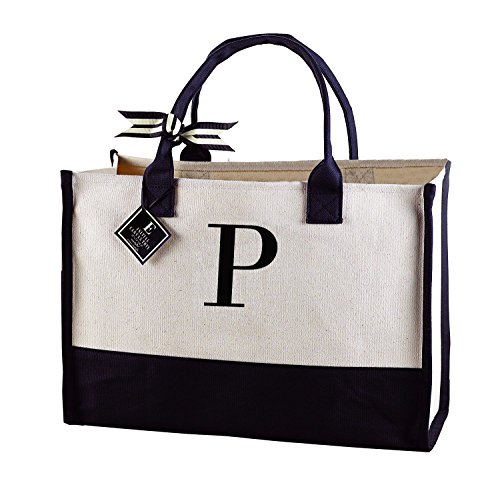 Mud Pie 501115 P-Initial Canvas Tote
Are you so fed up that you can't think of anything to buy for your best friend's birthday? Does your daughter need a tote bag to carry her beachwear, lunch, eReader, water bottle and sunblock to the beach when on vacation? Does your sister need something stylish she can carry around the mall that is big enough to put all her shopping inside, yet small enough to not get in the way? Does your wife need something she can carry her lunch, books and a small umbrella when she goes off to work? In fact why am I concentrating on a woman using this bag? These handy tote bags are so gender neutral that a man wouldn't look out of place carrying one either.
Look no further than here. This stylish tote bag has black trim which contrasts beautifully with the natural cream coloured side and end panels. Not only that but this specific tote bag has the initial 'P' or 'M' or 'S' boldly printed onto the side. Don't you worry if the person you are buying for has a name starting with another letter; the manufacturer has monograms to cover almost the entire alphabet.
Detailed information about Mud Pie 501115 P-Initial Canvas Tote
The black initial is embroidered onto the side panel and stands out boldly to tell everyone within range that this tote bag belongs to someone whose name begins with this letter.
Bags are always useful things to carry around and this tote is no exception. The two handles are just the correct size to be able to carry the bag by the hand or hanging from the elbow. Unfortunately the handles are not long enough to slip over a shoulder unless the carrier is small and petite.
WHY WE LIKE IT?
Stylish and elegant. This is sophisticated enough to take anywhere
Very simple contrasting shades
This bag is large enough to be useful yet small enough so as not to be cumbersome and 'in the way'
The embroidered initial is boldly done and stands out enough without being trashy, to tell everyone whose bag this is
WHY WE dont LIKE IT?
Although the handles are just the right length for carrying by hand, it would have been better if a shoulder strap was supplied as well
What we love about this product
This useful and long lasting tote bag is made from strong canvas, stitched together to make the 100% cotton bag.