This product is listed here: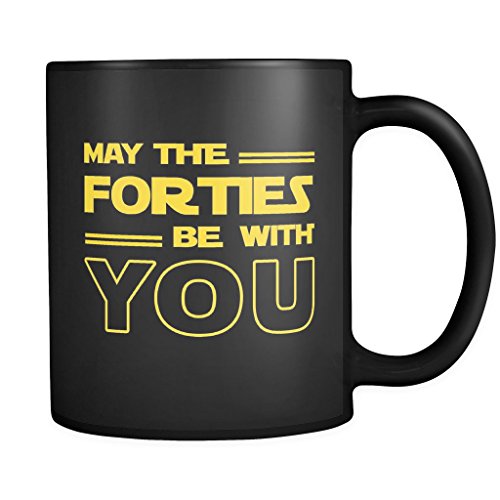 May The Forties Be With You – Black Mug
Hitting forty is certainly a huge milestone, and nowadays, it's the new 30. This can only mean it's a good thing and maybe, it's actually true when they say, life begins at this magical age. After all, to hit this age, they have acquired great wisdom and made enough mistakes to start figuring things out. So when they say they are just hitting a stride, believe them and celebrate this day with them with an amazing gift.
Since you are lucky enough to witness a loved one turn 40 years, we have you covered with the best gift pick. This black mug by Strictly Business Mugs is the coolest thing anyone would wake up to for their everyday morning coffee or tea. For the newest 40-year-old in town, their mornings just got a whole lot more interesting than ever before.
Detailed information about May The Forties Be With You – Black Mug
If she/he hasn't had a favorite coffee mug for a long time, then we can guarantee you that this particular one will gain a special spot in their kitchen or office. It features a funny slogan in bold yellow which reads "MAY THE FORTIES BE WITH YOU." You can't say it better than this, so don't hesitate to pass this chance to say your wishes the best way you can.
Overall, this is a quality mug, with a smooth surface and high-quality print. Just as pictured, the imprinted design appears on both sides of the mug and stops slightly at both sides of the C-shaped handle. The design makes a lovely display.
WHY WE LIKE IT?
A fun gift to celebrate the 40th birthday
Features a high-quality, vibrant imprint design on both sides
Dishwasher and microwave safe
It's long-lasting and lead-free
WHY WE dont LIKE IT?
None
What we love about this product
This lovely 40th birthday mug would make a fitting gift to a family member who just hit the big Four-O. It would also be a suitable 40th birthday present to your colleague, boss, or a special friend. It's a fun gift with a vibrant design and perfect 40th birthday gift.