This product is listed here: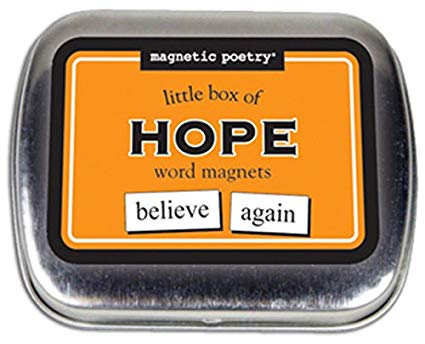 Magnetic Poetry – Little Box of Hope Kit
Does your refrigerator look a little drab and boring? Would you like to make your fridge look awesome and provide many words of encouragement that can help you get through your day? Well look no more, as now you can buy Little Box of Hope Refrigerator Magnets by Magnetic Poetry.
This is a cute little tin that is full of wonderful and encouraging words that you can use for any occasion. Whether you want encouragement to stay on a diet and continue working out, or encouragement to continue going to work, this box has great words and phrases for you! You can arrange them in any way to help give yourself hope and make your refrigerator look great and hopeful.
Detailed information about Magnetic Poetry – Little Box of Hope Kit
It will help your fridge look great and full of originality and individuality. Whether it is a quote by Ghandi or the Dali Laama, or just a phrase that you made up yourself. Anything is possible with the  Little Box of Encouragement Refrigerator Magnets.
So consider getting this as a gift for your mother or grandparents. It will be perfect for a birthday or Christmas present, and they will enjoy putting the words on their fridge and reading it every morning as they make their breakfast. It contains 72 themed words, so plenty to go around!