This product is listed here: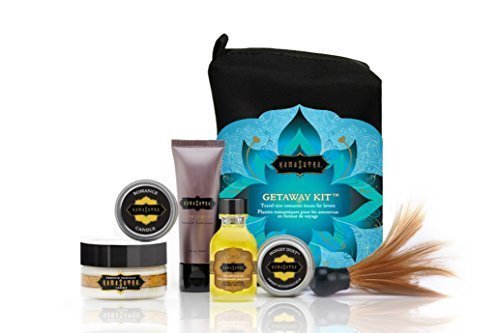 Kama Sutra THE GETAWAY KIT
Since you are now going to spend the rest of your lives together forever, you have tonight and every night after this to find out what each one likes and what works for you.
And since we are on the topic, you might be interested in being a little bit more adventurous when your honeymoon comes.
After all, it is the ultimate vacation and a great way to consummate your marriage while you are in relaxation and enjoyment mode. We present to you this Essential Kit for Lovers by Kama Sutra.
Detailed information about Kama Sutra THE GETAWAY KIT
Judging from the name itself, you know where this is going. So what is exactly in this couple gift set? To sum it up, it is a little travel kit that is made up of treats perfect for a sensual evening for you and your new spouse.
What's more, the sizes of the treats inside meet TSA standards when it comes to bringing liquid items so you can tag this along in your carry-on luggage.
This sweet, getaway set includes: the Original Oil of Love, which is a body oil perfect for foreplay; the Sweet Honeysuckle Dust, a powder complete with a feather tickler; the Strawberry Crème Butter Souffle, a body butter that is flavored; Love Liquid Classic, which is a water-based lubricant for when you need it; and last but certainly not the least, a scented candle to set the mood.
WHY WE LIKE IT?
Meets flight regulation standards
Affordable
Has good size products for a sensual evening or two
WHY WE dont LIKE IT?
None
What we love about this product
The Kama Sutra Travel Gift Set also comes in a nice reusable carrying case so all of your sensual essentials (or should we say, essensuals?) are in one bag and can be taken out with ease.