This product is listed here: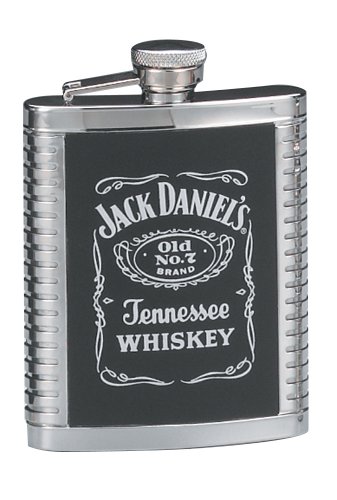 Jack Daniels Ribbed Flask
For connoisseurs who like their Bourbon whiskey, there is nothing quite like bringing out a flask from a pocket and taking a sip every now and again (just make sure the owner is a responsible drinker).
This "Jack Daniels Ribbed Flask" from Jack Daniels Licensed Barware is the perfect item to hold a drinker's personal supply. It is made from stainless steel so there is no chance of the metal rusting or affecting the flavor of the spirit and it has a captive screw top so the cap will never get lost when the owner has had a few too many. Inset into the front face of the flask is a leather panel with a silver screen print of the Jack Daniels' logo while the sides have a ribbed design for extra grip.
Detailed information about Jack Daniels Ribbed Flask
This is a great gift for the lover of Jack Daniels and something they will treasure for many years. It would make a lovely present at Christmas and at birthdays or as a Father's Day or Mother's day gift. It would be suitable for a bride to be to give her groom or even for the couple to give as a Best Man or Groom's Man gift.
The majority of the customer reviews say that the product is very well made and has quality printing on the leather inset. One customer, however, says that the leather is actually faux leather. Whether this is true or not will have to be seen, but as said before it is only one person who has commented on this.
WHY WE LIKE IT?
Made from stainless steel so will not break, will not rust and will not adversely flavor the liquor
The printed leather inset provides an air of quality to the flask
The size of the flask is such that it is easily stored in a pocket or in a rucksack and is unobtrusive at all times
WHY WE dont LIKE IT?
One customer complained that the advertised leather inset was in fact "faux leather"
What we love about this product
The flask will sit easily into a pocket or rucksack without taking up to much room and unlike a glass bottle, there will not be any chance of the glass breaking through heavy handling of a rucksack.