This product is listed here: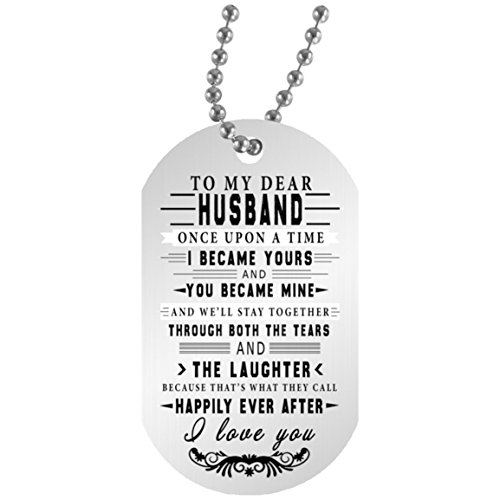 Husband Tag Necklace
Wives, are you looking for the perfect little something unique and special for your husband on your anniversary or his birthday? Maybe a way to let him know how much he means to you 24/7? This tag style pendant and beaded chain will help him remember the day to day the story of the two of you, and how "happily ever after" will always be the goal at the end of his and your personal fairytale!
Sometimes it just takes some words of inspiration from his best friend to get through the hard days, and with this simple piece of jewelry, your support and encouragement is never far away.
Detailed information about Husband Tag Necklace
This masculine necklace is inspired by military issue dog tags and is most definitely one piece of jewelry that any man would be comfortable wearing, no worries there. Included is a 30-inch beaded silver chain that is more than long enough for any man to wear this necklace inconspicuously tucked into his shirt if he should desire; out of sight from others but close to his heart at the same time.
Your words and their message will never be far away, and they will remain a source of comfort no matter how rough his day is going.  He will appreciate knowing that your love and faith in him will be there through it all.
WHY WE LIKE IT?
Military tag styling
Aluminum finish silver and white on the reverse side
Inspirational saying on the front with a glossy finish
Your satisfaction is 100% guaranteed
WHY WE dont LIKE IT?
None
What we love about this product
The brilliant aluminum finish is very durable and will stand up to everyday wear, whether at work or at play. You can be sure it will remain bright and beautiful for years and years to come. And remember that this gift comes with a 100% guarantee of your satisfaction. durable and will stand up to everyday wear.