Homemade Dog Treat Ideas for Your Furry Babies!
last updated:
Sep 24, 2018
898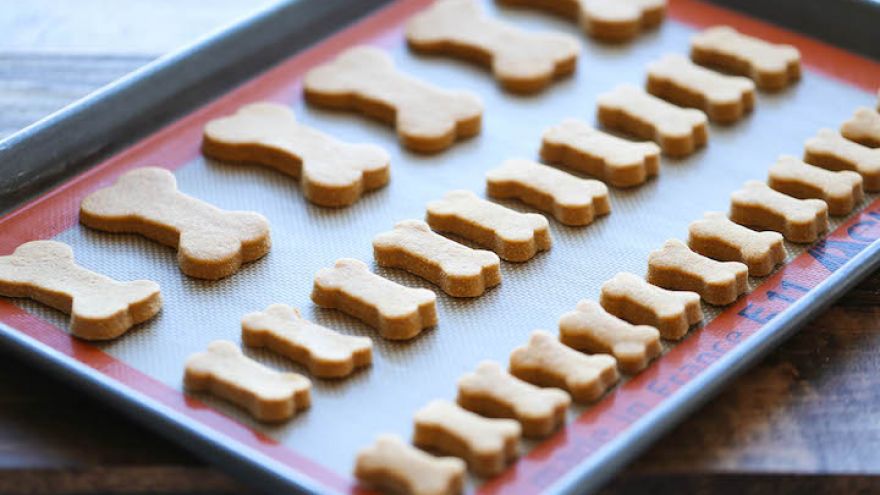 Being able to give your dogs treats is something that every pet owner loves, especially when it comes to showing your affection for your furry baby. However, store bought treats aren't always the best option for every type of dog, especially if yours has specific digestive issues or simply isn't interested in eating the treats that you can buy from a pet store.
There's no need to worry though, as there are plenty of different recipes that you can use in order to create the perfect homemade dog treats with ease. Below are some of the best dog-friendly recipes we could find, especially if you want to make treats with as little ingredients as possible!
Bacon and Peanut Butter Biscuits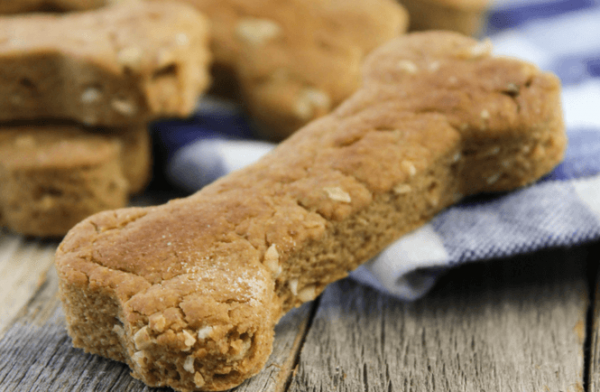 As a recipe that sounds good enough for even humans to eat, you can guarantee that these biscuits will be a hit with your furry friend. The instructions are relatively simple and you'll only need several ingredients that you might already have in your home.
Ingredients
½ cup of natural peanut butter
1 egg
6 tablespoons of milk
½ tablespoon of baking powder
1 cup of whole wheat flour
2 strips of diced cooked bacon
2 ½ tablespoon of rolled oats
Directions
1. To get started, preheat your oven to 325-degrees and use parchment paper to line a baking sheet of your choice.
2. Combine the milk, egg, and peanut butter in a large bowl and whisk through all of the ingredients until everything is combined thoroughly and a soft texture has been achieved.
3. Add in the flour and baking powder once all of the wet ingredients have been properly combined.
4. Add in the bacon bits and oats, mixing them in with the other ingredients in the large bowl.
5. Use a rolling pin to roll out the dough and then reach for your favorite cookie cutter (or knife). You'll then want to cut shapes out of the rolled dough and place them on the parchment paper.
6. Bake the cookies for approximately 30 minutes and make sure that you flip the cookies in the middle of their cooking time. Once baked, you'll want to allow them to cool before serving and you can easily keep them fresh in the fridge for up to a week!
Peanut Butter Oat Cookies with Apples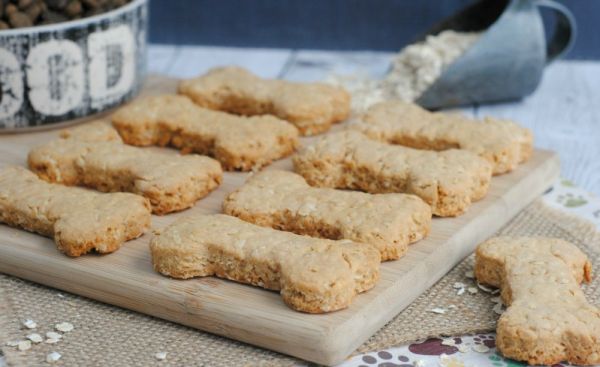 As the perfect treat for the upcoming fall season, there's nothing more scrumptious than indulging in a few slices of apples with peanut butter. However, your furry friends can also enjoy a festive fall treat with the help of these peanut butter oat cookies with apple. Similar to the previous recipe, this one only requires items that you likely have in your kitchen and the baking process is incredibly simple.
Ingredients
1 cup of rolled oats
1 ½ cups of whole wheat flour
½ cup of peanut butter
½ cup of organic applesauce
½ teaspoon of baking powder
Diced fresh apples
4 tablespoons of coconut oil
Directions
1. Preheat your oven to 350-degrees and then use parchment paper to line your baking sheets, it's likely that you'll need more than one as this recipe yields plenty of delicious treats.
2. Combine the peanut butter, coconut oil, and applesauce in a large bowl until you've achieved the perfect smooth texture.
3. Now it's time to add in the rolled oats, whole wheat flour, and baking powder, creating a thick and heavy dough.
4. If you decide to use the diced fresh apples, add them into the dough mixture, creating a big ball that can easily be rolled out flat.
5. Roll out the dough and then use a cookie cutter or a knife to create your desired shapes for the treats, lining them on the parchment paper.
6. Cook the cookies for approximately 25 minutes and ensure that you flip them over halfway through the cooking time for the best possible consistency. These cookies can also be stored in the fridge for up to a week.
Peanut Butter and Banana Parsley Cookies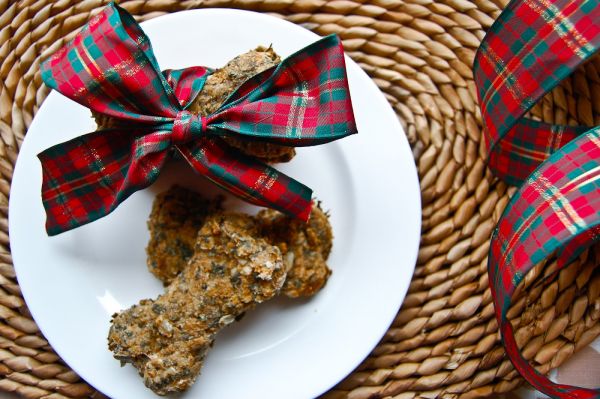 Compared to the other two treat recipes on this list, this one might not seem as appealing to humans, however, they're easily one of the most delicious treats for your pet. Even if your dog isn't the biggest fan of meaty ingredients, you'll surely appreciate the fresh ingredients that go into these cookies to help maintain their health and give them something yummy to snack on.
Ingredients
2/3 cup of rolled oats
4 tablespoons of peanut butter
1 banana
1 cup of oat flour
¼ cup of applesauce
½ cup of dried parsley
Directions
1. Preheat your oven to 325-degrees and use parchment paper to line your chosen baking sheet.
2. Use a spoon to mash up the banana in a large bowl and then add in the peanut butter, parsley, oats, applesauce, and oat flour. Make sure that you combine all of the ingredients thoroughly to ensure that the dry ingredients become sufficiently wet.
3. As soon as you have achieved a dough-like texture, roll it out and use a cookie cutter to create your desired shapes. You can then line the parchment paper with the cookies to prepare them for baking.
4. Allow the treats to bake for up to 20 minutes and ensure that you flip them halfway through their cooking time. As usual, ensure that you leave a sufficient amount of time for the cookies to cool before serving them to your pet and they can last up to a week in the fridge.
Making Homemade Treats is Simple!
Even though there are dozens of ingredients in store-bought treats for your furry babies, it doesn't mean that they are the right ingredients for your pet. It's always best to try your hands at creating your own homemade treats because not only are they less expensive, but they're also phenomenally healthier for your dog. All you're going to need is a few ingredients that you likely already have in your cupboards and an oven to ensure the cookies are baked thoroughly. After a few minutes, you'll have an assortment of delicious treats that they'll love.
Pin for later