The Giant Donut Cake We Would Have Any Day (Including on Our Wedding!)
last updated:
Sep 17, 2019
3868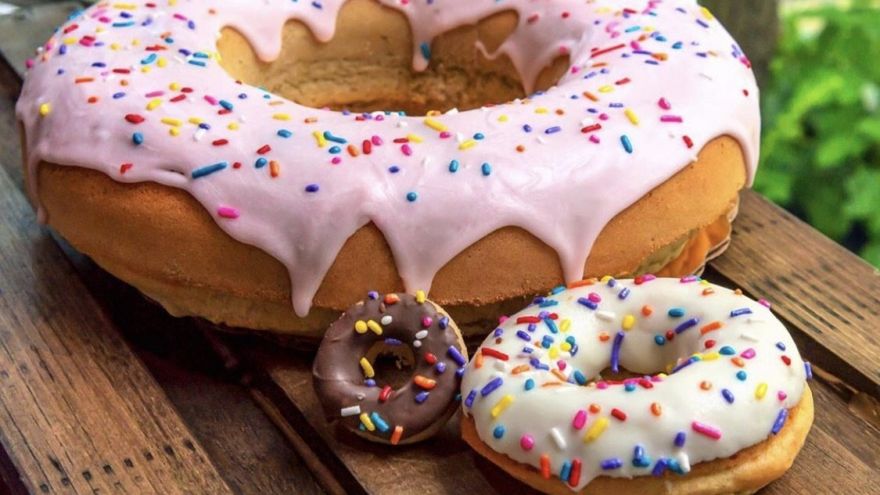 When you do a quick search for a donut cake, you'll likely find plenty of pictures of stunning cakes that look eerily similar to your favorite baked treat, donuts.
However, finding the perfect donut cake recipe is a whole other battle as you'll need something that looks great but that tastes phenomenal as well.
No matter if you're looking for a full donut cake recipe or if you simply want to arrange donuts to make a cake, we've collected all of the best recipes for you to use to your advantage.
We guarantee that at least one cake donut recipe on this list will be perfect for a multitude of occasions, including a wedding!
Donut Cake Recipes!
1. Classic Donut Cake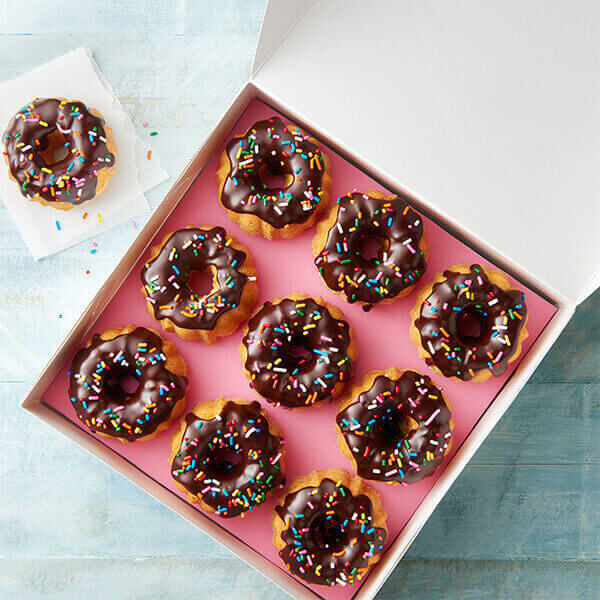 This is the perfect recipe for someone who is looking for the classic cake donut recipe but on a much larger scale. You can use this to create 12 individual donuts or you can even use the recipe to create your very own wedding cake that tastes deliciously similar to a typical donut.
Regardless, it is easy to follow and gives you plenty of decorative options to create a customized cake for a special occasion.
Donut Ingredients
1 cup of milk
2/3 cups of butter, melted
2 large eggs
2 ½ cups of flour (all-purpose)
1 ½ cups of sugar
1 baking powder tablespoon
1 teaspoon of salt
¼ teaspoon of nutmeg
Ganache Ingredients
2/3 cup of semi-sweet chocolate chips
1/3 cup of heavy whipping cream
Rainbow sprinkles
Directions
✓ First, you're going to want to preheat your oven to 350-degrees F and begin to prepare your Bundt pan. Using a little bit of extra butter to grease the pan and then gently coat it with flour.
✓ Next, you'll want to take a single bowl and combine your wet ingredients including your melted butter, milk, and eggs. Ensure that you whisk all of the ingredients together until they are fully combined and then set this bowl aside.
✓ Taking a second bowl, combine the dry ingredients which include the salt, nutmeg, baking powder, sugar, and flour. Use a fork to combine all of the dry ingredients and to help work away any chunks so that it is powdery smooth.
✓ Take the wet ingredient mixture and combine it with the dry ingredients, stirring until everything is thoroughly combined. Once mixed, you can spoon the batter into your prepared Bundt pan and put it in the oven.
✓ Bake the cake for 35 to 40 minutes, or until an inserted toothpick can be removed and is dry. Remove the cake from the oven and allow it to cool on a serving plate completely.
✓ Taking a small saucepan, heat your 1/3 cup of whipping cream on medium to low heat until bubbles begin to form at the edges and steam is formed.
Place your chocolate chips in a bowl and pour the hot cream over the chips, letting them sit together for 30 seconds. You can then use a spoon to mix the two ingredients until the chocolate mixture is smooth.
✓ Pour this mixture on top of your cooled cake, allowing it to drip down the sides. Sprinkle the cake with rainbow sprinkles.
Check the full recipe from Land o Lakes.
2. Mocha Whipped Cream Donut Cake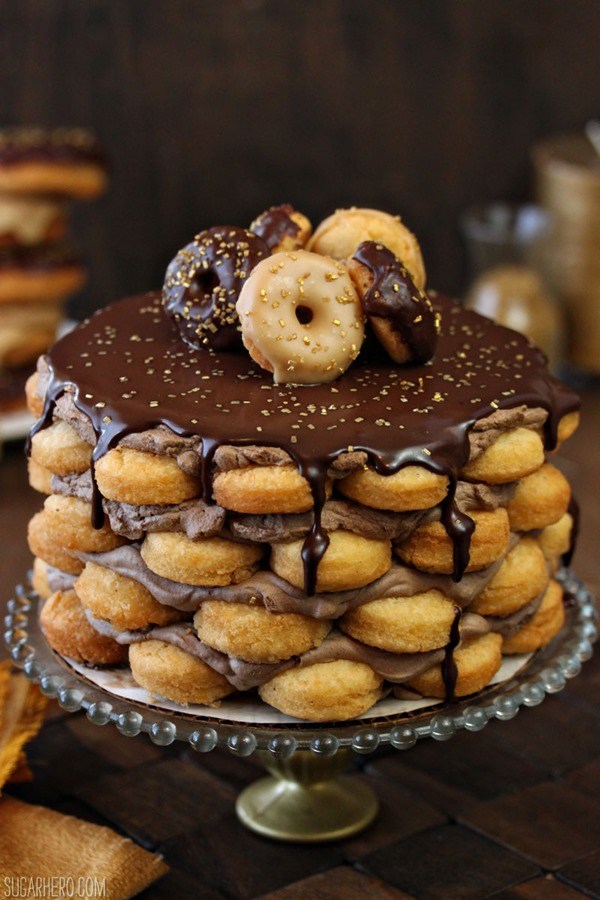 When you look at this cake for the first time, you'll see how it easily transforms a generic idea into a classic and luxurious dessert your whole party will enjoy.
This is easily our favorite donut wedding cake recipe that you can use to your advantage for an elegant and decadent dessert.
With the combination of everything you love in a donut cake as well as a specialized mocha whipped cream, it's a stunning adult-friendly dessert that you'll crave.
Sour Cream Donut Ingredients
3 1/3 cups of cake flour
2 ¼ teaspoons of baking powder
1 teaspoon of ground nutmeg
1 teaspoon of salt
¾ cup of granulated sugar
1 ½ oz of butter
3 large egg yolks
¾ cup of sour cream
1 quart of canola oil (for frying)
Chocolate Ganache Ingredients
½ teaspoon of instant espresso powder
4 oz of heavy cream
3 oz of semi-sweet chocolate (chopped finely)
Mocha Whipped Cream Ingredients
3 cups of heavy cream
½ cup of powdered sugar
¼ cup of unsweetened cocoa powder
2 teaspoons of instant espresso powder
2 teaspoons of vanilla extract
Sour Cream Donut Directions
✓ Sift the nutmeg, powder, salt, baking powder, and cake flour together in a single bowl.
✓ In a separate bowl, combine the butter and sugar until the mixture is moistened and resembles sand. You can then add in one egg yolk at a time until the mixture achieves a thick and light texture.
✓ Turning the speed on your mixer to low, add in 1/3 of your flour mixture and when it is mostly combined, add half of the sour cream.
Alternate between the flour mixture and sour cream until both have been fully added in. Once the dough reaches a sticky texture, you can stop the mixture.
✓ Taking a third bowl, transfer the dough to the clean bowl and cover with cling wrap. You should then refrigerate the mixture for an hour.
✓ Once the hour is up, flour your work surface and roll out your dough until it's about ¼" in thickness. Using a small circular cutter, cut out your donut circles and then cut a second circle in the middle.
✓ Pouring your oil into a saucepan, heat it until it is 325 degrees F. Place your donut cutouts into the oil and fry them until they are golden and puffy, which should take about one minute per side.
Once finished frying, place the donuts on a paper towel to allow the extra oil to be absorbed.
Whipped Cream Directions
✓ First, you'll want to pour your cream into a mixing bowl that has been previously chilled. You can then sift the espresso powder, cocoa, and powdered sugar together on top of the cream.
Ensure you add in the vanilla at this point as well. Using a hand mixer, whip the cream until it forms stiff peaks.
✓ Using a springform pan placed on top of a cake cardboard, spread a thin layer of your whipped cream on the top of the cake cardboard. You can then take some of your donuts and arrange them in a ring shape around the edge of the cardboard.
Using your whipped cream again, place another layer on top of the donuts and follow with another layer of donuts. Alternate between the two until you have created four layers of donuts.
✓ Once you've reached your final layer of donuts, top it off with more whipped cream and using a spoon, spread it out so that it is a smooth and even layer. Cover the entire cake with plastic wrap and refrigerate it overnight.
Chocolate Ganache Directions
✓ Taking a small saucepan, pour in the cream and espresso powder. Turn the heat onto medium-high.
✓ Using the semi-sweet chocolate, place it in a nearby bowl and continue to allow the cream to simmer until bubbles form on the side of the pan.
Once steaming, pour the cream over the chopped chocolate in the bowl and let it sit for 60 seconds. Using a whisk, whisk the ingredients together until they are fully smooth and shiny.
✓ Cover the bowl with cling wrap and allow it to sit at room temperature.
Finishing Touches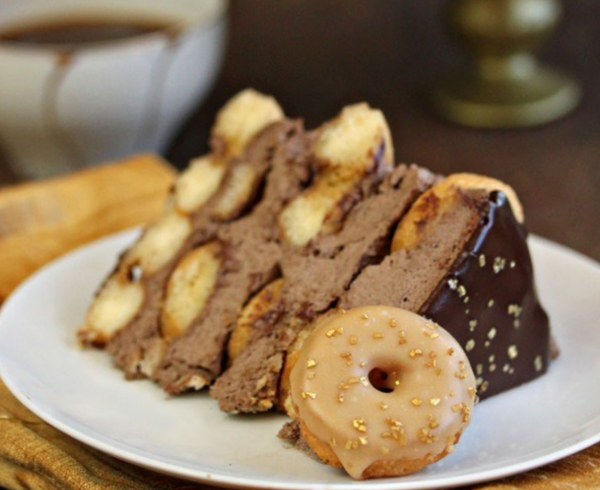 Take the springform pan apart and place your cake on your serving platter. Taking your ganache, begin to pour it on top of the cake and spread it over the edges so that it drips down the sides.
Add in a couple of sprinkles for an added touch. We also recommend adding a couple of donuts to the top of the cake as a cute topper.
The full recipe can be found on SugarHero.
3. Quick and Easy Donut Cake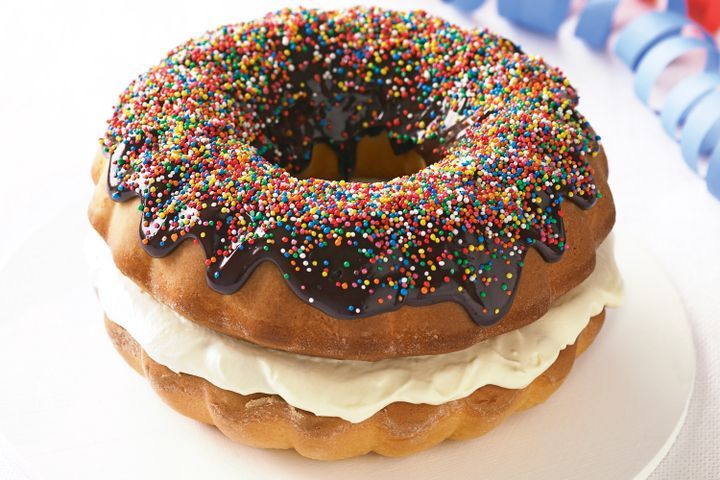 If you've already spent all day preparing for an event, whether a birthday or a dinner party, it's likely you're not going to want to spend a lot of time designing a dessert.
This cake donut recipe is by far one of our favorites desserts for birthdays as it can be whipped together in under an hour and tastes phenomenal.
With a combination of whipped cream, jam, and a buttery cake, it has everything you would expect from a decadent donut cake.
You may also find that this is a great alternative for a donut wedding cake or a wedding shower.
Donut Cake Ingredients
Plain flour, for dusting
4 eggs
¾ cup of butter (softened)
1 ½ cups of milk
2 x 340g golden cake packets
½ cup of raspberry jam
½ cup of thickened cream (whipped)
1/3 cup of 100s and 1000s
Chocolate Icing Ingredients
200g dark chocolate (chopped)
1/3 cup of thickened cream
Directions

✓ Preheat your oven to 350 degrees F and begin to prepare your cake pans by greasing both of them liberally with butter and then dusting the pans with flour.
✓ Prepare the golden cake packets as per their directions. Pour half of the batter into one of your prepared pans and then pour the other half other of the batter into the second pan.
✓ Allow the cakes to bake for approximately 30 minutes, or until an inserted toothpick can be removed cleanly.
Remove the cakes from the oven and place them on wire racks to cool for 10 to 20 minutes. Once cooled, remove the cakes from the pans and trip the tops to level each half.
✓ While letting the cakes cool for longer, begin to work on your chocolate icing. Combine the cream and chocolate in a small pan and turn on the heat to medium-high.
Whisk the cream and chocolate together until they are fully smooth. You can then set this combination aside.
✓ Taking one half of your cake, place it on a cake board. Taking the raspberry jam, coat the entire top of this half of the cake with the jam.
You can then top it with your prepared cream. Place the other half of the baked cake on top of the cream layer.
✓ Begin to drizzle your chocolate mixture on top of the donut cake and then finish the entire look off with your 100s and 1000s as an added touch.
Before serving, let all of the ingredients sit together for 10 minutes.
Check the recipe on Taste.
4. Glazed Chocolate Donut Bundt Cake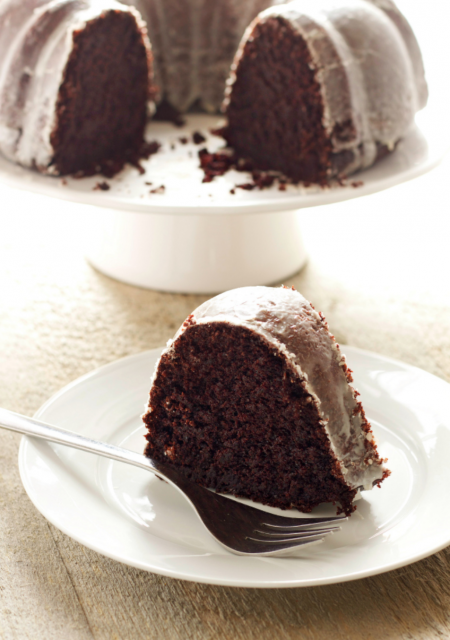 Out of all of the recipes on this list, this is by far the one that is truest to the texture and flavor of a donut. Glazed chocolate donuts are a quintessential flavor that you've likely experienced before and this cake captures the true essence of its delicious nature.
We love the idea of this cake for a birthday or even as a Christmas dessert.
Cake Ingredients
1 ½ cups of white sugar
1 ¾ cups of all-purpose flour
1 cup of cocoa powder
½ cup of brown sugar
1 ½ teaspoon of baking soda
1 ½ teaspoon of baking powder
1 teaspoon of sea salt
1 ¼ cups of low-fat buttermilk
1 teaspoon of vanilla
½ cups of vegetable oil
2 large eggs
1 cup of boiling water
Bundt Pan Ingredients
2 tablespoons of cocoa powder
2 to 3 teaspoons of butter
Glaze Ingredients
2 cups of powdered sugar
6 tablespoons of whole milk
1 teaspoon of vanilla extract
Directions
✓ Preheat your oven to 350 degrees F and begin to prepare your Bundt pan by coating it with your butter and flouring it with your cocoa powder.
✓ Combine your baking soda, baking powder, white sugar, brown sugar, flour, cocoa powder, and sea salt in a large mixing bowl. Stir the ingredients together until they are fully combined.
✓ Using a separate bowl, combine the eggs, vegetable oil, vanilla, and buttermilk.
✓ Combine the wet ingredients into the dry ingredients and stir them together. Meanwhile, add water to your kettle and allow it to boil. Once boiled, measure a single cup of boiling water.
✓ Add in the boiling water, whisking it together with the other ingredients until the batter is smooth.
✓ Pour the finished batter into the Bundt pan and allow it to bake for up to 40 minutes, or until a toothpick is removed cleanly.
✓ Allow the cake to cool fully before removing it from the cake pan.
✓ While the cake is cooling, whisk the milk, vanilla, and powdered sugar together and then pour the finished glaze on top of the cooled cake. For an added touch, use a pastry brush to cover the entire cake. Let the icing dry completely before serving for the perfect see-through glaze.
The full recipe can be found on The Busy Baker.
Final Thoughts
No matter if you're looking for a donut wedding cake or something to treat yourself with once in a while, we highly recommend all of the recipes on this list.
From a traditional glazed chocolate donut to a luxurious mocha chocolate donut cake, the options are relatively endless.
Pin for later