Fantastic Homemade Food Gifts That Come in a Mason Jar
last updated:
Sep 24, 2018
1879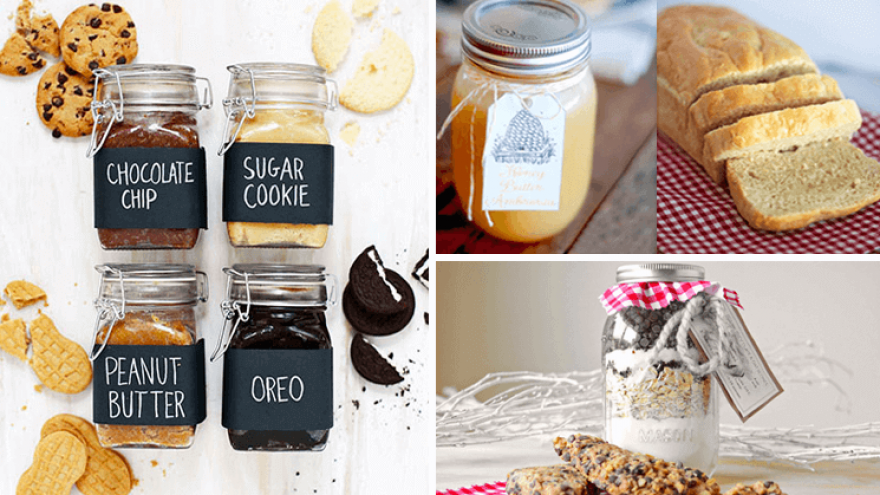 Let's face it – gifting food is simply always a great idea. Right? Who doesn't love food? Whether you treat someone based on their sweet tooth or their salty tooth (or a combo of both) food is always an excellent gift.
If you are thinking that food is your perfect theme for gifts this year, why not make things a bit more unique by preparing the food and presenting it in a mason jar! Mason jar foods are the latest hot food trend, and not only is it great to eat, it makes for such a great gift that is contained and easy to transport.
We love mason jars for so many reasons – they are rustic, chic, and make great decor. And now, they also make great food containers! Seriously, what can't you do with a mason jar? We aren't sure.
If you are in need of some inspiration, you are in luck. We have found a collection of positively awesome, festive, fun, and most importantly, delicious food gifts that all can be put in mason jars.
If there is a birthday coming up, or it is nearing the holidays, bust out your mason jar collection and start a shopping list. These recipes are sure to be a total hit!
1. Parfait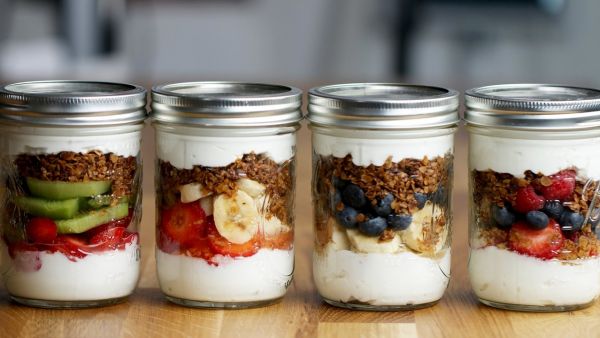 Yummy and still fairly healthy, a great gift idea is a delicious fruit parfait! Really easy to make and very customizable, this is a perfect gift idea for all those summer birthdays or get togethers. Simply make layers in your mason jar of granola, yogurt, and fruit! It's that simple!
To go healthier you can opt for greek yogurt and do whole grain oats as the base for your granola. Berries such as blueberries and raspberries work great in these, but you can also branch out and cut up other fruits as well such as peaches or strawberries! Drizzle some honey to add an additional touch of flavor and sweetness, and that's it! We love how easy this is, and giving it as a gift there is no work to be done, minus of course sitting down and eating it!
2. Banana Bread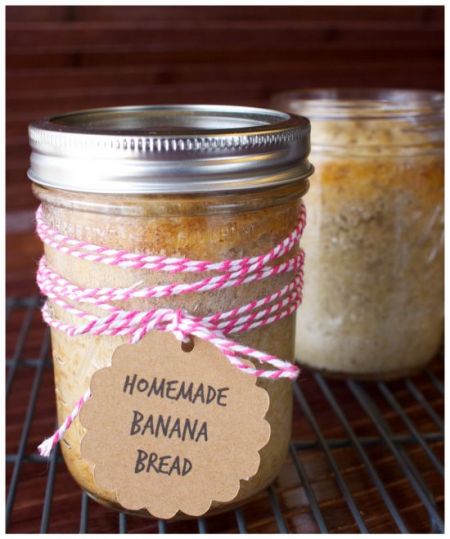 Banana bread is one of our favorite breakfast food items, and we love that you can easily make mini portions inside of mason jars! This is such an excellent (and delicious) gift idea, especially if you wanted to bake something for friends and family. Make sure you have oven safe mason jars and you are good to go! You also don't need too many ingredients, so if you are making these during the busy holiday season, not to worry! You won't have to spend all day in the kitchen, but it'll certainly look (and taste) like you did!
The most important thing you have to remember here is to have bananas that are ripe enough. Either buy them a few days in advance to let them ripen up or check at the store that you can find ones that are ripe enough. You can find the full recipe here!
The recipe calls for chocolate chips but you can also easily leave those out if you know someone who doesn't like chocolate or if you want to make the recipe a bit more healthy. However, if you are cooking for the holidays, trust us, include the chocolate chips!! It is a wonderful touch that will make this recipe even better. Just be warned, friends and family will probably want you to make this every year from here on out.
3. Granola Mix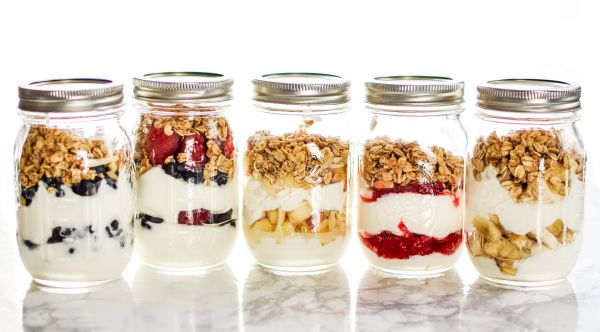 If you are having to travel a ways with your mason jar gifts you might be worried about baking something or including perishable ingredients (like with our fruit parfait). Totally understandable! Thankfully, there are plenty of fun mixes that you can place in a mason jar to make for a delicious snack that is also easy to transport.
We personally love a good granola mix, and by putting it in the mason jar, you can mix and match various items to create your own personalized party mix! Include some sweeter elements like dried fruits and chocolate pieces along with salty options like nuts along with granola to make for a wonderful mix of flavors. Decorate your jar and you easily have a perfect gift that anyone will enjoy snacking on!
4. Chocolate Sauce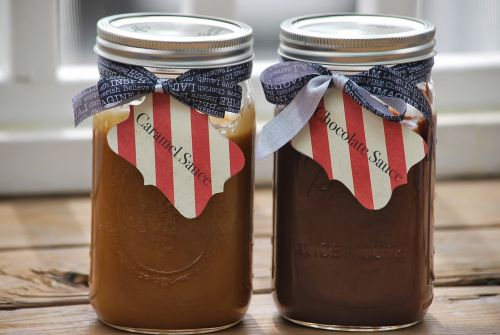 You really can't go wrong with chocolate. It goes great on just about everything- so why not give that gift in a mason jar?! We love the idea of making homemade chocolate sauce and giving it as a gift in a mason jar. Whoever receives it can use it on whatever they wan – and we are sure they will take advantage of that and sweeten up just about everything they eat!
Best of all, you can go the extra mile to make homemade sauce, but don't worry, it is incredibly easy! We love a really simple chocolate sauce recipe which just involves dark chocolate pieces or chips, some vanilla extract, and cream. Simply mix them together and heat until it is all melted and combined. Delicious! You can even do this in a small crock pot and leave it, making this one of the easiest things ever. Once it is melted let it slightly cool, transfer to your mason jar, and that's it!
5. Cookie Mix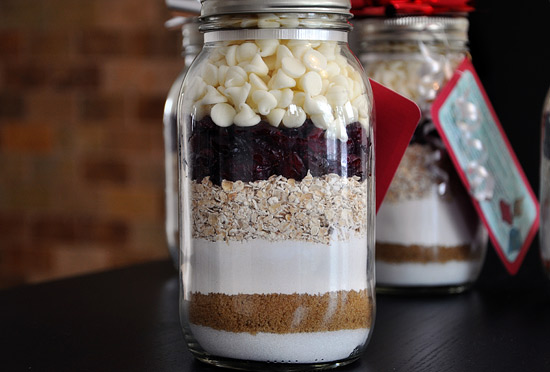 Why not give someone a more interactive mason jar gift? Pick your favorite recipe and include it with the jar along with all the dry ingredients they will need. We personally love a simple cookie recipe and think it makes for a cute presentation in the mason jar. You can pick pretty much any recipe and simply measure out the ingredients and have them serve as a new layer in the mason jar.
Simple and fun! This also makes it easier on whoever gets this as a gift as they just need to combine all the dry ingredients with a few wet ingredients and bake it. Perfect for busy parents who want to bake with their kids!
Bonus: Hot Chocolate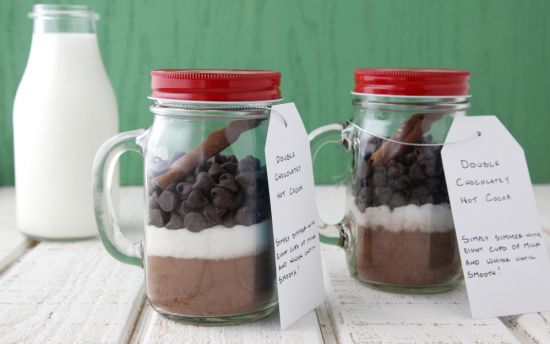 We had discussed various foods and toppings, but why not use your mason jar to gift a delicious drink? That is also a great idea, and we can't help but think that hot chocolate would make for the perfect mason jar gift. Put all the dry ingredients in the jar along with instructions on how much water or milk needs to be added. You can give someone a large amount to make several servings, or make individual servings. The good part about that is that they can then use the mason jar as their cup!
Just make sure the jar you use is microwave safe so that they can heat up the liquid in it safely. That is a great idea to bring for a christmas party or birthday party and is sure to be a huge success. Best of all, it is incredibly contained and multipurpose. Think of all the cute mason jar photos you would be able to take!
Wrapping Up
There you have it! From prepared foods, to recipe items that someone can then make themselves, you have plenty of options to choose from for your next mason jar gift! All of these are equally delicious and festive, so you really can't go wrong! Pro tip- why not make them all in advance and try them for yourself?! There is nothing wrong with being your own taste tester, we promise!
Now, go on and start your mason jar creations! What will you make first?
Pin for later