This product is listed here: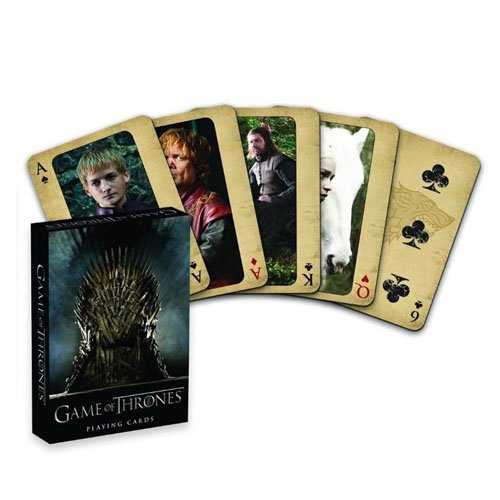 Dark Horse Deluxe – Game of Thrones Playing Cards
The award winning Game of Thrones television series made by HBO is arguably one of the most popular TV series ever produced. There are so many people who follow the politics of this series that it is no wonder that someone has brought out a playing card deck based on the series.
The characters are purely based on Series 1 so there are many characters that don't appear in the Court cards who would make this card deck a very special addition to anyone's Game of Thrones merchandise collection. As it is the Game of Thrones Playing Cards by Dark Horse Deluxe, does a good job allocating the families to different suits.
Detailed information about Dark Horse Deluxe – Game of Thrones Playing Cards
But if you know of a Game of Thrones follower who likes to collect merchandise then this is the gift to buy them. The cards can be used as a normal deck as each of the usual cards is present together with two jokers. And in addition to the usual playability of these cards there is the added quirkiness of having all the main characters of Series one present in one place.
This is a gift to buy anyone who enjoys Game of Thrones and likes to play cards. Just imagine what will happen when the gang comes around for a binge Game of Thrones session and the playing cards are brought out. All we can say is that the host should keep an eye on the deck or else it might end up in someone else's coat pocket when it's time to go home.
WHY WE LIKE IT?
This deck of cards is a must have for all those people out there who follow Game of Thrones
The deck is the same size and contains the same number of cards as a standard deck: 52 playing cards plus two jokers
The design and artificial discoloration gives the impression of age and hard use
WHY WE dont LIKE IT?
None
What we love about this product
One of the good things about this deck is that you don't need to have any knowledge of Game of Thrones in order to play with the cards. Just treat them as normal playing cards.