Crochet Baby Blanket Tutorial Guides and Ideas
last updated:
Jul 08, 2019
5458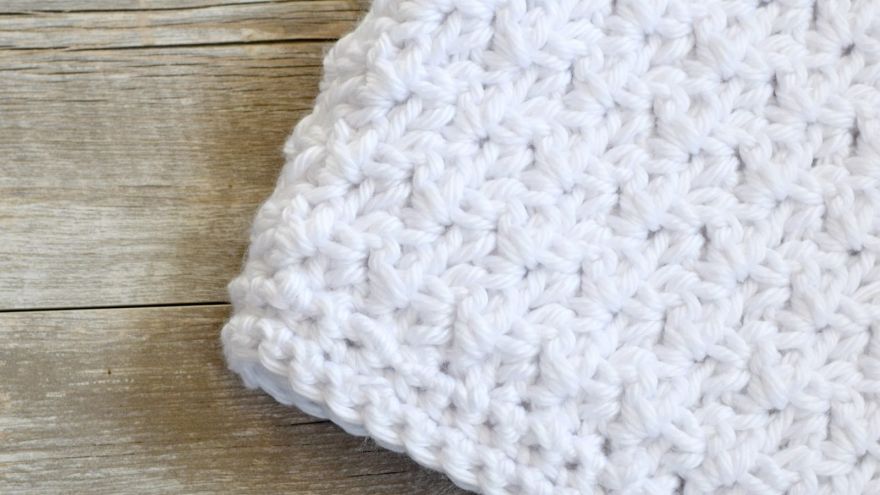 Being able to crochet is a special talent that many people do not have. When there is a newborn expected in the next couple of months, you should consider making a handmade gift that they'll love for years to come.
However, you first need to learn how to crochet. We've found a collection of the best and cutest crochet baby blanket tutorial guides and ideas that you can put to good use. Some of these tutorials are even fantastic for people who have never tried to crochet before.
1. Claudetta Crochet: Alpine Stitch Tutorial
What we love the most about this crochet alpine stitch tutorial is that it creates a stunning finished piece that has a lot of depth to it. Once completed, it will look like a fully professional blanket, however, the hidden secret is that the stitch is easy for beginners to master.
In addition, Claudetta Crochet brings the viewer through every step of the process including the materials needed for the project and the specific stitches you'll need.
2. Bella Coco: Basketweave Tutorial
Basketweave stitches are the perfect design for a wide variety of handmade crafts, though we find it looks best when used on blankets. Your finished product will have raised and flattened patches of yarn that help to add dimension and depth to the blanket. If you want to get even more creative, you can consider using two different colors of yarn to create an alternating pattern.
As another crochet pattern that is easy for beginners to handle, it creates a cozy and comfortable pattern that will look spectacular in your baby's nursery. Once you get the hang of the stitches, we highly recommend creating an adult size blanket for your bed.
3. Patchwork Heart: Paintbox Blanket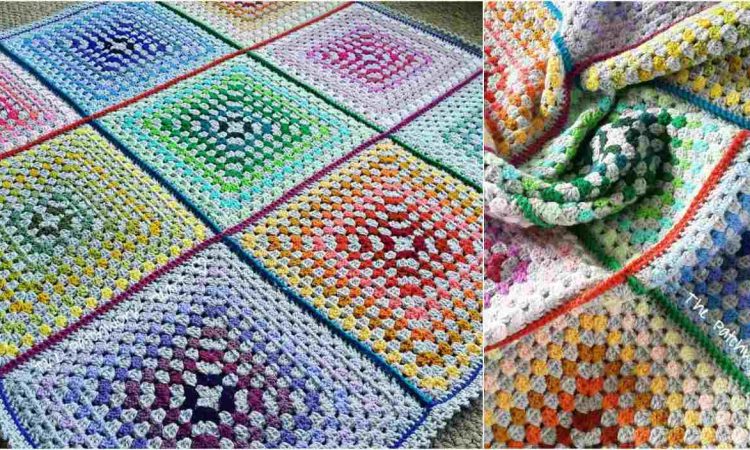 If you're looking for a vibrant and eye-catching design to give as a gift to a loved one or friend, you'll absolutely fall in love with this tutorial. With that said, it's highly recommended you begin the project as soon as possible, as making a baby blanket with this technique will take a little longer than normal. This is mostly because you will be using small solid granny squares to create a unique and visually pleasing design.
We love the vintage look of this tutorial that adds a little extra homey feeling to the blanket. With the help of the thorough online tutorial, you'll know what materials you'll need as well as the step by step instructions to follow to create a beautiful finished product.
Compared to the other two tutorials on this list, this project is better for intermediate crochet enthusiasts, as it's more difficult.
4. Dendennis: Elephant Snuggle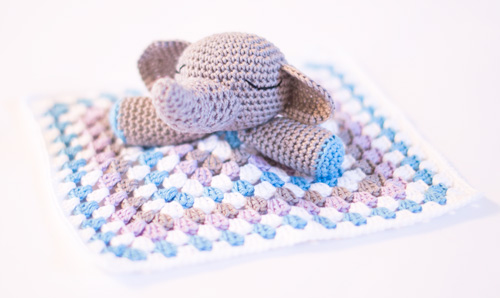 Instead of focusing on a regular crochet blanket that can be draped over a rocking chair or the side of a crib, this elephant snuggle tutorial is phenomenal to give a gift the baby will grow with over the years. With the combination of a soft and cozy blanket and a fun and unique toy, it's everything you ever hoped for. As this is a far more difficult tutorial, once you've learned the ins and outs of crocheting, you can try your hand at this project.
You'll essentially be making a single granny square and then creating an animal, such as an elephant, that will be placed in the middle of the granny square. It's a handmade project that will look like something you bought from the store, which is why it's highly recommended as a new baby gift.
5. The Cookie Snob: Corner-to-Corner Chevron Baby Blanket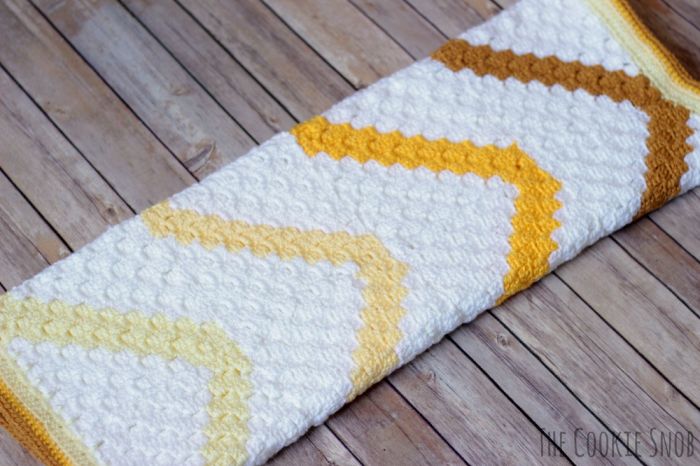 Even though most crochet work can look vintage and traditional, there are plenty of modern tutorials to find as well. This pattern is very contemporary, especially as chevron print is one of the most popular modern designs for nurseries today. The best part is that you can choose whatever colors you want to use to create a custom piece for a nursery.
Similar to all of the other crochet patterns on this list, you're going to start out by making a pile of squares and then assemble them all together in the correct pattern. If you want to take a new approach, you can consider alternating the chevron so it looks a little more unique.
6. Ravelry: Unicorn Mermaid Blanket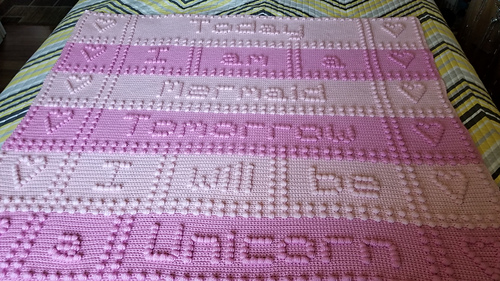 This is another one of our favorite tutorials on this list, as it will create a spectacular piece of art that you can either use as a blanket or even as a mural on the wall of your nursery. By far, this is one of the most innovative pieces of crochet work we've seen for children and you can guarantee your heart and soul will be put into the project.
The overall look of the unicorn mermaid blanket is raised lettering and borders on a flat surface. You can customize the message on the blanket to spell out something inspirational or to even put the name of the baby on the blanket. With the help of these step-by-step instructions and the pattern, you'll easily be able to create a 45"x45" blanket.
7. Amanda Crochets: Granny Stripe Baby Blanket
As a beginner-friendly tutorial, this granny stripe baby blanket is one of the simplest tutorials on this list. You'll love the pattern it creates once you have finished the blanket, and it can be recreated in a variety of colors.
We'd say that it's another modern design to consider that is similar to the chevron blanket, but a little more subtle. You might also find that this pattern is ideal for making baby clothes or accessories as well, as the thick stripes are an adorable pattern for kids.
At the end of the day, you'll surely be able to complete a blanket that you are proud of and it's a very forgiving tutorial which will teach you the basics of crocheting.
No matter your skill level, you can guarantee you have the ability to create a unique baby blanket. All you need is crochet needles and yarn of your choosing.
With the help of one of these crochet baby blanket tutorial guides, you'll be able to create a heartfelt and beautiful baby blanket for the latest arrival in your family.
Pin for later