This product is listed here: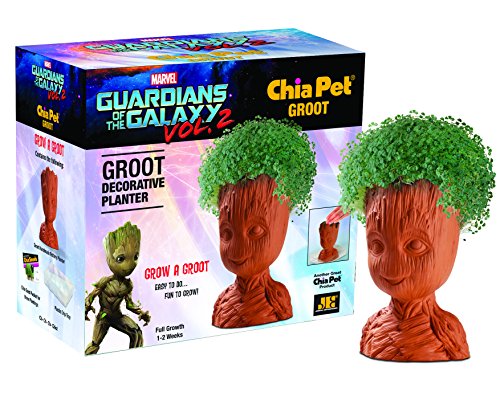 Chia Pet Groot, Guardians of The Galaxy Vol. 2
If you are looking for a perfect home or office gift for a loved one or a friend, this Chia Pet Groot will be an ideal choice. Besides, is there a single person or kid who doesn't love Groot? It will be so much to watch this decorative pottery plant fill the space and brighten it up with life and some bit of humor. The person who receives this package will not just be getting Groot, but the will have an opportunity to grow chia!
Groot is adorable, and it will be much fun to have a chia pottery plant representing the Guardians of Galaxy vol.2 in the living room especially for a fan of the American Comic especially children. It's an amazing and fun gift for anyone, any age and for any occasion, especially housewarming.
Detailed information about Chia Pet Groot, Guardians of The Galaxy Vol. 2
The decorative planter with the adorable Groot is a unique one. It has everything all in one, with a fitting plastic drip tray and packets of chia seeds enough for three plantings. The chia pet will achieve full growth in about 1 to 2 weeks after planting. The receiver of this adorable pet plant will be ready to enjoy the luscious green view coating Groot adorably in no time.
What more, the chia platters can be washed and replanted over and over to extend the fun. The options are countless, and the fun never stops with this adorable green chia Groot planters.
WHY WE LIKE IT?
Comes with fitting plastic drip tray
It comes with chia seeds packets enough for three plantings
Comes with six simple care and planting instructions
Full growth achieved in about a week or two
WHY WE dont LIKE IT?
None
What we love about this product
The decorative pottery planter comes equipped with easy to follow six simple step care instructions with clear details on how to grow the chia seeds into a beautiful creation. If followed accurately, the receiver of this adorable planter will have a Groot pet with a full head in just a week or two.