This product is listed here: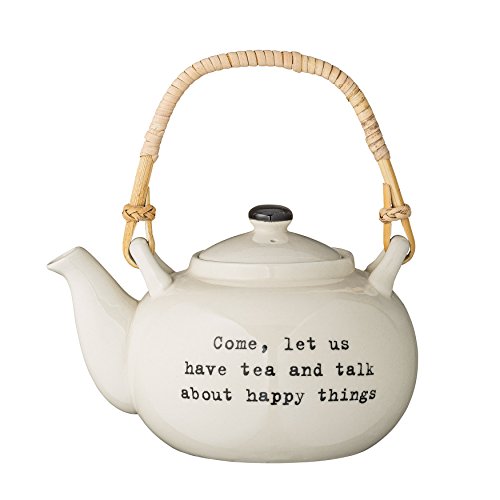 Bloomingville Ceramic Josephine Teapot
Are you searching for the perfect gift for a close friend or family member? If they love drinking tea, you have found the perfect gift! This teapot makes for a wonderful gift that is both practical and beautiful. This teapot is a lovely off-white color with black text on it that reads "Come, let us have tea and talk about happy things." What a wonderful message. This will look good in just about anyone's kitchen, and the simple design ensures it will fit into a wide variety of decor. Perfect for anyone who loves inviting people over for tea and to talk and catch up, this teapot will be a great addition to their home.
Detailed information about Bloomingville Ceramic Josephine Teapot
The teapot itself is made of ceramic and it comes with a nice bamboo handle as well. While you should boil your water with a separate kettle, this pot is great for brewing the tea and makes for a great decorative element. Perfect for afternoon tea.
Give this to your sister, mother, or grandmother, or anyone else who enjoys both tea and conversation. It is a thoughtful gift that they will also get a lot of use out of and enjoy looking at, even when everyone isn't all together.