This product is listed here: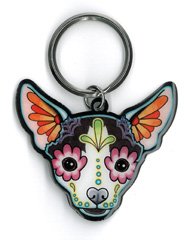 Cali's Pretty in Ink Chihuahua Keychain
Who wouldn't love this stunningly beautiful Chihuahua keychain done in the Dia de Muertos sugar skull style?
This keychain is gorgeously styled and is of great quality, and would make a perfect gift for anyone, chihuahua lover or not.
This little cutie is willing and ready to protect car keys, a clever and unique fan fob, a tag for baggage or a makeup case, a school book bag, a garment bag, or anything that could use an adorable and unique way to identify it quickly and at a glance.
Detailed information about Cali's Pretty in Ink Chihuahua Keychain
This is one chihuahua that will always stand out in a crowd…of luggage that is, making picking out the right bag a breeze.
This piece measures 3 inches long by 1.4 inches wide and is 0.2 inches thick. At 0.64 ounces it is fairly lightweight so it won't weigh down a purse or a pocket. The enameling is skillfully applied and the colors are vibrant and incredibly durable.
The keychain portion is manufactured out of longlasting chrome. When shipped each individual creative canine keyholder is shrink wrapped to ensure that there is no chance of chipping or scratching in transit.
WHY WE LIKE IT?
Skillfully enameled in vibrant colors
Sturdy and super durable
Packaged with the utmost care to ensure delivery in pristine condition
WHY WE dont LIKE IT?
None
What we love about this product
This captivating doggie is beautifully crafted using enamel for long lasting durability. It has been created in the colorful and distinctive style of a Dia de Muertos or Day of the Dead sugar skull.
This rivetingly beautiful artform out of Mexico is as traditional as it is captivating!