This product is listed here: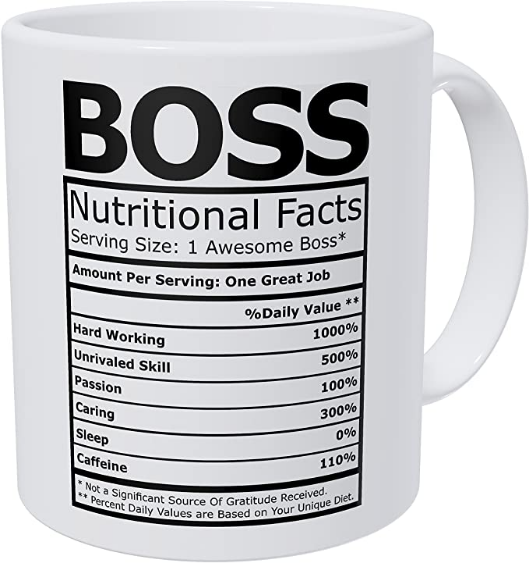 Wampumtuk Boss Nutritional Facts Coffee Mug
The perfect gift you never knew you needed! If you've got a boss in your life that you want to get a gift for, this mug is a perfect idea. Perfect for the boss that has a great sense of humor, they are sure to appreciate this 'nutritional facts' mug that details just what they're made of. Hard work, skills, passion, oh and of course, caffeine! This is a great way to show your boss how much you appreciate them while still putting a smile on their face. Who says a gift can't be both funny and flattering?
Specs: This is a standard 11 ounce coffee mug that is white ceramic. This mug is safe to put in the dishwasher and the microwave. Printed on one side in black is the 'nutrition facts' panel.
Why it's a great gift: This is a perfect gift for a boss or even a friend who manages people. They may not be your boss, but they are someone's boss, and that makes it a great gift! It's also most likely not a mug that someone would get for themselves, making it fall perfectly into the gift category! If you want to put a smile on someone's face, this mug is a great way to do it.
What we like: We like that this mug isn't just a novelty gift, it is a well-made ceramic mug that you can use for drinking coffee or any other hot beverage. We really like that you can put it in the dishwasher and the microwave as well, making it the perfect mug to have on hand at the office or at home.
What we don't like: The text is a bit on the small side making it a little bit hard to read, especially for someone with less than perfect eyesight.
WHY WE LIKE IT?
Quality ceramic
Dishwasher and microwave safe
WHY WE dont LIKE IT?
The text is a bit small