We Found the Best Waffle Maker Options. Period.
last updated:
Aug 20, 2019
807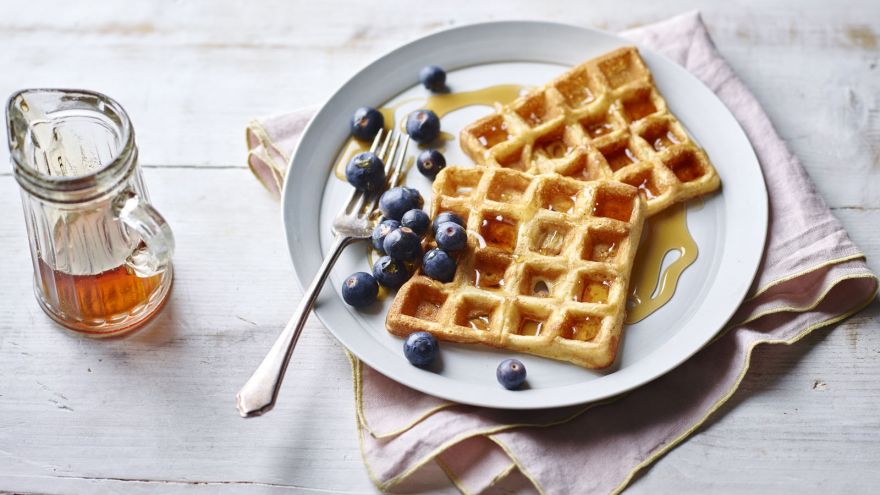 Are you looking to make the best waffles ever each and every time? If so, you are in luck! We have found the perfect waffle maker that guarantees a perfect waffle every time. We're talking perfectly crispy on the outside on both sides of the waffle, and deliciously soft and fluffy on the inside! Interested? Of course, you are!
A beloved breakfast food, who doesn't enjoy indulging in a nice waffle (or two?) in the morning? When made properly, they have that nice crisp on the outside and are super fluffy and soft on the inside. Top with some butter, syrup, or whipped cream with some fruit and you have a delicious breakfast that is sure to start your day off right!
When you want the perfect waffles for breakfast, do you typically feel like you need to go out to eat? Have you not been able to master the art of the waffle at home? We understand. There's nothing more disappointing than ending up with a waffle that is either undercooked and soggy, or overcooked and super dry!
The Best Waffle Maker
In order to get that perfect combination, you need a waffle maker that flips. You've probably seen them before, but did you ever know why they flip? It isn't just something that looks cool, it's purposely designed that way to help spread your batter more evenly!
Often times, a bad waffle is the result of batter not being spread out, causing parts of the waffle to be dry, and parts to be soggy. No one wants that.
The simple flip or rotating feature on the waffle maker helps ensure you get a perfect waffle each and every time. The waffle maker does the work for you so that you don't have to worry about pouring your batter perfectly on the iron. Simply get it on there, close, and flip! You'll end up with a great waffle each and every time.
Is your mouth watering yet? Ours certainly is! Having a great waffle maker at home, in our opinion, is pretty much a necessity. It is perfect for those lazy weekend mornings when you want breakfast but you don't want to leave the house. It also helps you save money!
We all love going out to brunch, but let's face it, brunch can get pricey! Why not stay in, save some money, but have just as nice a breakfast? We've got your waffles covered with this waffle maker.
To help make things even easier for you, we are including some of our favorite flip waffle maker options. Any of these are sure to help you make your best breakfast ever. Your spouse, friends, or children are going to be so impressed!
Best of all, these waffle makers are all easy to use, so even if you aren't a pro in the kitchen, you can make awesome waffles that everyone will enjoy.
Our Top Flip Waffle Makers
1. BLACK+DECKER Rotating Waffle Maker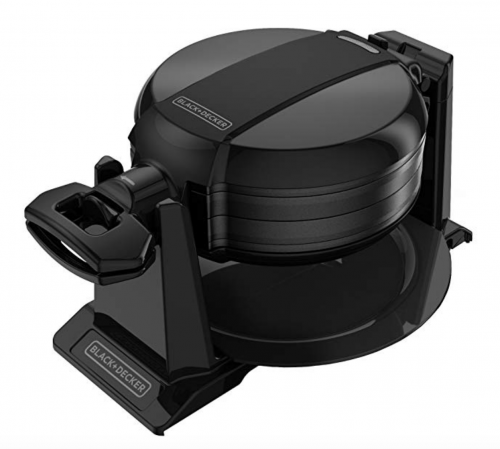 Get it here
Not only do we like the sleek, matte black appearance of this waffle maker, we love the quality of it and the delicious waffles it produces! Both plates are non-stick so that you don't have to worry about your waffles getting baked-on or burning.
There is a nice wide handle that helps you easily flip the waffle maker over, and the indicator light is nice and big so you can easily see when your waffle is ready.
The included drip tray also helps make clean up a breeze, and the non-stick coating will also help ensure you can easily wipe the machine down in no time at all.
2. Cuisinart WAF-F10 Belgian Waffle Maker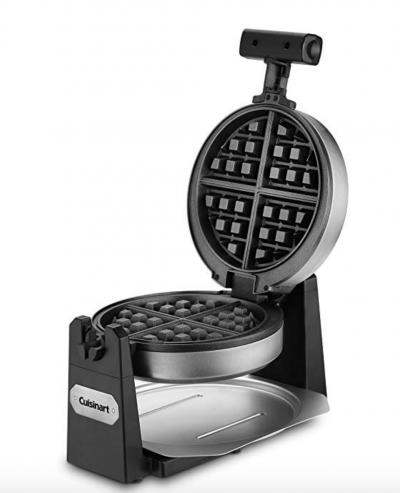 Cuisinart is a popular kitchen appliance brand and with good reason! Their products are always high quality, and the same is said for their Belgian waffle maker.
What we love about this particular waffle maker is that you can actually customize the heat settings to get the perfect level of crispness that you want, similar to how you would on a traditional toaster.
If you prefer your waffles a little more on the fluffy side, adjust the knob to a lower setting, or crank it up if you want super crisp waffles. The choice is yours!
There are also two options for this waffle maker-a single waffle maker or a double waffle maker! That's right.
You can actually make two waffles at the same time with their double maker- a perfect option if you've got a lot of people to cook for, you can be finished in half the time.
3. BELLA (13991) Classic Rotating Non-Stick Belgian Waffle Maker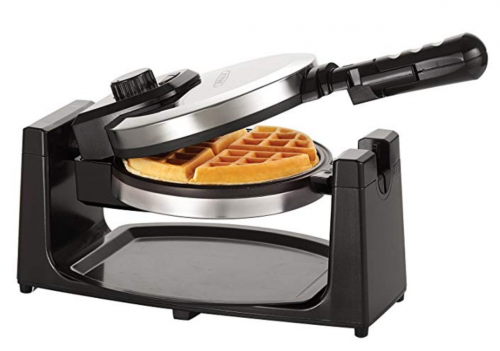 This BELLA flip waffle maker is another awesome pick and comes with plenty of great features that will help ensure you get the perfect waffle each and every time.
You've got 9 browning settings on this model, giving you really precise control over your waffles, perfect for the perfectionist cook!
They also have a cool folding handle design that features a cool-touch design, so no worries of burning yourself while cooking breakfast.
They've also got a large indicator light so that you can easily tell when the waffle is ready, non-stick coating for easy cooking and cleanup, and a removable drip tray that is actually dishwasher safe. It couldn't be any easier!
4. Hamilton Beach Flip Belgian Waffle Maker with Removable Plates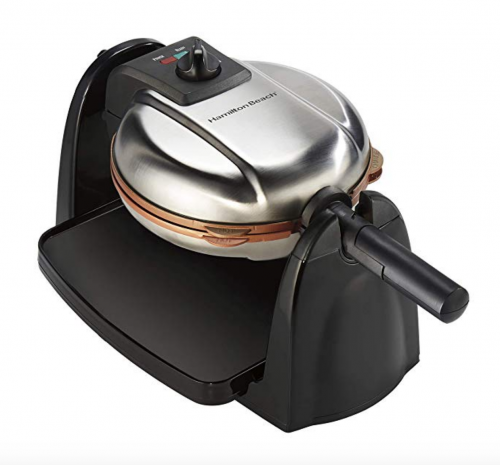 There are so many things that we love about this Hamilton Beach flip waffle maker, but our favorite feature is the removable plates. The one thing that can be tricky about waffle makers is cleaning the plates up after you are finished, but with this model, you couldn't have an easier job.
Not only are these plates removable, they are also dishwasher safe! In addition, you've also got a browning control knob, cool-touch handle, non-stick plates, and a removable drip tray that is also dishwasher safe.
If you want some delicious waffles and don't want to deal with any cleanup, this is the model for you!
5. Oster Titanium Infused DuraCeramic[VP23][TA24] Flip Maker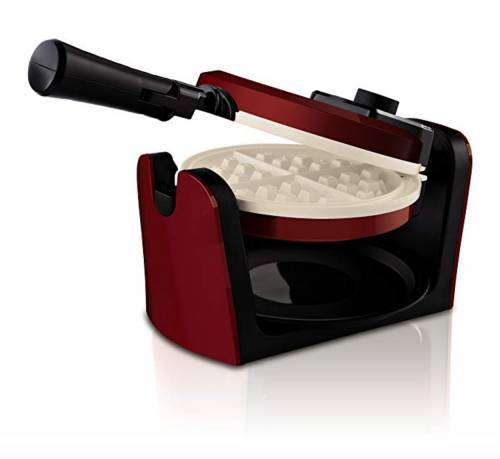 Finally, we love both the appearance and performance of this waffle maker from Oster. The red color is so eye-catching and would look great sitting out on the counter making it a good option if you know you don't have cabinet space to store it away.
Their plates aren't just non-stick, they are actually titanium infused, ensuring the coating stays on far longer than traditional non-stick coatings. There's no end in sight to your waffle making days with this machine!
If you do want to store it away, it folds up to a fairly compact size so that you can more easily slide it into a cabinet or pantry. We're impressed!
Wrapping Up
Breakfast just got a lot more delicious thanks to some of the best waffle maker options on our list. No matter how bad of an experience you have had in the past making your own waffles, you need to give one of these a shot. We promise you that you will easily be able to make the most delicious waffles thanks to these awesome waffle makers.
What is your favorite breakfast food? Do you prefer sweeter items, or do you enjoy a more savory breakfast? Let us know, and happy flipping!
Pin for later