10 Beard Grooming Kits That Make for a Perfect Gift!
last updated:
Nov 05, 2020
2452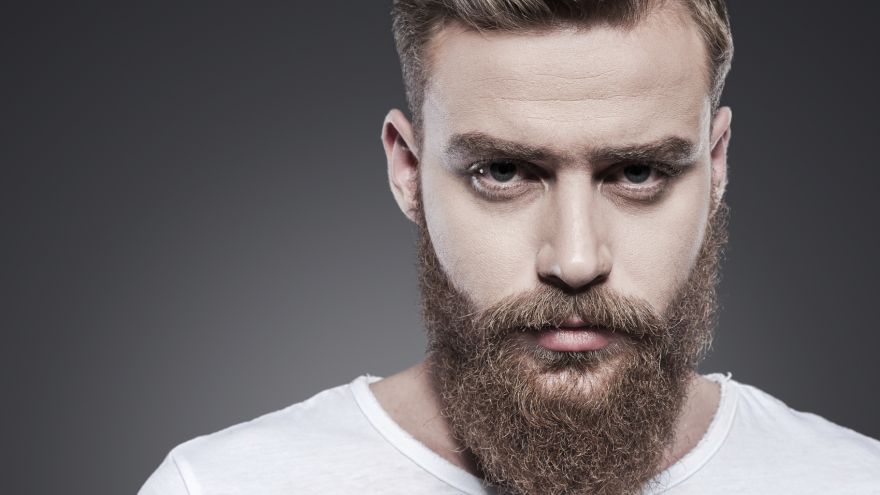 "You can always trust a man with a well-trimmed beard". – Anonymous
Every man, sometime in his life, will stop shaving for a while and let the hair on his face grow out, even if it's just for a week on vacation. However, beard wearers will tell you that's not a 'real' beard. A real beard needs a serious commitment to both to grow and take care of. As the stubborn hairs on the face grow, they need to be tamed and shaped, and for that, you need the right tools.
A regular razor and a beard trimmer are not enough to really look after a beard, making it something the wearer is truly proud. That's why you need a quality beard grooming kit.
Why You Need a Beard Grooming Kit
Trimmers are great but are not up to the job of caring for a full beard. They are best used for maintaining stubble, or for short beards. For a longer and fuller beard that has taken months to grow an accidental stroke of a beard trimmer can ruin it completely in a second. Experts will tell you that to trim longer beard scissors are the preferred option. There is more control, and the cutting can be precise.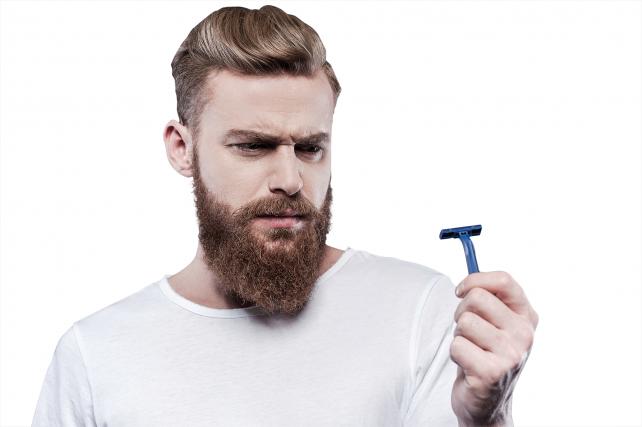 Taking care of a beard is not just about cutting. The hair in a beard is like the hair on your head; it needs to be washed and cleaned on a regular basis with a shampoo and conditioner. Concentrated facial hair can also cause skin flaking and itching, so extra hydration of the skin is needed to prevent this from occurring. Of course, a full beard needs to be combed so that it doesn't look like a tangled mess on the chin. Unfortunately, ordinary combs have a habit of getting caught up in the tangle, so a special comb is needed for proper beard grooming.
What Makes Up a Beard Grooming Kit
Each maker has its own idea of what are the essentials for a beard grooming kit. However, all will agree that you need three essential items for a successful kit.
Beard Wash
Don't be confused; beard wash is not the same as regular shampoo used on the hair, even though some makers will call their product beard shampoo. Almost all shampoos contain cleaning agents designed to get rid of body oil from the scalp and hair. Using these shampoos on a beard will remove the natural moisture and dry out both the face and the hair. This can lead to flaking and dandruff. Beard wash is a gentler product designed to maintain the moisture and essential oils in the skin and beard hair.
Beard Conditioner, Balm or Oil
Beard conditioner is similar to the conditioner you would use on your hair. The idea is to give some nutrients back into the beard jusgt to make it comfortable for the wearer and soft to the touch. A beard conditioner will also help to detangle the hair, and give the skin of the face some much-needed hydration to leave it smooth. Beard oil or balm is for longer-term hydration of the beard and face. It is usually left in the beard all day. Beard oils work well with new beards that can be itchy and have added natural fragrances which allow them to act as cologne and deodorant. Beard balm, is more like a gel or an ointment and helps with the styling of a beard. It can make a beard look thicker.
Beard Brush or Comb
A comb designe for beards is softer than those used on the hair and is designed not to catch in the facial hair or split the follicles. The combs have been polished smooth, so they glide through even the most tangled of beards. The best beard combs are wood made and have two sides with each set of teeth at different widths. This makes it easier to detangle beard hair, keeping it clean, and evenly distributing moisturizers. A brush is used to shape the beard, and to keep the hairs aligned.
How to Choose the Best Beard Grooming Kit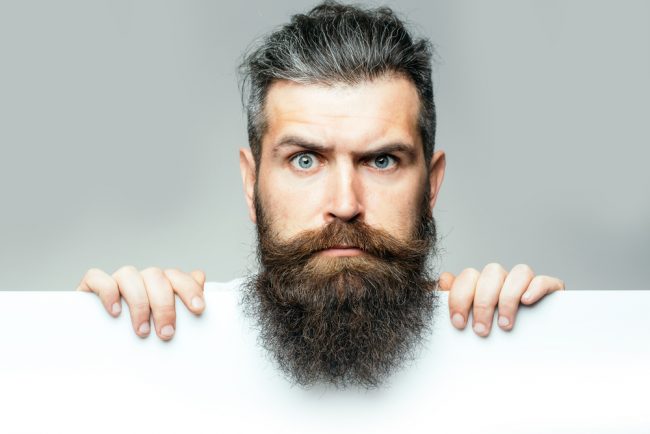 Picking a beard grooming kit is a matter of personal taste, but there are a number of elements that should be considered before purchase.
Natural Ingredients
The best kits are usually made with all-natural ingredients to promote healthy hair grown, and to avoid irritating the skin. The products in the kit should be created specifically to care for beards. Key components can include jojoba, grapeseed oil, argan, and aloe vera, which is great for dandruff and sensitive skin problems. Any fragrance should be subtle and not overpowering, as it will be under your nose all the time.
A Good Comb Or Brush
The beard comb must have the right width to work well on the beard and be made to the highest quality. If the teeth are too narrow on the comb, then it will not work well on a beard that is always getting tangled. Makes sure the teeth of the comb are well made and are not likely to break after regular use. The best beard brushes are made from natural bristles such as boar, and it is nice to have a handle made of wood.
The Ideal Beard Grooming Kits to Gift
1. Meet The Mirror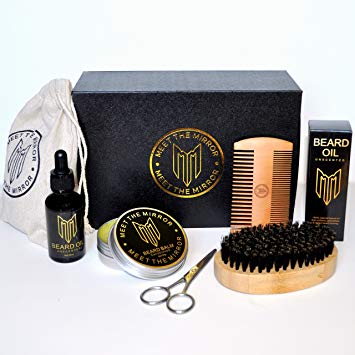 Even at a budget price the Meet The Mirror Grooming Kit has all the basics to take care of any beard. The wooden beard comb and stainless steel scissors are a nice touch to the kit. The comb has two sides which should get rid of any tangles, and the scissors are well-balanced and ideal for trimming. The boar bristle brush is not as soft as those offered in other kits and is not unusually large. However, it should do the job.
The beard oil provided is unscented and contains argan and jojoba oils with added vitamin E. This combination will soften and moisturize the beard hair and skin. The beard balm/wax has the scent of natural sandalwood and is easily applied to sculpt and tame a beard. All come in a convenient cotton travel bag.
2. Maison Lambert Kit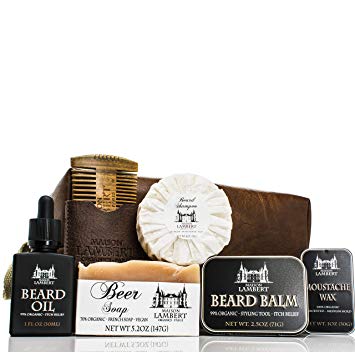 Opening up the faux cigar box reveals an almost complete beard kit, which is organic and vegan. The only thing missing is a beard brush. The kit includes beard shampoo made with essential argan oil, to repair and hydrate damage to beard hair. A formulated beard oil can be massaged into a beard to hydrate and heal the facial skin underneath a beard. There is also a beard balm to coat your beard with a conditioner which is gentle and not greasy and leave the hair looking super glowy. All the beard care products have a scent with subtle hints of lavender and vanilla and are not in any way feminine.
To complete the beard grooming, there is a wooden single-sided beard comb. As an added extra the kit includes a beer scented soap, that lathers great and does not leave a residue after rinsing. Coming in a wooden cigar box means the kit can look stylish on any dresser.
3. DapperGanger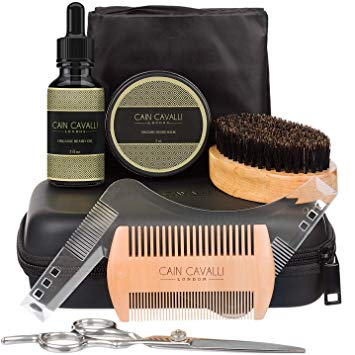 This American made kit is designed to refresh even the most tired beard. The Vegan Dopp bag contains organic beard oil, beard balm, and beard shampoo, along with trimming scissors and a metal comb. The beard shampoo will clean and hydrate your beard hair and has a refreshing scent of rosemary lemon and mint, to give a hint of refreshing menthol in the aroma. The beard oil is a mix of sunflower, avocado, safflower, and almond oils to moisturize the beard hair and skin. The beard balm has the ubiquitous argan oil, along with oil from coconut, avocado, and soy, with beeswax added.
The beeswax is there to naturally style and sculpts the beard. To complete the kit there is a metal comb, that doubles as an opener for bottles! Why it also includes an opener for beer beats me. The organic products recommend this kit to guys who have sensitive skin.
4. Mountaineer Brand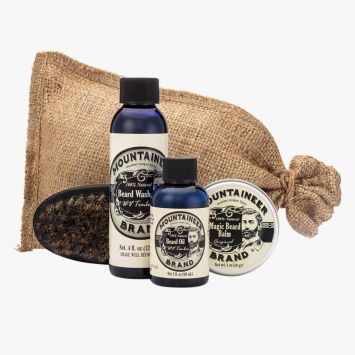 You can't get more mountain than West Virginia, where the Mountaineer Brand kit is made. It kind of makes sense, as lots of mountaineers appear to wear beards. The kit comes in a Dopp bag and contains balm, beard oil, hampoo, beard brush and a wooden beard comb. What is a little odd is that each of the beard products has a different scent. They all have that woodsy mountain kind of aroma, but it might have been good to pick just one and stick with it throughout the whole range. All the products are made with essential oils and are designed to hydrate beard hair and moisturize the skin underneath.
The comb has wide teeth which will detangle even the most stubborn beard without no pulls. The boar bristle brush will add the finishing touch to get a silky beard smooth to the touch.
5. Bossman Complete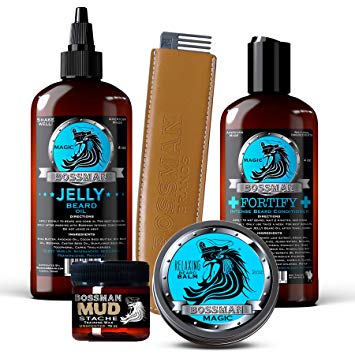 More than just a beard kit, the Bossman Complete Facial Hair Care kit includes products for a mustache as well. As we know a beard will most likely include a mustache, and the hair on the upper lip grows at a different rate from the rest of the face, so it needs special care and attention. The kit includes a fortifying beard conditioner, a relaxing beard balm, and a jelly beard oil, along with a metal beard comb and a mustache wax. The great fact about this set is that the products are all in regular sized bottles, rather than the travel size you find in other grooming kits. Hence they are going to last a while and make a gift that will keep on giving. All the products have the same woodsy scent with a little bit of patchouli.
The unique product in the kit is the oil which comes in the form of a jelly. As it has been thickened, it lasts longer than regular beard oil and is thinner than the balm. This makes it much easier to apply. It's interesting for such a comprehensive kit there is no beard wash as part of the package.
6. American Beard Bundle
This kit is aimed at the man who is looking to grow his beard or to get it looking fuller and more substantial. A lot of beard growth supplements are put directly onto the skin, but in this kit, they come in pill form, as the vitamin complex supposedly improves beard growth. The rest of the kit includes a beard and body wash, beard oil and beard butter, which is like a balm. The products are all great quality. The wash comes in a big bottle, so if you are just going to use it to wash your beard, it may last for absolute ages.
Like all beard oils the one in this kit will keep your beard hydrated, and the skin healthy and flake-free. All the products have a slightly grassy herbal scent with a hit of cedar and pine trees which is very refreshing. The aroma is subtle enough to be noticeable without it being overpowering. It's unfortunate that this kit does not come with either a brush or comb.
7. Zeus Deluxe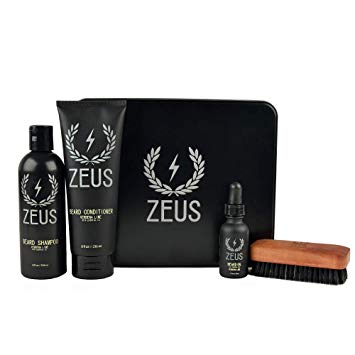 In a top quality kit like this, it's surprising there is no beard comb. However, all the other components of the kit are high-end. The kit lives up to its 'deluxe' branding with a hydrating beard wash that is an antioxidant soap specially created for facial hair. The soap lathers well working right down to the roots of a beard and is particularly good for sensitive skin because of the ingredient 'Dragon's Blood' which reduces irritation. Other ingredients such as chamomile will strengthen the hair, and green tea to combat dandruff. The beard conditioner is all-natural and uses a mixture of jojoba oil and avocado oil, along with aloe vera and Dragons' Blood to hydrate. The wash and conditioner combined clean and soften the hair brilliantly, at the same time making the skin feel smooth and calm.
The all-natural beard oil is a mix of argan oil, grapeseed, and safflower with vitamin E to soften and add shine to facial hair. The beard brush is made of soft boar bristle, with a beautiful pear wood handle. Boar bristle is the first choice of bearded men for its relative firmness as well as its soft and gentle feeling. A good boar bristle brush can detangle the longest and thickest of beards. The kit is available with three subtle scents, verbena lime, vanilla rum, and sandalwood, and each grooming kit comes in a great looking burlap sack.
8. GBS Men's Kit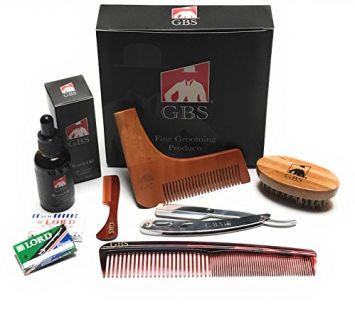 The Doppler Beard Grooming kit from GBS comes with the approval of professional barbers. The kit comprises beard oil, beard balm, a beard brush and three types of beard comb, all in a conveniently-sized leather-like travel bag. The oil is a bespoke blend for GBS and has the aroma of sandalwood which gives a fresh woody aroma to your facial hair. The balm and beard wash both clean and invigorate the skin, as well as helping the beard to be shaped and styled.
The beard comb is joined in the kit by a smaller mustache comb, along with a boar bristle beard brush. All are made from long-lasting bamboo. The comb has been designed to untangle even the toughest of beards, while the smaller mustache comb can sharpen any look. All come in a travel bag with compartments large enough to carry the beard grooming set and other personal items.
9. Beard Legacy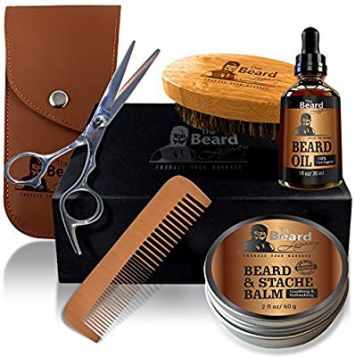 Originating from Miami, Florida, the creators of the Beard Legacy brand have taken it upon themselves to produce a grooming range that is second to none. They have kept with a traditional and classy look to their products so no beard need be scruffy again. The mission of the company is to thoughtfully craft natural essentials that will deliver exceptional results for the modern urban explorer. Each kit contains a bottle of organic beard oil conditioner.
A few drops rubbed daily into a beard and massaged to the hair roots and skin will get rid of dreaded dandruff. The balm works well on beards and mustaches. The natural wood beard comb will untangle the hairs of a beard making them ready to be stroked smoothly by the boar bristle brush that also comes in the kit. To round of the grooming kit are a pair of scissors to trim even the toughest facial hair.
10. Rapid Beard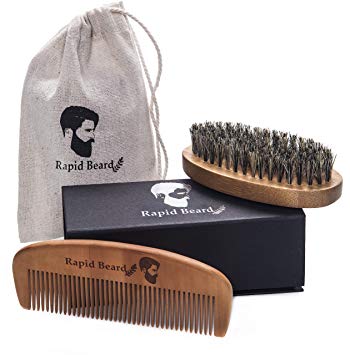 Most men like to spend as little time as they can with their personal grooming. Rapid Beard was born out of the need for men to get all the products and tools they need to trim and groom their beard in a simple kit that will turn the task into a breeze. The beard oil and beard balm are both unscented and have the organic ingredients and natural oils to moisturize and sooth facial hair and the skin. Your beard will look clean, and shiny thanks to the Kalahari oils with added vitamin E.
The professional-style stainless steel scissors allow for quick trimming of wayward beard and mustache hair. The teeth of the wooden beard comb are designed to untangle the straggliest of beards, ready for the boar bristle brush to smooth and style the bead. The kit has a canvas storage bag and comes in a presentation gift box.
Pin for later