This product is listed here: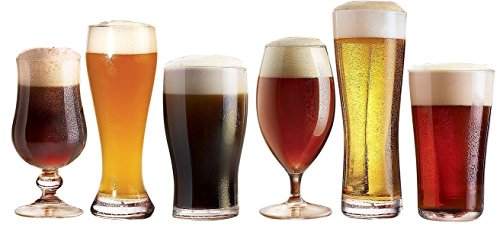 Luminarc N2561 – Assorted Craft Brew Tabletop Beer Glasses
Beer connoisseurs not only take pride in the beer they drink, but they also try to make sure that the type of beer is matched to the correct glass. There is just no way that a dark, heavy and malty beer such as a stout should be consumed in a glass designed for a light hoppy Pilsner type beer. It goes against the grain (pun intended) in every conceivable way. That is why this gift would be just the job for your friend or member of your family who is really into craft beers.
The Assorted Craft Brew Tabletop Beer Glass set from Luminarc, is perfect for the craft beer geeks in your circle. The set includes six different and assorted beer glasses: a 16 Fl.oz. Stemmed glass; a 20 fl.oz Midland pub glass; a 20 Fl.oz. Oslo Pilsner glass; a 16 Fl.oz. Pilsner glass; a 14.75 Fl.oz. Portland Stemmed Glass; a 19.5 fl.oz Tulip Pint Glass.
Detailed information about Luminarc N2561 – Assorted Craft Brew Tabletop Beer Glasses
These glasses are so cool; there isn't a craft beer geek in the land who wouldn't want a set to adorn their home bar or kitchen cupboard. But why hide these away? Why doesn't the recipient just put them on a display shelf near the refrigerator, ready for the next cold one he or she will crack open? This set of beer glasses would be great for anyone who likes good quality beer and good quality glasses to drink it from.
Consider giving a set to your best friend who just loves craft beer, or your father on Father's Day, your brother or sister on their birthday, a housewarming gift to your friends who have just got their first apartment together, or even give it as a gift to your own family so they have enough good glasses for use at Christmas and New Year's Eve.
WHY WE LIKE IT?
This set of six classic beer glass profiles will suit just about any type of good craft beer you can think of and even some of the garbage beers too
The glasses come in the common sizes that you would find in the pubs and bars
WHY WE dont LIKE IT?
None
What we love about this product
All the beer glasses are made from guaranteed lead free glass and are all made in the USA. It is also safe for all the beer glasses to be washed in an automatic dish washer.