This product is listed here: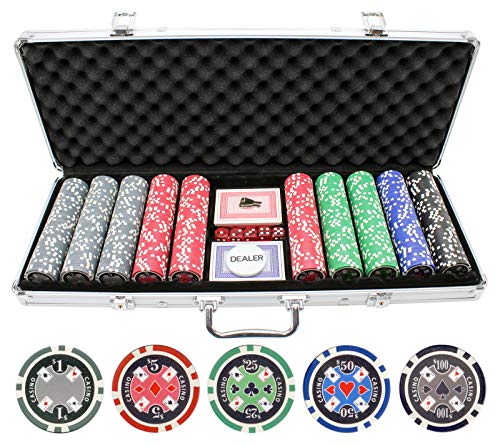 500pc Casino Ace Poker Chips Set
Most people enjoy a game of cards, and usually, the game involves gambling of some kind. The betting doesn't have to be for real money, it can be for chips only, just for the sake of the game or the chips can be cashed in at the end of the evening, whichever the players prefer.
This 500 piece Casino Ace Poker Chips Set is probably just what your friends would need to have a great game of cards. The set contains 150 white chips, 150 red chips, 100 green chips, 50 blue chips and 50 black chips. There are two decks of ordinary playing cards as well as five dice and a dealer button. The whole set comes in a beautiful and hardwearing aluminium carrying case so it can be carried around to friends' houses or brought out at family get-togethers.
Detailed information about 500pc Casino Ace Poker Chips Set
There is nothing quite like a game of cards for bringing family and friends closer together.  Although these are poker chips there is no reason why the players have to play poker. Any casino game will do from Blackjack to Craps. You don't even need to use the chips if those aren't needed.
This would be a great gift for adults and kids alike. Adults can use the chips and cash them in at the end of the evening while the kids can play using the chips alone. They would be good for giving to friends or for family members or why not buy a set for your own family so you can get the cards out when friends come around.
WHY WE LIKE IT?
This is a fantastic poker set with all the chips, dice and playing cards that anyone would need for a quiet evening in with friends
The aluminium case keeps all the contents safe and sound and prevents them from becoming lost or damaged
This is a game to buy friends and family members or even for your own family so that you can play cards at family reunions
This product will guarantee to bring back the memories of long ago when we were kids and played cards with our friends.
WHY WE dont LIKE IT?
Customer reviews suggest that the two decks of cards are of poor quality; if so, then it might be worth buying some replacement decks.
What we love about this product
The kids can use the playing cards to play all those kids games that we all learned from granny when we were a child. If there isn't anyone to play the games with then what about Solitaire or even build a House of Cards!