This product is listed here: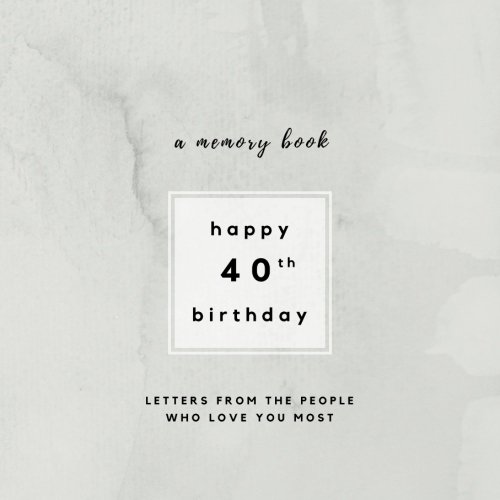 40th Birthday Memory Book: Record the Happiest Moments
If you have a friend or member of the family who is fast approaching their special 40th birthday, we bet they are planning to have a special birthday party to invite all their loved ones to celebrate along with them. The birthday boy or girl will receive many different birthday cards, messages, and emails and there will be many different photos taken at the wonderful event.
Wouldn't it be great if all those momentoes can be collected into one physical place where they can be looked at again and again, in context with the rest of the messages and hopefully some messages written especially for the birthday, on the day, at the party?
The Happy 40th Birthday A Memory Book from Calpine Memory Books is exactly that special place.
Detailed information about 40th Birthday Memory Book: Record the Happiest Moments
The special paperback scrapbook measures 8.25" x 8.25" and has 60 pages (or 30 sheets) with as many spaces as anyone would need.
There are full-page lined framed pages designed for notes and memories; framed blank pages to paste in handwritten notes, cards and photos; framed pages that have four lines and a blank space for a written note and a pasted in a photo or a drawing. This fabulous scrapbook idea is certainly a 'must-have' for anyone's 40th birthday, it will give anyone a special memento to remember for the rest of their life.
WHY WE LIKE IT?
Has different kinds of pages designed for different kinds of entries
More than enough pages to give a memory scrapbook of just about everything that happened at the party
Other memory scrapbooks are available dedicated to different significant occasions
WHY WE dont LIKE IT?
None
What we love about this product
It is really a specialized scrapbook allowing either the person whose birthday it is or a close friend or relative to collect all the photos, all the cards, and messages and also get party attendees to write a few words as a special sentimental message.