What To Do With Your Typical Christmas Leftovers?
last updated:
Jan 03, 2019
1318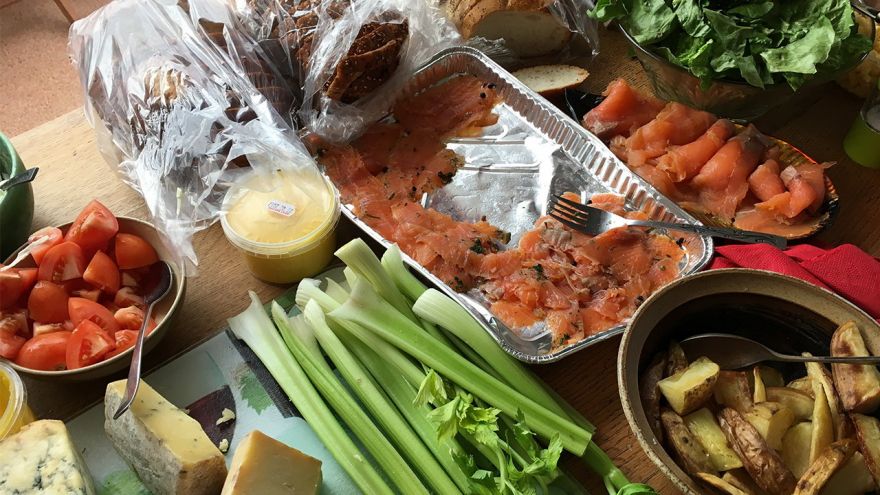 Cleaning out the fridge after Christmas can either be one of the most exciting or one of the most time-consuming projects of the year. Of course, you're not going to want to let your food go to waste. If you're not donating meals to homeless shelters, you can always repurpose the food into new and unique dishes. Below are our favorite meals to craft with Christmas leftovers that the whole family will love.
Ham Noodle Cups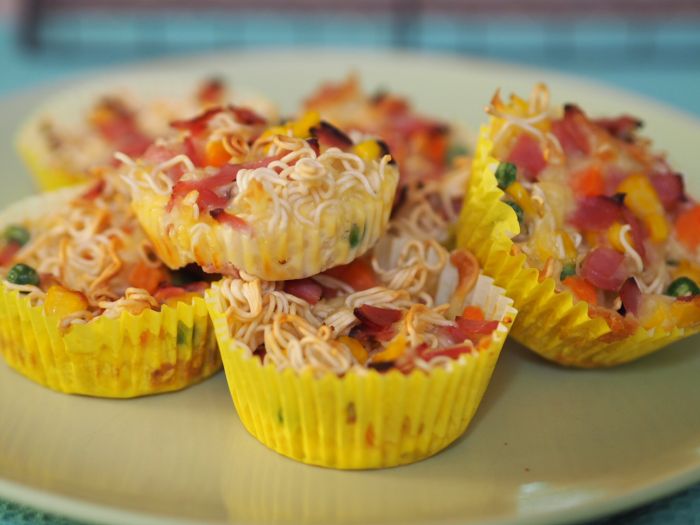 As a dish that works perfectly as a snack, an entire lunch, or even a dinner, ham noodle cups are scrumptious and easy to make. They should take up any leftover ham that you have, as well as vegetables. All you will have to do is add in the noodles!
Ingredients
170g 2-minute noodles (chicken flavored)
3 cups of grated mixed vegetables
2 eggs (slightly beaten)
½ cup of light sour cream
½ cup of ham (chopped)
½ cup of cheese
Directions
Preheat your oven to 350 degrees Fahrenheit and spray a muffin tin with cooking spray.
Cook your noodles as directed on the package, save the flavor sachets for later. Once cooked, drain the noodles and rinse them under cold water.
Add the egg, sour cream, vegetables, ham, and flavor sachets to the noodles in a separate bowl.
Spoon the mixture into the muffin tin and top it off with the cheese.
Bake the noodle cups for up to 30 minutes and then serve.
Creamy Chicken Pasta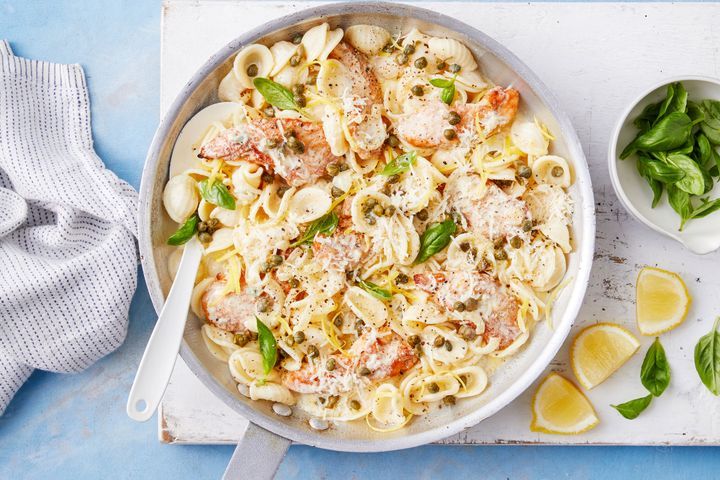 If your family stays away from ham during the holidays and focuses more on chicken, this is a fantastic dish to use to get rid of leftovers. We love the creamy flavor of the sauce and the hearty combination of protein and carbs to get you through the coldest days.
Ingredients
1 roasted chicken breast
1 onion (chopped)
1 teaspoon of garlic
300g of pasta
250ml of cream
½ cup of parmesan cheese
½ teaspoon of salt and pepper
Directions
Cook the pasta as directed on the package.
Using a frying pan, gently sauté the onion and garlic together with oil.
Add the chicken into the frying pan with the onion and garlic, mixing the ingredients together.
Pour the cream into the pan and turn the heat up until it reaches a boil. You can then turn it down and gently simmer the mixture, stirring regularly. As the sauce thickens, season it with pepper and salt.
Pour the cream sauce over your pasta and serve.
Refried Potatoes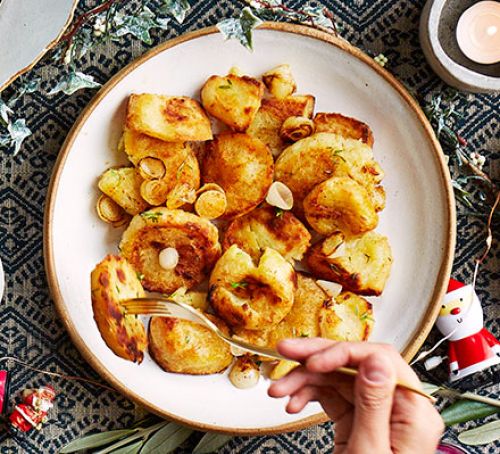 If there's one vegetable that you'll definitely have leftover, it's potatoes. However, you don't have to resort to making the traditional mashed potatoes, you can try these amazing refried potatoes instead. What we love about them is that they can be served as a side for dinner, but also to replace hash browns in the morning.
Ingredients
3 tablespoons of olive oil
1 onion (diced)
½ teaspoon of cayenne
2 sprigs of thyme (leaves picked)
500g of leftover potatoes
Directions
Heat the oil in a large frying pan and then add in the onions, gently sautéing them for four minutes. Add in the thyme and cayenne, then add in the leftover potatoes with another tablespoon of oil.
Using a spoon, squash the potatoes gently, leaving them to fry for three minutes until crisp. Flip the potatoes over so that they can get crisp on the other side as well.
Add in the one remaining tablespoon of oil for additional crispiness and then serve. You can also season with salt and pepper to taste.
Cheeseboard Mac and Cheese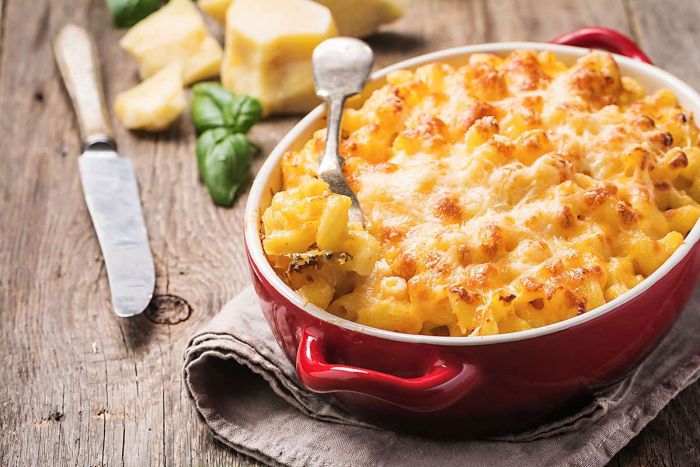 Do you have a leftover cheeseboard that you need to do something with? There's only so much cheese and crackers people can eat after Christmas, which is why we love this alternative. It's a family-friendly meal that's easy to make and great for any time of day.
Ingredients
350g of macaroni noodles
2 tablespoons of butter
1 clove of garlic (crushed)
1 teaspoon of mustard
½ teaspoon of cayenne
3 tablespoons of flour
500ml of milk
250g of assorted cheeses
Directions
According to its instructions, cook the macaroni pasta until it's al dente and set it aside.
In a saucepan, melt the butter and garlic until the garlic has softened. Add in the mustard and cayenne, cooking for an additional minute. Then add in the flour and stir until a paste is made. Once the mixture bubbles, remove it from the heat and pour in the milk, whisking constantly. You can then put it back on the heat for 5 minutes, until thick.
Once the sauce has thickened, stir in the cheeses and fold in the cooked pasta.
Preheat your oven to 350 degrees Fahrenheit and pour the pasta mixture into a baking dish. Add additional shredded cheese on top an bake for 30 minutes, or until golden.
Turkey Minestrone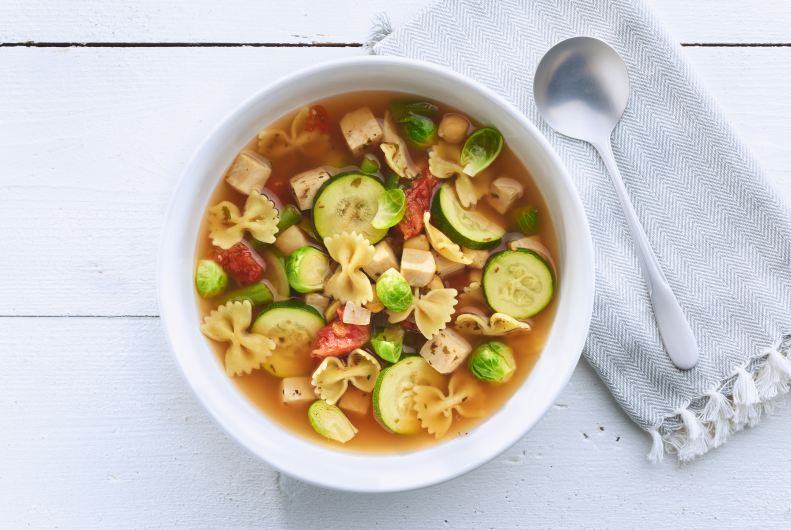 Struggling to figure out what to do with your leftover turkey? Not to worry, we have a delectable soup dish for you to enjoy on the bone-chilling days of winter.
Ingredients
2 teaspoons of olive oil
100g of smoked bacon
1 red onion (finely chopped)
1 carrot (finely chopped)
1 stick of celery (finely chopped)
2 cloves of garlic (finely chopped)
2 thyme sprigs
2 bay leaves
200g of leftover potatoes
400g of borlotti beans
1 ½ cups of turkey stock
350g of leftover turkey
Directions
Using a large saucepan, heat a teaspoon of olive oil and add in the bacon, frying over medium heat. Once golden, set the bacon aside.
Add in the onion, celery, carrot, and the remaining oil. Cook the ingredients on low heat for 8 minutes until the vegetables are soft. Add in the herbs and garlic, cooking for an additional 2 minutes.
Add in the potatoes, borlotti beans, and chicken stock. Cook this mixture for 10 minutes and then add in the turkey and bacon, cooking for another 10 minutes.
For added texture, you can also add in kale right before serving.
Final Thoughts
With these fantastic recipes, you'll surely have a variety of fantastic meals to repurpose the leftovers from Christmas dinner. We can guarantee your family will surely be impressed with every recipe on this list!
Pin for later