This product is listed here: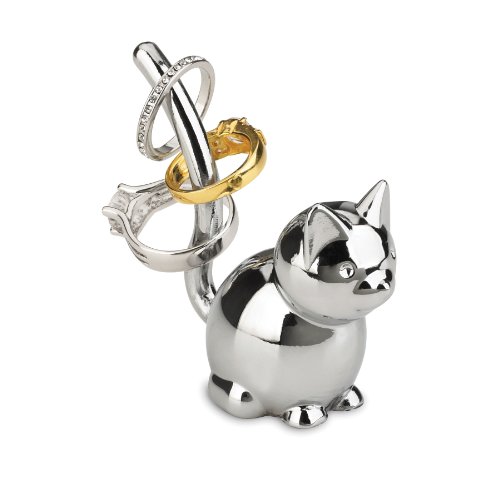 Umbra Zoola Cat Ring Holder Reviewed
Are you tired of getting your wife or girlfriend jewelry as a gift? While it is certainly a great gift idea, if it is all you get, maybe it is time to mix things up! Instead of getting her more jewelry, why not get her a unique gift that will help her organize and display all her beautiful pieces? This unique ring holder is a great gift for any woman. Both practical and artsy, this holder gives her a safe place to store her rings, while also keeping them on display.
Choose from a variety of animal designs all cast in metal and complete with a shiny chrome finish. This is a modern piece, but is still minimal enough that it will fit in with any existing decor. It is great to put in the bedroom, bathroom, or even by the kitchen sink to hold rings while washing dishes or cleaning up. Is your wife or girlfriend a cat lover? Get the cat design! The long tail serves as the actual holder for rings- what a cute idea!
Detailed information about Umbra Zoola Cat Ring Holder Reviewed
If the woman you are shopping for doesn't like cats, no problem. You can also choose a bunny design (rings go on the long ears), elephant (rings go on the tusks or trunk), or a cute monkey who holds the rings on his tail. No matter what you choose, it is a sweet gift idea that she will also find very useful.