The Best Tote Bags for Work on Our Wish List
last updated:
Sep 02, 2019
2988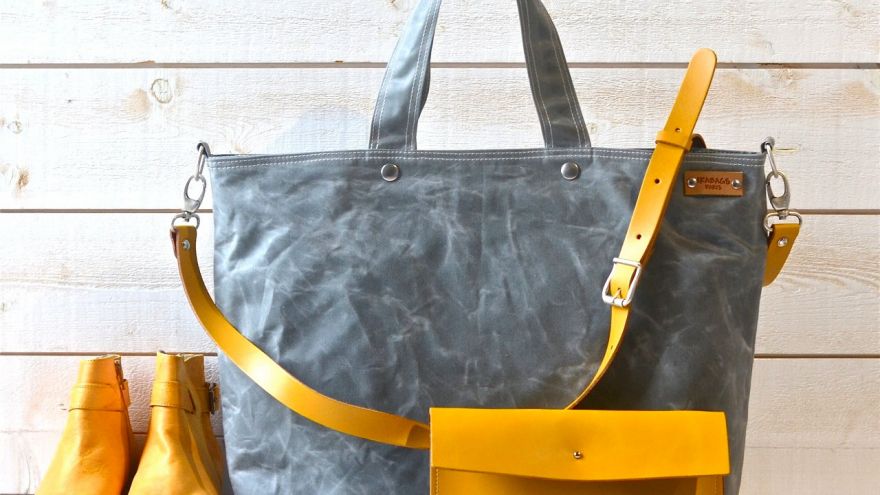 If you are looking to get a new tote bag that you can bring to work, you need to check out this list. We've rounded up quite the wish list of tote bags for work that we absolutely love. There are a variety of styles, but all are fashion-forward, have plenty of storage, and are appropriate to use for work. What could be better than that?
Tote bags are some of our favorite purses. Not only are they a classic bag style, they are also incredibly practical!
When heading out for the day it is likely that you need a lot of stuff – from your keys, to your phone, to items for work, or a variety of personal items, you need the space to carry everything!
A tote bag is an easy, fashion-forward way to make sure you are ready to take on the day.
The Best Tote Bags for Work Selected by Our Editor
1. Dasein Women Handbag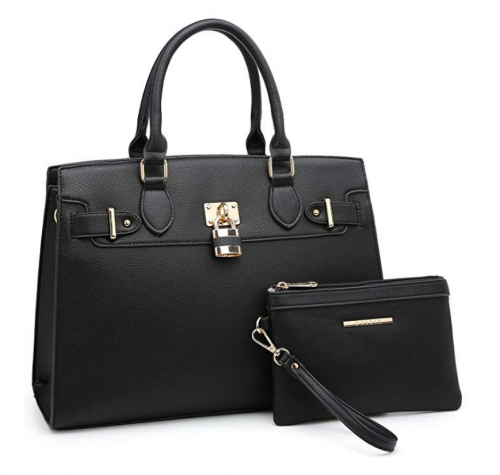 We love the sleek design of this work tote. Better yet, this bag comes with a wallet as well, giving you even more storage options! If you prefer a more structured tote bag, this is a great option for you.
This tote has small top handles but also has an additional long strap that allows you to wear this bag on your shoulder or even as a crossbody bag.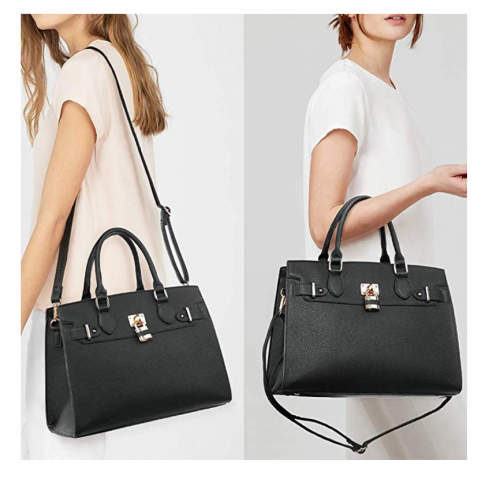 This is great if you are in a rush in the morning- sometimes it is just easier to throw your bag over your shoulder than having to carry it by the handles. This bag gives you the choice.
We like the classic black color with the gold metal accents, but if you don't, you can choose from a variety of other colors – including other neutrals, as well as bold shades if you want something a little more unique.
2. COCIFER Satchel Handbag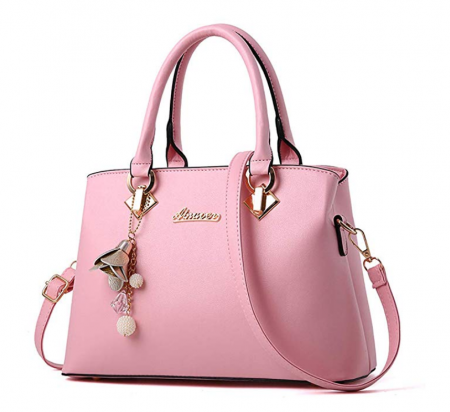 If you are looking for something a little more fun, but still completely practical and work-appropriate, go for this work tote!
It is slightly smaller than the average tote bag for work, measuring 11.8 inches long by 8.3 inches tall by 5.1 inches wide. If you want a slightly smaller bag, this is a great option.
It also comes with top handles as well as a long strap so that you can easily choose how you want to carry the bag. The fun tassel detail adds a nice touch, but you can always remove it if you don't like it or don't want to have it while at work.
We like the pop of pink – it is unique, but still subtle enough that you can use every day. If you want something more neutral, you can choose from several other shades like black, navy, or gray.
3. Handbags for Women Tote Bag Fashion Satchel Purse Set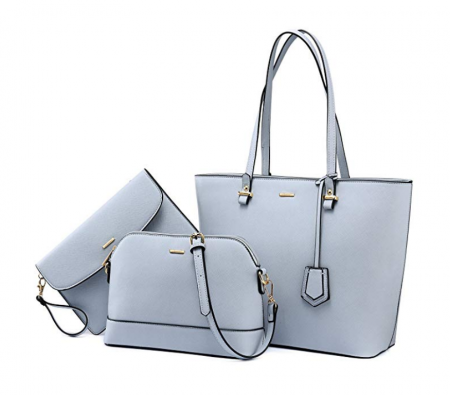 Are you always complaining that you don't have enough storage for everything you need with you on a daily basis? If so- this purse set may be the perfect option for you!
The largest bag is a gorgeous tote, but with this purchase, you also get two additional smaller bags. We love that you get a full set with this purchase, it is such a great value.
The large tote is large enough to store what you need – it is big enough to fit an iPad along with plenty of other items!
If you are going out after work, why not bring the smallest bag along in the tote and take that with you after work? It's a perfect clutch size and great for an evening out.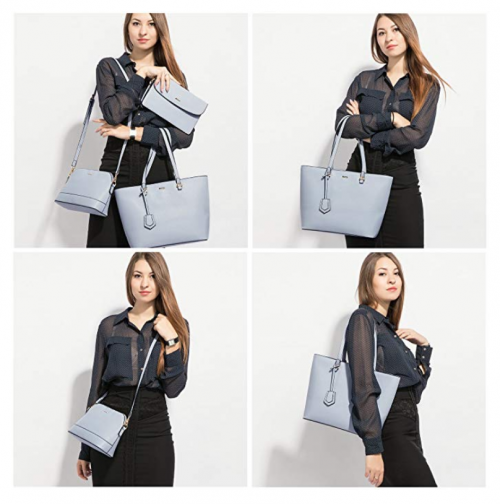 The large tote has soft, slightly larger handles (instead of stiffer ones that many tote bags have) which makes it an option to carry this over your shoulder.
We like this pale shade of blue – it is almost gray, making it almost a neutral. If you don't like blue, you can choose from 9 other colors!
4. YNIQUE Satchel Handbag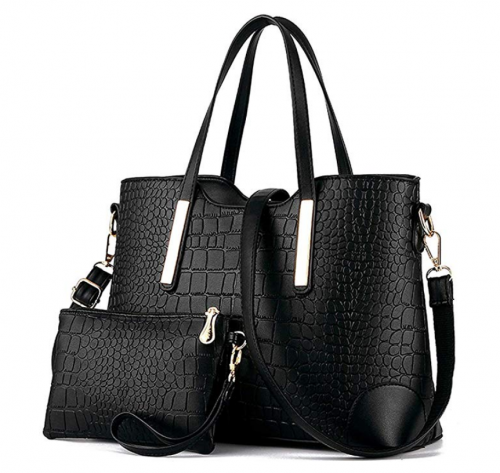 This next tote is on our wishlist because it looks so expensive, but it isn't! We love the textured leather design of this bag – but don't worry, it is faux leather.
This looks like a tote that you would see on all the best-dressed ladies in New York, Paris, and other fashion hotspots. In addition to looking nice, it's also incredibly practical!
It comes with an additional wallet that also serves as a great clutch, and has two handle options – shorter flexible straps, and a long detachable strap.
The short straps are also doubly reinforced so that you can feel confident carrying it, even if you have larger, heavier items to carry around like an iPad.
That hardware is also gold, which we prefer and gives the bag a more modern look. If you don't like the classic black, you can choose from a ton of other colors – including more bright colors if that is what you are looking for.
5. Handbags for Women Shoulder Tote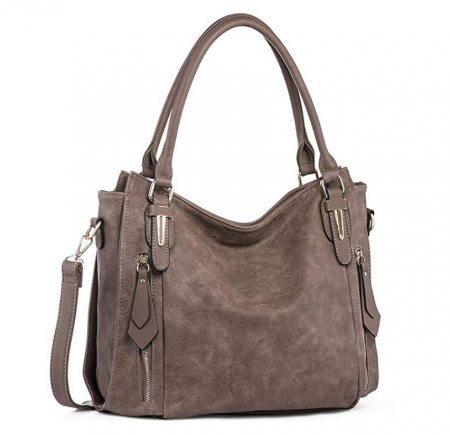 If you are looking for a tote bag for work, but prefer a more relaxed 'hobo' style bag, you will love this option. While this has a more relaxed and slouchy style, it is still very classy and appropriate for work.
The leather again is faux, but it looks genuine and is combined with nice zipper detailing and gold hardware. Choose between the top handles and a longer strap which is detachable.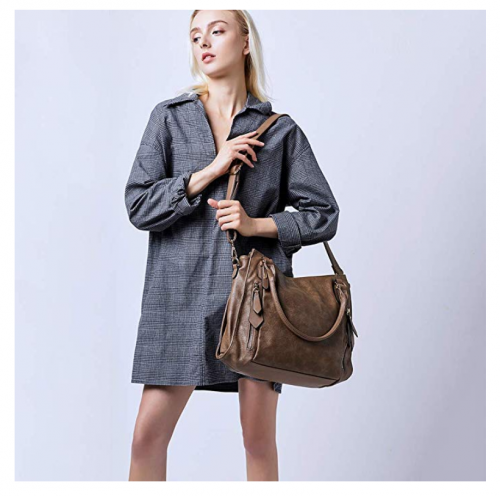 We love that this bag is large enough to hold an iPad and plenty of other items- and has an impressive 6 internal pockets!
It is easy to keep all of your stuff organized in this tote, which is one of the many reasons it made our wish list. It comes in 4 neutral colors – black, sepia brown, brown, and khaki. You can't go wrong with a classic leather bag like this one.
6. DASEIN Shoulder Bag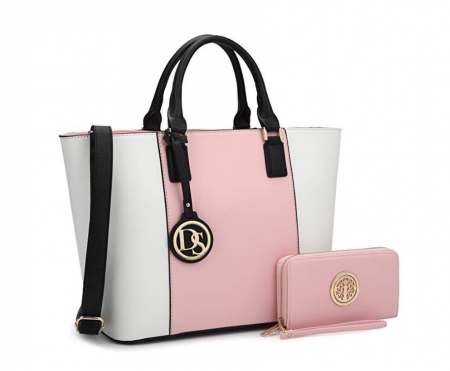 We fell in love with this tote bag instantly! It's sleek, minimalist design is elevated by the color blocking of the fabric. Complete with short top handles and a detachable longer strap, you can wear this bag however you need to.
This comes complete with a matching wallet that we absolutely love and is perfect to use as a clutch when going out for the evening. There is also a tassel that hangs off the bag that you can always remove if you don't like it.
The bottom is a flat bottom that comes with studs that helps protect the bag and ensure it stays standing upright – a feature that we really look for when finding the perfect tote.
We love the black, pink and white color blocking, but if you don't, you can find this in other colors – including other color blocking, as well as solid colors if you like to stick to the basics.
7. ToLFE Satchel Tote Bag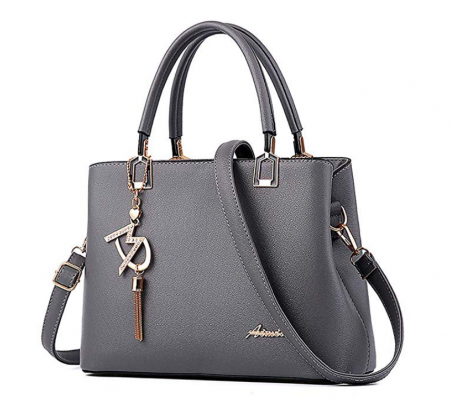 This is another tote bag that we love – textured leather makes the bag look expensive, but it is very affordable, and is made from faux leather, which we prefer.
It is on the slightly smaller side, perfect if you want a larger bag option but don't want to size all the way up to a large tote.
The bag measures 11.8 inches long by 5.5 inches wide by 8.7 inches tall. It is still a really decent size and given the many internal pockets, you can fit and organize a lot of stuff in this tote!
It features short top handles and a long detachable strap, along with a removable charm. We like the gold hardware, and combined with this gray shade, it is a very fashion-forward, modern-looking tote.
If you don't like the gray, you can get this tote in 10 other colors!
8. Dreubea Faux Leather Tote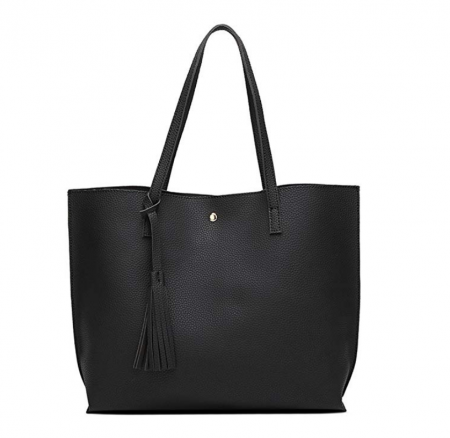 This pick made our list because it combines elements of more relaxed totes and more structured totes. It's the perfect in-between!
If you don't want a super structured tote with stiff leather and handles, but don't necessarily want a hobo style bag, this is the perfect option for you.
The sleek leather retains some structure but is much more relaxed than most typical tote bags. The soft handles also make this bag more relaxed.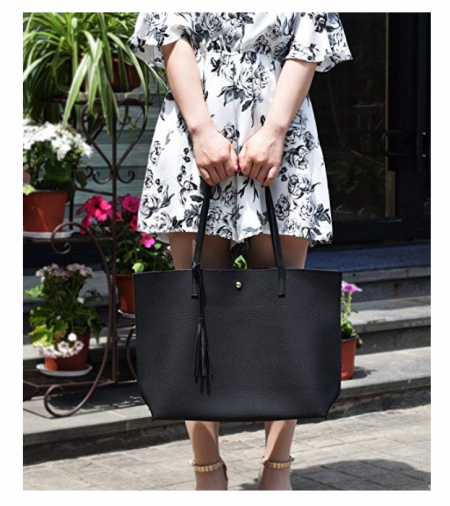 While it is a more relaxed design, it is still very professional and a great option for work. We like the subtle tassel detail, although you can always remove it if you don't like it.
The simple metal detail also ensures this bag keeps its minimalist style without being too simple. Best of all, this bag probably has the largest color selection of any tote bag (or any bag, period).
Choose between 43 unique colors! What's not to love?
9. Molodo Hobo Top Handle Tote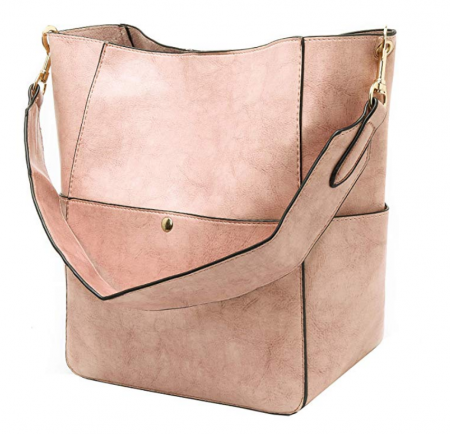 We love this tote bag because it looks incredibly fashion-forward- combining some more vintage elements with modern touches.
It is another tote on the smaller side, but it is still large enough to carry all of your essentials. It also comes with both the top handles and a detachable longer strap.
Even though this bag is smaller than some totes, it has a ton of internal pockets so that you can easily keep everything organized. Everything you need for work will have a dedicated spot or pocket in this bag!
We really like that the handles on this bag have a different color than the body of the bag – it is a nice modern touch that makes this tote stand out.
If you don't like these colors, you can choose from 3 others (all of the handles are the same shade, but there are 4 different body colors to choose from)!
10. Fossil Rachel Tote Bag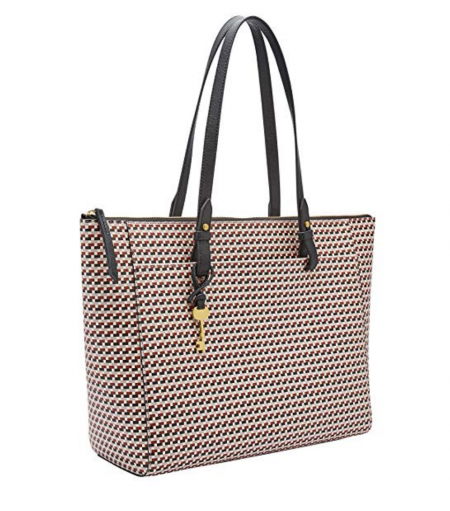 Finally, we wanted to include one tote bag that featured a pattern. Patterns aren't something to be afraid of! They can be surprisingly versatile, and this one, in particular, is subtle enough and still incredibly work appropriately.
This tote features longer top handles so that you can wear the bag lower on your arm or upon your shoulder, whichever is more comfortable for you.
There is plenty of space inside this tote bag, along with numerous internal pockets, as well as two slide pockets on the outside that are perfect for placing items you need to access quickly such as your keys, your phone, or an ID badge for work.
If you don't like the pattern, you can choose from a variety of other patterns, as well as several solid shades as well.
Wrapping Up
From more structured designs to hobo style relaxed designs, and a few in between, there are so many awesome tote bags for work to choose from!
We added all of these bags selected by our editor to our wish list, and honestly, we don't know how we are going to narrow it down. Hopefully, this list has inspired you as well and there is at least one that you just know you have to add to your wardrobe.
Pin for later