The Best Slime Recipe Without Using Borax!
last updated:
Aug 28, 2018
5177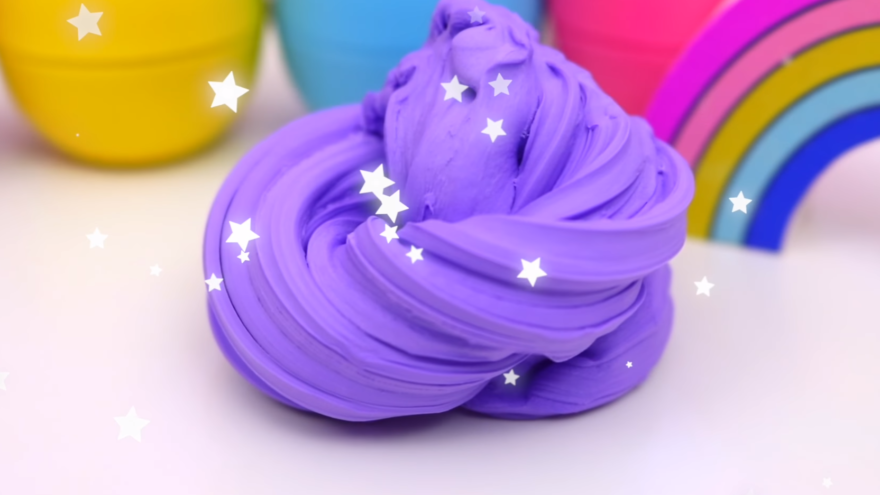 Are you one of the many parents who has been looking for a fun slime recipe for your kids that doesn't involve the use of Borax? You can guarantee that if you do a brief search for slime recipes, nearly every single one will call for the use of Borax or an ingredient that is similar in their composition that you might want to keep your kids away from. However, there's no need to worry as we have compiled a list of the easiest recipes to make slime without needing Borax!
1. Edible Chia Seed Slime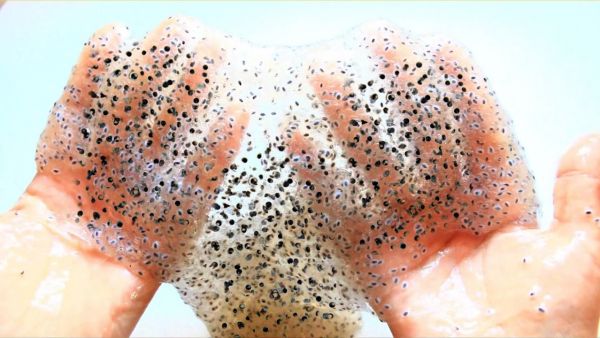 This recipe is entirely edible, making it safe for children of all ages, though we don't recommend eating it after playing with it for hours on end. It's an easy-to-follow process that requires only a few items from your kitchen, but you can guarantee it will give your kids hours of amusement with ease.
What You'll Need
¼ cup of chia seeds
2-4 cups of cornstarch
1 ¾ cups of water
Food coloring
Directions
Step 1: Add the chia seeds to a bowl and then pour the water on top of the seeds.
Step 2: Add in the food coloring until you achieve the desired color, however, you'll notice that as you add the cornstarch the color will certainly diffuse into the other ingredients.
Step 3: Use plastic wrap to cover the bowl and put it in the fridge for up to 36 hours, this gives the chia seeds enough time to absorb moisture so they can be easily combined into the slime.
Step 4: Stir in the cornstarch slowly, eventually getting to the ideal consistency for your kids.
Step 5: Now the chia seed slime should be ready to play with. It's important to remember to keep the slime in the fridge in between uses, as this helps the slime maintain its texture.
2. Edible Jell-O Slime Recipe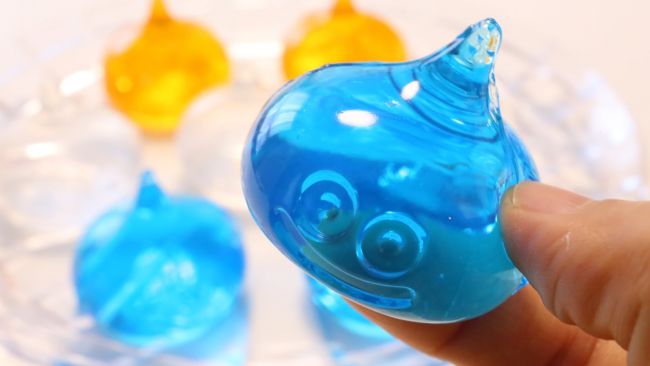 As another fantastic edible slime recipe that your kids will surely fall in love with, this Jell-O edible slime will give them hours of amusement and will have a fabulous color that will surely keep them entertained. Above all else, it's most likely one of the easiest slime recipes you can get your hands on that is Borax-free.
What You'll Need
1 package of sugar-free Jell-O
1 cup of cornstarch
¾ cup of warm water
Baking tray or cookie sheet
Directions
Step 1: Put out the baking tray or cookie sheet, as this is going to protect your counters from getting dirty during this process.
Step 2: Stir the Jell-O powder and cornstarch together until it is evenly mixed.
Step 3: Add in ¼ of the water and stir the entire mixture until fully combined.
Step 4: Add another ¼ of water until the cornstarch has been fully incorporated with the Jell-O. You'll need to make sure that you knead the mixture slowly, adding an additional tablespoon of water at a time until you reach the ideal texture.
Step 5: The slime is now ready to play with, however, just like the chia seed slime, you'll need to make sure it stays refrigerated in between uses.
3. Edible Marshmallow Slime Recipe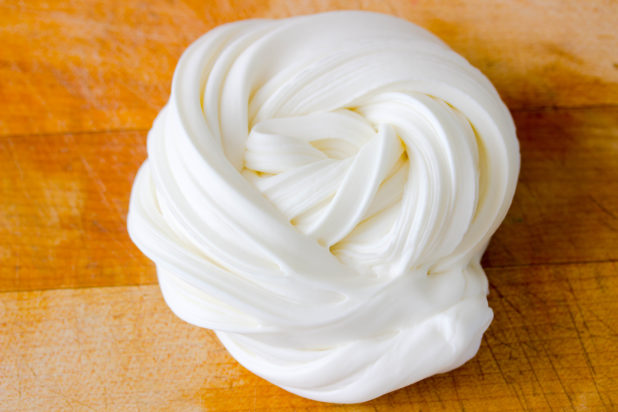 Have you ever played with marshmallows as a kid only to find that when you smashed them in your hands, they turn into a goopy, but tasty mess? This slime follows the same basic concept, however, there are a couple of additional ingredients that make it a little less tasty than mushing regular marshmallows together. With that being said, it's still an entirely edible recipe that your kids will love.
What You'll Need
1 tablespoon of cooking oil
6 jumbo marshmallows
1 tablespoon of cornstarch
Directions
Step 1: Add the 6 marshmallows and 1 tablespoon of oil into a microwave safe container and microwave on HIGH for 30-40 seconds.
Step 2: Remove the mixture from the microwave (it will be HOT), and add half a tablespoon of cornstarch, mixing it with a spoon. Depending on the thickness, you may have to add the other half tablespoon of cornstarch to get the ideal non-sticky texture.
Step 3: Wait for the mixture to cool and then it is ready to knead and play with, ensure that you keep it cool in between uses.
4. Non-Edible Cornstarch Slime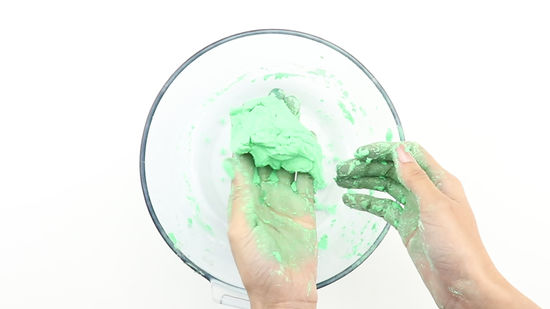 If you're looking for a slime recipe that will hold up better over time, this cornstarch recipe is your best bet, however, it isn't edible like the other recipes on this list as it requires the use of school glue.
What You'll Need
1 container of school glue
Food coloring
Measuring cup
Cornstarch
Directions
Step 1: Measure 1/3 cup of glue and add into a bowl along with a few drops of food coloring.
Step 2: Slowly add in the cornstarch. The ideal ratio is three times the amount of cornstarch to glue, this will give you the perfect texture, however, as you add the cornstarch you'll be able to tell if you'll need more.
Step 3: Now it's time to knead the mixture together to work the glue, cornstarch, and food coloring together. If the mixture still feels a little too sticky, it's recommended that you add extra cornstarch and if it's too dry, add a little more glue.
5. Edible Gelatin Slime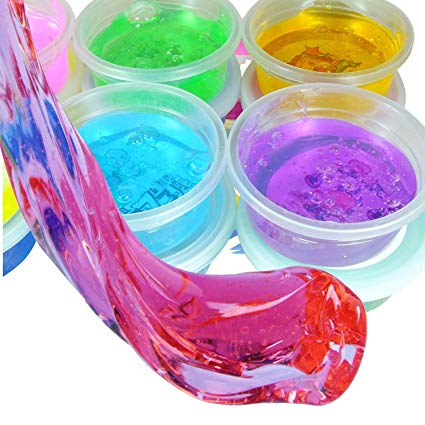 Similar to the Jell-O slime recipe, this recipe calls for the use of gelatin which makes it edible, though it's not the tastiest slime on this list. However, it makes the perfect solution for kids that have the tendency to put their hands in their mouth while playing.
What You'll Need
3 packs of unflavored gelatin
Corn syrup
Water
Food coloring
Directions
Step 1: Combine ½ cup of boiling water and your 3 packs of unflavored gelatin in a bowl, mixing together with a fork. You'll want to add in the gelatin one pack at a time until it begins to clump and then allow it to sit for 5 minutes.
Step 2: In a second bowl, add ½ cup of corn syrup and then slowly add in the gelatin mixture until the ideal consistency is achieved. You can continue mixing together with a fork and if the mixture is too wet, simply add a little more gelatin or 1 tablespoon of cornstarch.
Pin for later