The Best Fortnite Gifts Selection
last updated:
Oct 21, 2019
2937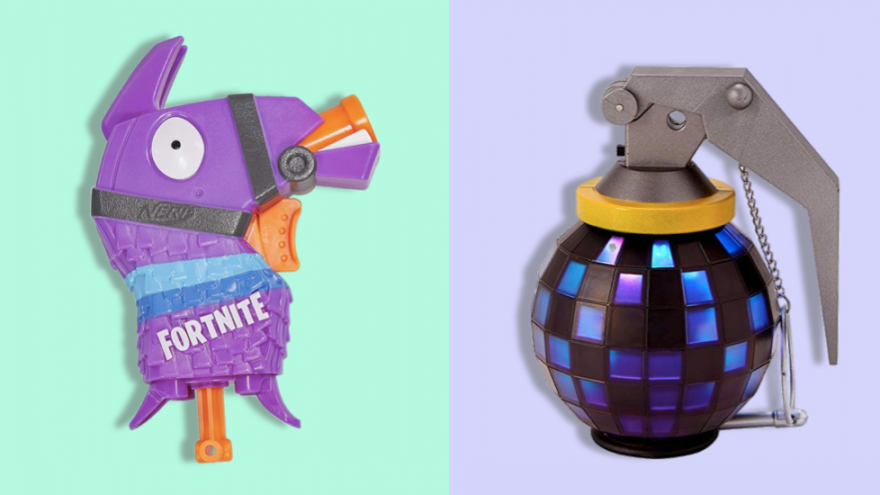 As a worldwide phenomenon that has taken kid's hearts around the world, you might want to consider Fortnite gifts for a loved one.
Every once in a while, there is a video game that takes the gaming world by storm. Just like World of Warcraft. However, Fortnite seemingly emerged into the gaming scene differently by impressing younger audiences.
Besides buying them V-Bucks for in-game purchases, we highly recommend these unique gifts for their birthday or the holidays.
Shop for the Best Fortnite Gifts!

1.
Monopoly: Fortnite Edition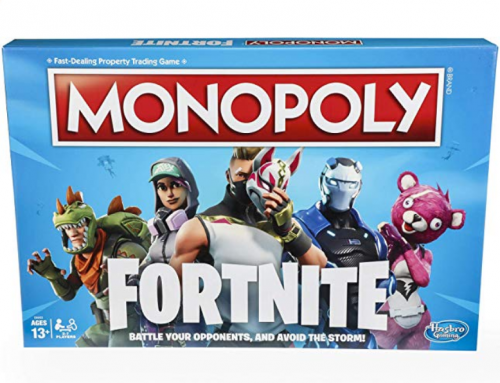 It's always a good idea to encourage your kids to play games with the family. With the help of Monopoly: Fortnite Edition, family gaming nights have never been better.
With all of the fun of traditional Monopoly, but with the ever-popular Fortnite destinations and characters, this board game is a great gift.
The most notable feature of this game is that is has a couple of unique rules. For example, players will be responsible for battling their opponents, all while avoiding the Storm to survive. Similar to the actual video game.
You'll also find there are loot chests to find and battle dice to use to fight other opponents in the game.
You'll find there are 27 Fortnite outfits with their pawn stands included in the game board so that players can choose their favorite character.
2.
Loot Llama Nightlight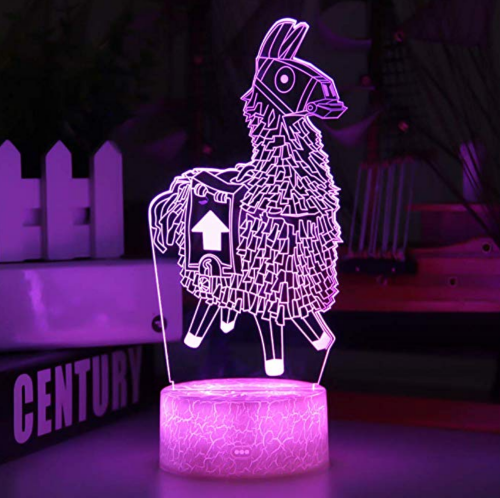 As one of the main loot boxes in the game, why not bring a Loot Llama right into your bedroom?
This nightlight is a great way to create a Fortnite themed bedroom or to give your kids a nightlight they'll be impressed by. There is a wide variety of features included with the light side from the high-quality Loot Llama design.
Available in numerous colors, this nightlight has a 3D effect that makes the flat acrylic panel look like it's three-dimensional.
The bright LED light at the base of the lamp projects an image of the Loot Llama for an impressive visual experience.
There is also a smart touch button that allows you to change the color of the nightlight to seven different colors, including purple, white, blue, yellow, and green.
You can connect the lamp to power via its USB port, or you can use three AA batteries. It's specially designed to be safe to the touch, so you won't have to worry about the light getting too hot.
We love this lamp, and it surely is the perfect gift for a Fortnite lover.
3.
NERF Fortnite Llama Microshots Blaster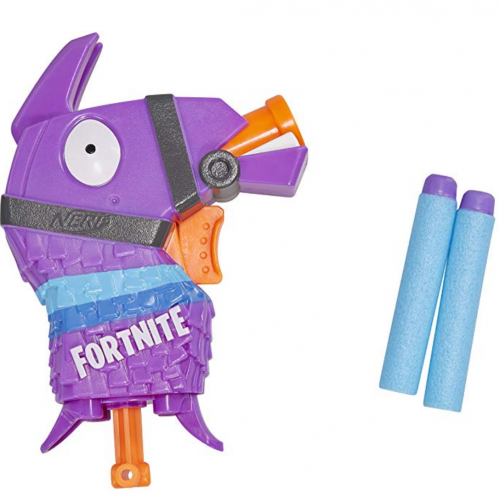 Staying on-theme with the Loot Llama, this amazing Blaster from NERF is an extraordinary gift to get your kids off the video game and outside.
The best thing about NERF guns is that they can also be used indoors, as long as the kids stay away from the expensive stuff in your house!
The NERF Fortnite Llama Microshots Blaster is mini-sized, which makes it perfect for kids of all ages. However, it is still designed to look similar to the original dart-firing blasters.
With your order, you will receive two darts, and this device fires a single dart at a time. You'll also appreciate that the Blaster is fully hand-powered, so you don't have to worry about buying batteries.
If your kids are obsessed with collectible items, it's essential to know that the NERF Fortnite Llama Microshots Blaster is a part of the collectible Microshot series.
4.
Jay Franco Fortnite Bed Set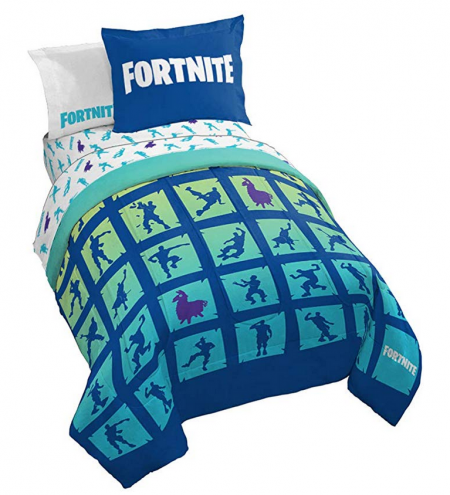 Toys can be a great gift, but allowing a child to decorate their room based on their favorite video game is even better.
This Jay Franco Fortnite Bed Set is a fantastic option for a Fortnite lover who loves all of the dancing emotes. Crafted from fade-resistant materials with a soft touch, it's one of our favorite options for bedding for kids.
The bed set is available in twin and full and comes with five different pieces. You'll receive a reversible comforter, a fitted sheet, a flat sheet, and two pillowcases. Everything that you need will be included in your order.
The entire bed set is made from 100% brushed microfiber, which is softer than regular polyester or cotton. Also, because it's fade-resistant, it's easy to throw into the washing machine and dryer.
What we love the most about the Jay Franco Fortnite Bed Set is how versatile it is. You can put it in your kid's room at home, in your RV, or even at a vacation property.
5.
Fortnite: How to Draw (Official)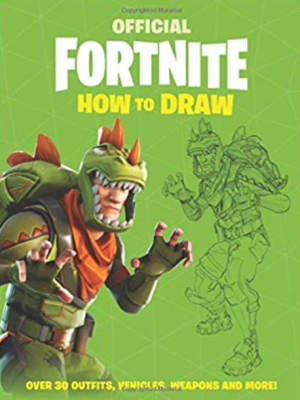 When you start playing a video game for the first time, you're likely overwhelmed by the number of characters and their incredible details.
Why not take an opportunity to diversify your kid's artistic skills with this drawing book? Designed and developed by the official Fortnite team, kids can learn how to draw their favorite characters as well as their skins.
In this paperback, Epic Games has also included vehicles, weapons, and more.
Not only are there step-by-step lessons for learning how to draw, but also tips and tricks to help make your artwork stand out.
By the end of the book, you'll easily be able to create characters from a rough sketch to a high enough quality to be showcased in a frame.
6.
For Battle Nite Bi-Fold Wallet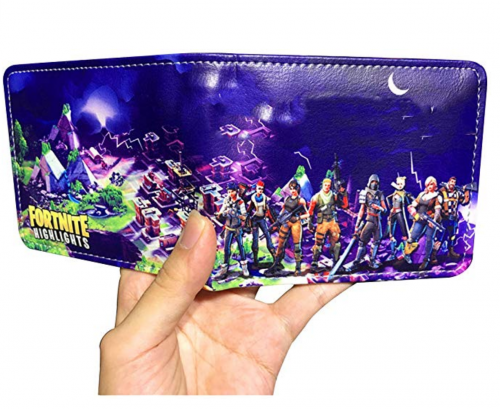 The For Battle Nite Bi-Fold Wallet is a fantastic idea for someone who always carries a wallet with them. Whether your kids need one for their lunch money or to store their birthday haul, this wallet is a fantastic birthday gift idea.
Adorned with multiple Fortnite characters on the friend, this PU leather wallet is built to last over a long period. You'll also find that it's relatively high-quality compared to the other kid-friendly wallets you'll find online.
There are numerous different Fortnite-related designs to choose from, as well. Not to mention, you could gift it to a boy or a girl, as the wallet is designed to be unisex.
7.
NERF Fornite SP-L Elite Dart Blaster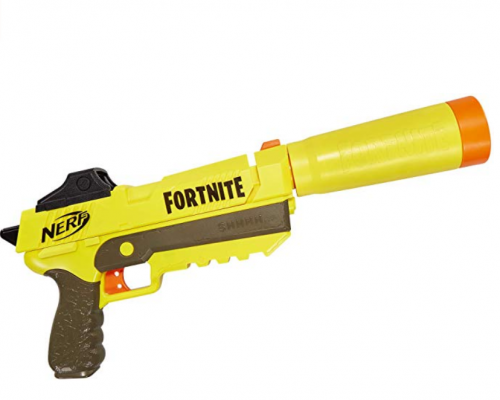 As another great NERF gun on this gift list, the Elite Dart Blaster is a replica of the Blaster you'll find in Fortnite. It has the same look and colors as the one that's in-game.
On the Dart Blaster, you'll notice the barrel is detachable so that you can customize it however you want. There is also an internal 3-dart clip that allows you to hold and shoot three darts in a row.
With your order, you'll receive the Blaster as well as six official NERF Elite darts so that it's ready to use right out of the box.
Designed for maximum distance with improved performance and quality, this Blaster is a fantastic addition to your kid's collection of Fortnite-related toys.
8.
Fortnite Squad Mode 4-Figure Pack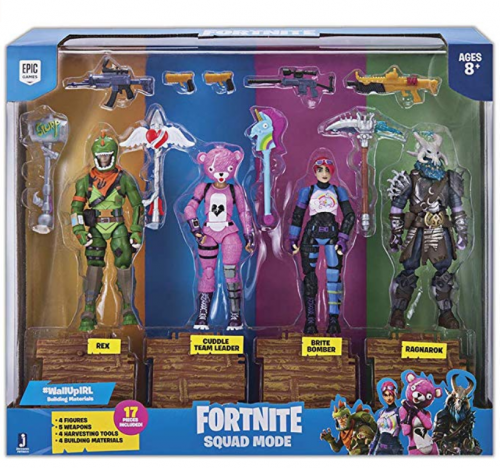 It can be a great idea to give someone the gift of collectible figurines, which is precisely what the Fortnite Squad Mode 4-Figure Pack is. You can opt for characters from Series 1 or Series 2, depending on your preference.
The action figures include Cuddle Team Leader, Brite Bomber, Ragnarok, and Rex. What makes these figurines the most interesting is each is designed with 19 points of articulation.
This feature means you can use and manipulate the figures in highly specific positions.
You'll also notice that in the package, there are four additional pieces of wood building materials. These can be used as display stands for your figurines, and the more you collect, you'll eventually be able to build your very own structures.
9.
Fortnite: Battle Royale Survival Guide (Official)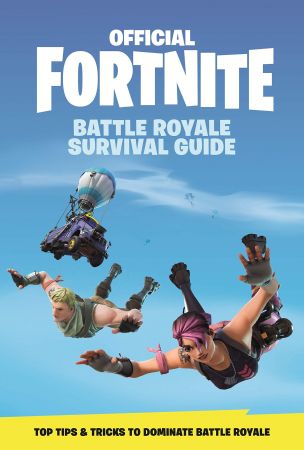 When you invest a lot of time into a video game, it's likely because you want to get better and better. The Fortnite: Battle Royale Survival Guide is essential for anyone who is interested in playing the game for the first time or wants to improve their skills.
In its pages, there are exclusive tips and tricks directly from Epic Games that you'll only be able to find in this handbook. Plus, it has a ton of in-game artwork that your kids will love and appreciate.
In the Fortnite: Battle Royale Survival Guide, there are plenty of tutorials. These tutorials help improve your building and shooting.
They also give you a deeper understanding of battle royale games in general. Readers will be able to learn how to outwit opponents, find key locations on maps, and have the most fun impressing their friends online.
10.
Fortnite Battle Royale Collection Battle Bus
As another great option for someone interested in collecting action figures and figurines, this Battle Bus figure is designed with impeccable attention to detail.
We found that this particular gift is excellent for adults just as much as kids. With your order, you'll also receive two exclusive limited edition figures of Funk Ops and Burnout.
The entire Battle Bus figure is 13" tall, which makes it quite impressive to display on a desk or a dresser. You'll also be able to set up the characters in any way to create your very own Fortnite-themed scene.
Crafted from high-quality vinyl, these figures are authentically designed by the Fortnite team and are a wonderful gift for a loved on.
11.
Fortnite Battle Royale Special Edition Xbox One S Console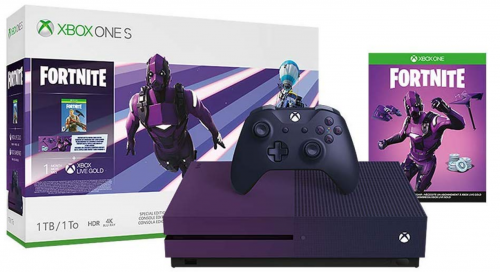 This console is by far the most expensive and the most luxurious video game gift on this entire list. However, if you're in the market for a show-stopping present, this is the one to choose.
The Fortnite Battle Royale Special Edition Xbox One S Console is discontinued from Microsoft but is available from multiple online retailers.
In the bundle, you'll receive a specially designed 1TB Xbox One S console with a brilliant gradient purple design.
It will also include a matching wireless controller and a completely free download of Fortnite Battle Royale. Also, you'll be able to unlock plenty of in-game content, including:
Legendary Outfit

Epic Glider

Rare Pick Axe

2000 V-Bucks

1 Month Xbox Game Pass (Trial)

1 Month Xbox Live Gold (Trial)
We believe that this would be the perfect gift for someone who needs more cosmetic items in-game or that is interested in playing Fortnite.
You'll also find that this is the type of gift that your kids will never forget. This point is especially true as there are numerous other games that Xbox players love, as well.
For example, with the 1-month Xbox Game Pass, you can play over 100 different titles entirely for free.
12.
Fortnite Coloring Book for Kids and Teens
If there's one thing to be said about Fortnite, its that its art style is unlike anything else, which is what makes it so recognizable.
If you want a gift that is a little outside of the ordinary, we highly recommend this unofficial coloring book. Designed for kids and teens, there are multiple images of top tier Fortnite characters that you can fill in with your choice of colors.
Each page is also designed with a border, so there's no need to worry about bleeding through onto another coloring page.

13.
NERF Fortnite RI Blaster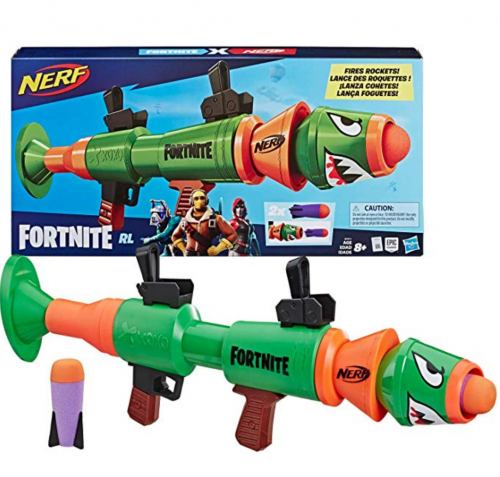 Designed for older children, teens, and adults, this NERF Fortnite RI Blaster will make sure you win every NERF battle for years to come.
This Blaster fires only foam rockets, in comparison to the tiny NERF darts that you'd typically use. As a replica to the Blaster in Fortnite, you'll be able to bring the video game into real life.
Even though it looks like a more complicated NERF toy, it only takes three steps to fire.
What we love about the NERF Fortnite RI Blaster is that it doesn't require batteries. Every order receives two rockets, so you won't have to worry about losing one.
Each missile is designed for performance, so you'll be able to make the most out of your time playing with friends. You might also find that it's a great collectible item for an older Fornite player.
Final Thoughts
When you begin shopping for Fortnite gifts, you can guarantee there are numerous ones to choose from. Whether you're interested in action figures or coloring books, there are plenty of options available for you to choose from.
We guarantee all of the items on this list would be perfect Fortnite gifts for kids, teens, and adults alike.
Pin for later