This product is listed here: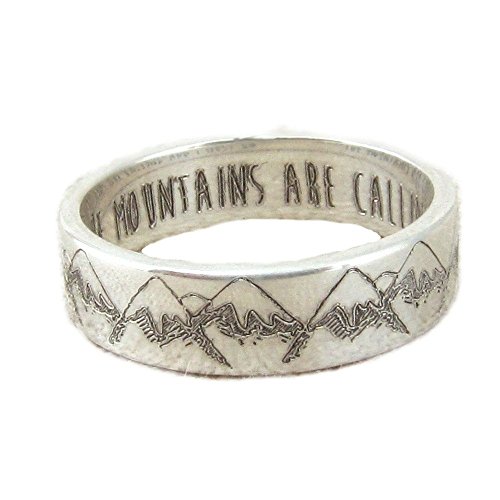 Silver Mountain Ring
Ah, the great outdoors. It takes a special kind of person to really go out there and explore nature in its full form – untamed, full of mysteries and incredibly vast. When a person immerses themselves in nature, one can really feel the rawness of the Earth and see its beauty in all the little details such as the texture of the trees, visually telling you how long it has been there and how many creatures it has housed in all the years it has been alive; the distant calling of birds that seem to be singing its praises to the heavens; and the steady yet powerful flow of the stream giving life to the wilderness.
If this sounds like what your friend or family member enjoy on their days off, then Christmas time or birthdays will be much easier for you this year when it comes to giving gifts to outdoorsmen.
Commemorate their love of the outdoors by giving them this lovely Mountain Ring, created by an artisan from Emily Jane Designs.
Detailed information about Silver Mountain Ring
This unique and cool-looking ring made of sterling silver has a range of mountains beautifully and artfully engraved on the outside of it, while the inside boasts of an engraved quote saying, "The Mountains are Calling and I must go".
Since the ring is not adjustable, you have to find a way to figure out your recipient's ring size or go with your own judgment which is something you need to keep in mind if you want to give this as as a gift.
WHY WE LIKE IT?
Made to order
Very unique design and is made by hand by an artist
You probably will not find this design in stores
Pretty good price range for a handmade and unique item
WHY WE dont LIKE IT?
Not adjustable, so you need to know your recipient's ring size before hand
What we love about this product
Awesome little ring for the outdoorsy person as well as a camper or a hiker. A pretty unique ring that they certainly will love wearing!