Easy Mocktail Recipes we Have Been Sharing in the Office and for a Good Reason!
last updated:
Jul 01, 2019
1392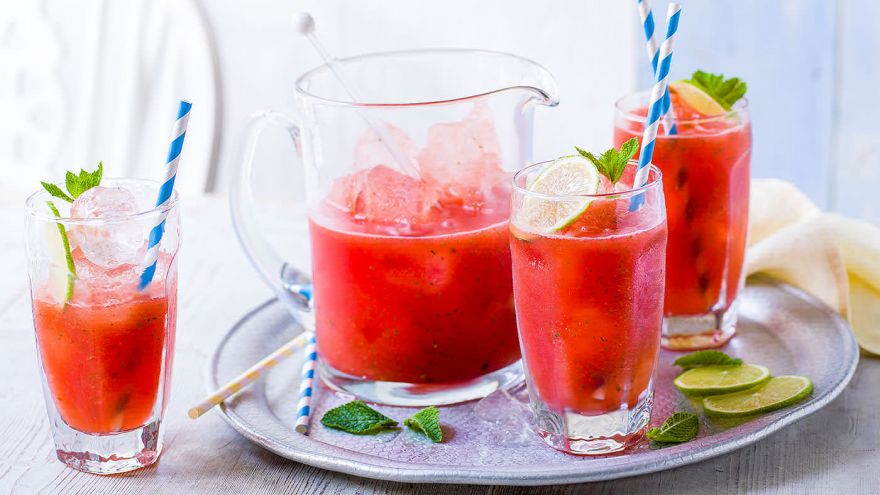 While there's no denying how great a good Happy Hour can be, sometimes you want to mix it up and go with mocktail recipes! Whether you can't drink alcohol or are simply trying to cut back, the truth is there are some excellent drinks out there that are just as enjoyable as your favorite traditional cocktail!
What's a Mocktail?
Before we go any further – are you quietly asking yourself what a mocktail actually is? Are you Googling it right now? No need! As the name implies, a mocktail is simply a mock-cocktail, or a mixed drink that doesn't contain alcohol. Quite a clever name when you think about it!
Mocktail recipes serve to make drinks that are great to serve at a work function, at a birthday party with guests under the age of 21, at a baby shower, and well, just about any other time you want to enjoy one!
These drinks are totally delicious and filled with all sorts of excellent ingredients. Best of all, you won't have to worry about finding a ride home afterwards.
No matter your reason for wanting to enjoy mocktail recipes, here are some of the best recipes we have found that we can't stop talking about (and sipping on!)
Our Fave Mocktail Recipes Perfect for Any Season!
1. Cranberry Spritzer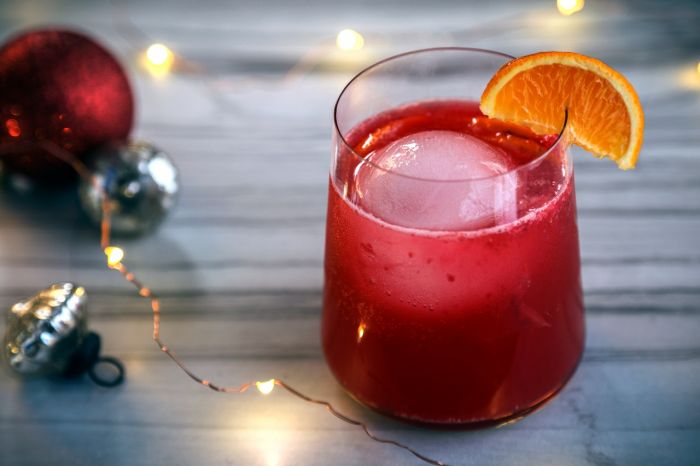 If you are looking for mocktail recipes for drinks that are bubbly but not too sweet, this cranberry spritzer is perfect! With just the right amount of sweetness, and the awesome bite you get from the cranberry, this is a wonderfully refreshing mocktail that you could easily sip on all day long.
Best of all, we love how easy this drink is to put together. If you are hosting an event for a lot of people such as a baby shower, this is the perfect mocktail to consider. It tastes great, but won't take you hours to mix together! Sit back and enjoy.
Ingredients:
✓ Cranberry juice
✓ Lemon-lime soda (any light colored soda will do)
✓ Lemons (optional- for garnish)
Steps:
If making an individual drink, pour equal parts of cranberry juice and soda into a tall glass filled with ice. If you want it more sparkling, add slightly more soda. Want more of a bite? Add more cranberry juice!
Garnish with a lemon slice, add a straw, and enjoy!
Alternatively, you can make a large amount of this by combining a liter of soda and cranberry juice in a punch bowl. Add in some lemon slices and a serving spoon.
Serve the juice into glasses with ice and add some more lemons for garnish – enjoy!
2. Sangria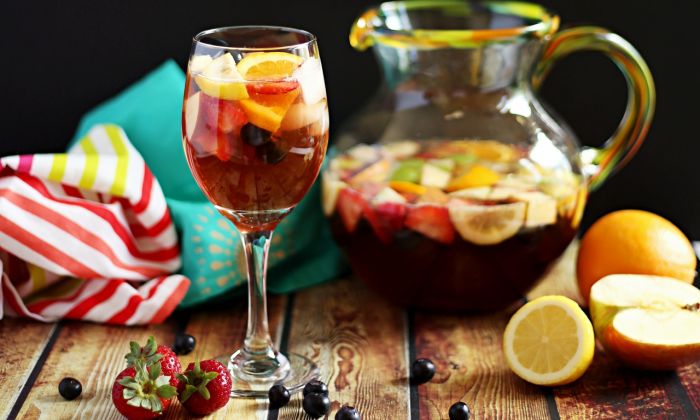 The classic summer drink, did you know that you can easily make a mocktail version of this that is free of all wine? It's true! Equally delicious and refreshing, this fruity drink is an absolute classic that will be the hit drink at any party.
Best of all, we love that you can easily tweak this drink based on the season. Spring or summer? Go for typical sangria. Fall or winter? Make it a hot spiced sangria instead and sip at all your holiday parties!
You can pretty much customize this drink however you want. Pick your favorite fruits or follow the recipe below. Either way – you'll enjoy sipping this drink all season long!
Ingredients:
✓ 4 cups white grape juice
✓ 1 cup orange juice
✓ 2 tablespoons lime juice
✓ 1 cup blueberries
✓ 2 oranges
✓ 2 limes
✓ 2 peaches
✓ 2 bananas
Steps:
Start off by grabbing your blender and blending your white grape juice and around a quarter of a cup of your blueberries. Pour this into your pitcher or punch bowl.
Next, add in your orange juice and your lime juice and mix all together.
Chop up your oranges, limes, peaches, and bananas and add them all into the mixture and stir well.
Finally, add in your remaining blueberries (around ¾ cup) and stir well.
Place the sangria in the fridge to let it chill before serving. When serving, pour into a glass filled with ice to ensure the drink stays nice and cold. Enjoy!
3. Raspberry Fizz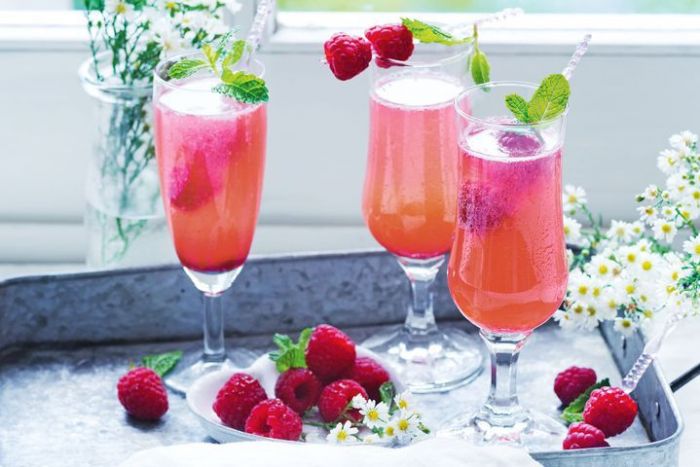 Another fun, fizzy mocktail drink that we just can't resist is this raspberry fizz! Perfect for both children and adults, this is the perfect mocktail to serve at just about any party or event.
Best of all, it only has a few ingredients and is pretty quick to put together. Packed with delicious fruity flavor and plenty of bubbles as well, we love this mocktail for any time of year. Plus, the bright beautiful color makes it look just as great as it tastes!
Ingredients:
✓ 1 cup club soda
✓ 1 ounce red grapefruit juice
✓ 2 ounces raspberry syrup (or if you want your drink sweeter, add a little more!)
Steps:
First, mix together the club soda, grapefruit juice, and raspberry syrup well until it looks like the syrup has been totally incorporated into the drink. Without mixing well you won't taste the raspberry flavor until right at the end when you get all the syrup at once!
Pour into a tall glass filled with ice, and serve!
You can also easily increase the quantities to make a larger pitcher of this drink. Just increase the ingredients proportionally (for example 2 cups club soda, 2 ounces juice, 4 ounces syrup to make 2 drinks, etc.)
Blueberry Smash
4. Blueberry Smash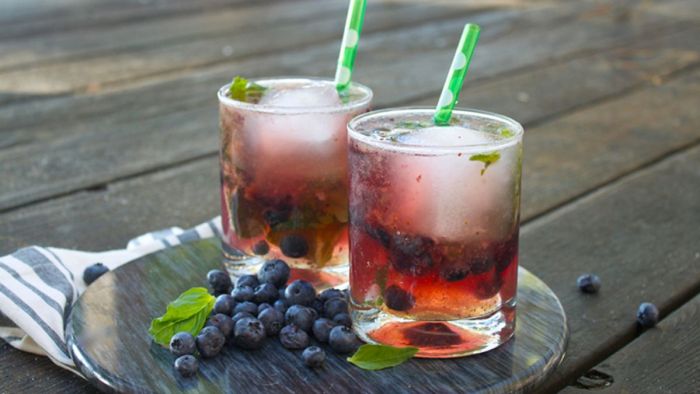 Okay we will admit – an alcoholic blueberry smash is one of our favorite happy hour drinks. But, this mocktail version is equally delicious and one of our favorite drinks to make for any event. If you are looking for a subtly sweet drink with a unique flavor, this is the one for you!
Personally, we love anything with blueberry, as it is refreshing but not over the top sweet. For those of you with a sweet tooth you can also make the drink as sweet as you want by slightly tweaking the recipe.
Ingredients:
✓ 4 ounces sparkling mineral water (or you could use club soda)
✓ 1 ounce lemon juice
✓ 1 ounce honey (or use a little more for a sweeter drink)
✓ 6-8 blueberries (depending on how strong of a blueberry taste you want)
Steps:
The first thing you need to do is muddle your blueberries and honey in a cocktail shaker – if you don't have an actual muddler you can use the bottom of a metal cooking utensil instead.
Next, add in the lemon juice to the cocktail shaker along with ice and shake well to make sure all the ingredients are well mixed- this will ensure you get the full flavor of the drink!
Pour the liquid into a tall glass filled with ice. Pour your sparkling water or club soda on top until the glass is full.
Garnish with additional blueberries if you want, and enjoy!
5. Cucumber Cooler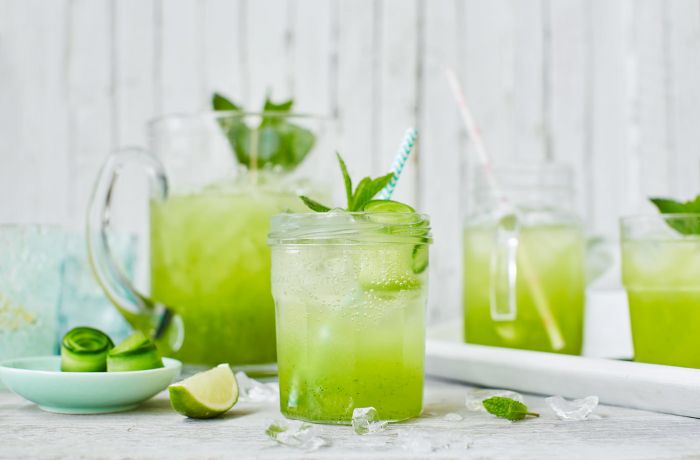 If you are searching for the ultimate refreshing mocktail, this cucumber cooler is the drink for you! We love how light and fresh this drink is and thing it is the perfect drink for a summer party. No matter how hot it is outside, this drink is sure to cool you down and have you feeling as refreshed as ever!
Best of all, you can make the drink without sugar if you want, leaving you with a drink that is truly healthy as well as delicious! It doesn't get much better than that and that is why this one probably tops our mocktail recipes list!
Ingredients:
✓ 4 cups coconut water
✓ ½ cup lime juice
✓ 2 cucumbers- thinly sliced
✓ ¼ cup mint leaves- chopped
✓ ¼ cup sugar (this is optional – use if you want the drink to be slightly sweetened, or leave out for a healthy, fresh drink that is equally delicious)
Steps:
This drink couldn't be easier! Pull out your favorite drink pitcher and combine all of the ingredients. Mix well, and muddle the mint leaves if you want a stronger mint flavor. We personally prefer to leave it so that the mint isn't overpowering.
Place your pitcher in your refrigerator and let chill.
Serve cold in a tall glass filled with ice. Enjoy!
Bonus: Shirley Temple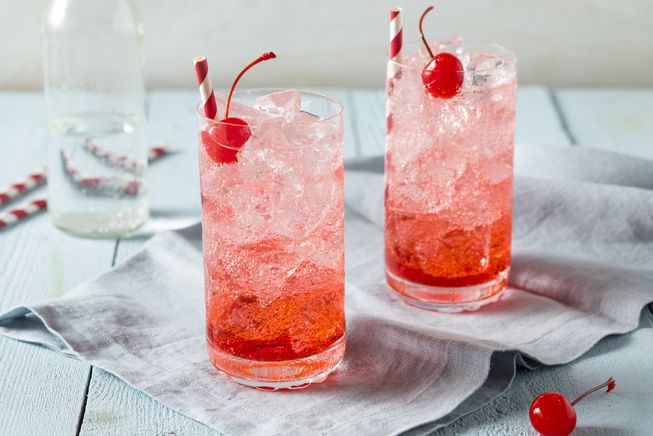 Your childhood just called! Did you enjoy sipping on a Shirley Temple when you were younger? Most of us did, and no matter how old you are now, sometimes it is nice to reminisce on the good old days and enjoy the classic sweet bubbly drink!
For most kids, ordering a Shirley Temple at dinner was the most exciting part of the night, and you felt so sophisticated sipping on the drink all night long! Why not recreate that joy now?
Trust us – you are sure to still love it all these years later. There's a reason it has stayed popular all these years – it is just plain delicious. And better yet, it is so easy to make!
Ingredients:
✓ 4 ounces lemon lime soda
✓ 4 ounces ginger ale
✓ 1 ounce grenadine syrup
✓ Maraschino cherries
Steps:
Get a glass and fill with ice. First pour in your grenadine and then top with the ginger ale and lemon lime soda. Stir well.
Garnish with maraschino cherries, and enjoy!
There you have it! No matter the reason why you won't be sipping on any alcoholic cocktails, have no fear. These mocktails recipes are just as delicious and classy to sip on during your next event.
Whether you try to recreate your favorite cocktail minus the alcohol or go for something totally unique, either way you will end up with something fantastic to sip on.
Pin for later