This product is listed here: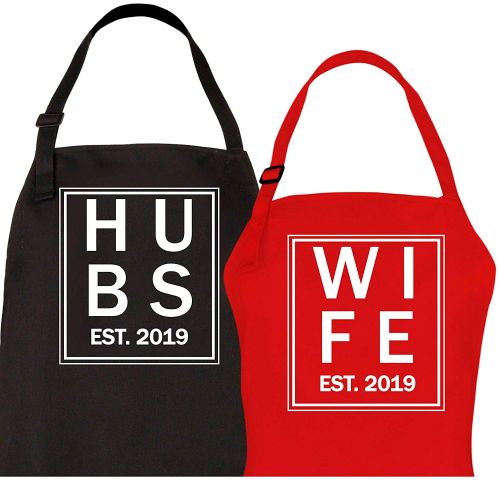 Let the Fun Begin Hubs and Wife Est. 2019 Aprons
Isn't it crazy how decades ago, as children, you were just playing house with your friends and now one of you is actually getting married?
It is really such a wonderful surprise when one of your dearest friends reveal that they are now engaged and will be getting married in a few months or year's time, or perhaps you were there for the engagement, crying your eyes out at the sweet sight of two souls coming together and getting ready to live for each other for the rest of their lives.
Commemorate a special event with this unique wedding gift!
Detailed information about Let the Fun Begin Hubs and Wife Est. 2019 Aprons
As the wedding date steadily approaches, you are out of sorts thinking of the perfect gift for your dear friend-slash-bride to be, but you also want to give her beau something because it is their day after all.
But of course, bills and other important expenses rear its ugly head and you are left with a budget that might not even buy something nice for both of them – or so you think.
Because there is something cool and high quality yet well within your spending means, and that is this Hubs and Wife Established 2019 couple aprons from Let The Fun Begin.
WHY WE LIKE IT?
You get two aprons for the price of one
High quality print and fabric
WHY WE dont LIKE IT?
None
What we love about this product
This matching apron set is a wonderful present for both the bride and groom that they can use in the kitchen for years to come.